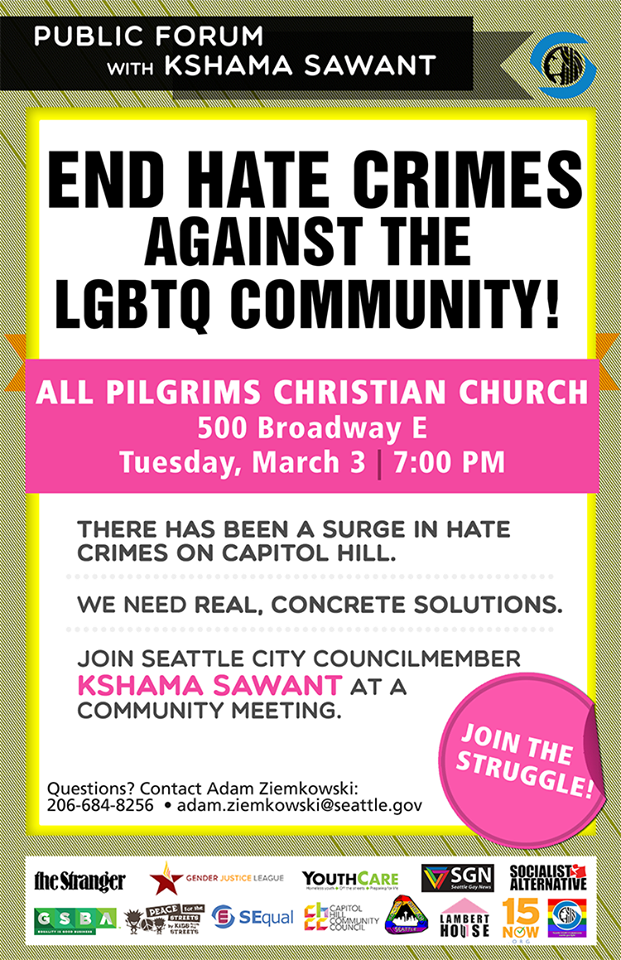 Tuesday the 3rd, bring your educated opinions to the public forum/town hall meeting with our latest fave liberal!
City Councilmember Sawant wants to hear from you. At 7pm, you can chat with fellow concerned citizens at the All Pilgrims Christian Church on Broadway. She'll be addressing the recent surge in hate crimes on the Hill while looking to the public for ideas on "bold and lasting solutions." The conversation may also turn to the Hill's growing pains of gentrification and skyrocketing rents. Someone please be my proxy in support of rent control laws?
Gay bashing and hate-criming are not to be tolerated. Period. This is fucking 2015, not 1969. We may not be able to control the influx of douchebros out to "see the freakshow," but we can come together to support each other. Seattle is not immune from small-town prejudices, and some of us have learned that the hard way. Some will be offering their testimonies.
So this is your chance, Capitolites. Or Hillians…whichever. Make your voice heard! Now is not the time to be in a passive-aggressive bubble.
For more information, contact Adam Ziemkowski at: 206-684-8256; or email: adam.ziemkowski@seattle.gov.
(Visited 1 times, 1 visits today)