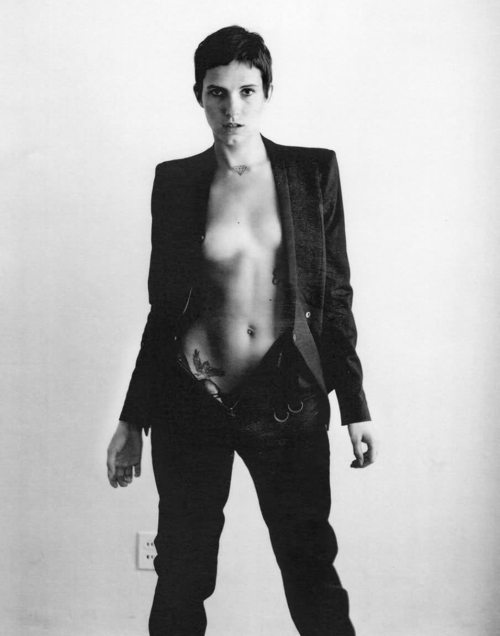 Spring is (unofficially) here. And with that, our thoughts turn to our closets.
When we're done shedding the layers of rainy season, we're left with…what? Those faded H&M jeans, the flannel that's too warm to wear in 60° weather, a bra with the underwire that's trying to kill you, and a tie that's grossly too old-man like.
If you're like me and millions of other lesbians around the country, you've probably grown up being frustrated with clothes shopping. Everything that was in the boys' departments didn't fit right, and everything in the girls' departments had too much frill, pink, lace, and, well…hetero-girl feminine shit. I only know of one lesbian out there who can shop where she wants and find clothes in her style, while still presenting the sexuality she chooses…but that's only because her body is fucking perfect. (That bitch.)
That's why I've been floored with the surge in queer fashions and fashion designers in recent years. I always find it difficult to find the clothes that fit and still present my sexuality along with my own aesthetic and style. I don't need to be up-to-the-minute with fashion, but it's extremely awesome to know that FINALLY there are designers out there with people like us in mind.
Here's a short list of where you may find what you like, now that Metro is closing, Red Light is gone from CapHill, and sometimes you need to experience clothes in person rather than extensive online ordering:
TomboyX: Located in the Pioneer Square vicinity, this shop has just about everything you need. According to the website, their mission is "to cater to an underserved market, one that has been traditionally ignored by the fashion industry, by providing an online one-stop shopping 'boutique' experience." Top offerings: shoes that perfectly blend gender expressions, sexy belts, undies, and comfortably fitting tops. Chances are great you'll find that one thing with the best fade. TomboyX was created for the simple reasons I stated above: "I've always had to search for clothing that I feel comfortable in, clothes that express who I am. I've never been comfortable in traditionally feminine clothes and I don't want to dress like a man – I'm more in the middle range – it's all about comfort but with some fun style. And I don't want to wear all knits! As I've gotten older the choices have really narrowed. I no longer fit nicely into clothes made for 20 year olds and I am really annoyed with the lack of choices. I looked around and saw lots of women in the same boat."-Fran Dunaway, co-founder. The store, and team, has stayed small and true to their mission, by giving back to the community and being sure every customer receives quality care and clothes. Get an appointment in the showroom!
Dapper D: With its fresh new showroom in Battle Ground, WA, Dapper D's motto is: "Be Brave. Be Authentic. Be You." Their line is not yet as large and diverse as TomboyX, but give them time and your money, and they will be a force to be reckoned with. Says the site: "Dapper D Fashions is a Men's Style Clothing Line for Women, and for the Dapper Tomboy in each of us. We are a lifestyle clothing brand (everyday clothing) with a masculine edge, catering to the LGBTQ community, but will welcome anyone with open arms." Top offerings: Fashionable yet comfy hoodies, basic shirts good for any layering or accessorizing, and dogtag-style necklaces. I'll probably order the element tags. The biz is owned by an awesome lez couple with a daughter, and they were super excited to open the store with help from Kickstarter. Also, we may see them do a pop-up shop at an upcoming Hot Flash! Style room is open Thur-Sat, 10am-5pm.
Sharpe Suiting: Ok, granted this one is based out of Los Angeles, but…BUT! I am pleased to announce that Sharpe will be hosting a pop-up shop here in Seattle! The weekend of March 27-29 (ECCC weekend, I know), you'll have the chance at long last to grab the suit of your dreams. Be it for professional wear, a wedding, or that hot chick you just saw in the coffee shop, this will be a rare opportunity to get fitted without the judgy Nordstrom stares. Plus, you can drink while you shop! Top offerings: Any suit to hang on an androgynous or trans body. They even have a trademarked technique for fittings! Get a little of the L.A. fashion treatment before heading to Comic Con or the 'Rose. #Treatyoself! I'm hoping some of the models show up. They're fucking hawt.
If you end up heading to California in the beginning of next month, Queer Fashion Week will be April 16-19 in Oakland. There, you can probably find more stuff to your liking. It'll be the first ever Queer Fashion runway show, so feel free to gain some inspiration for your personal style or the clothing line you've been meaning to start up. The link will guide you to other designers as well, from NYC to Texas to Florida to the West Coast.
That's all, peeps! No more excuses for dressing like you don't give a shit! (Except being broke…that's always a good excuse.) If I see your Royal Hotness walking the Hill in a brand-new well-fitting suit with sexy shoes and a belt I can easily take off, this little lez may just jump you. *ahem* Respectfully, of course.  
(Visited 1 times, 1 visits today)