SXSW 2015 begins today (March 13, 2015), and if you head over to YouTube you can watch trailers for over 100 films that are playing at this year's festival. I watched them all, and a particular group of movies caught my attention. Let's see if you can identify their unifying theme:
First is Nina Forever, wherein a dead woman reincarnates as some sort of horror on a bed shared by her boyfriend and his new girlfriend. The Corpse of Anna Fritz is about a dead female celebrity and the necrophiles who thrust her mortal remains back to "life." In Knock Knock, the malevolent spirit of a dead woman is channeled by some living women. Finally, a dead girl uses social media to traumatize her former classmates in UNFRIENDED.
Perhaps 2015 is indie cinema's Year of the Dead Woman. Gone is yesteryear's Damsel In Distress. Death has already become her, and she is pissed.
SXSW 2015 gives us another film that depicts a woman communicating from beyond the grave, though it is very different in style and tone from the others mentioned above. A Woman Like Me is a hybrid documentary / fiction piece about Alex Sichel, a female director with terminal cancer, and the film-within-a-film she made about Anna Seashell, a fictionalized version of herself responding to a terminal cancer diagnosis. Both "characters" appear on screen, and while Alex completed the picture, she did not survive to see it play at SXSW. Now her film presents her as a woman reaching out to us from beyond, in tandem with her fictionalized self, perhaps to show how the human spirit, through cinema, might transcend the monstrous, rather than surrender to it.
In terms of poignancy and depth of feeling, A Woman Like Me seems the clear front-runner in this group of films; but as a group they might remind us to consider cinematic depictions of "women in trouble," a storytelling trope older than cinema itself. In 1917's Teddy at the Throttle, for example, Mack Sennett chained Gloria Swanson to some train tracks. We have been watching women narrowly escape death, or succumb to it, ever since.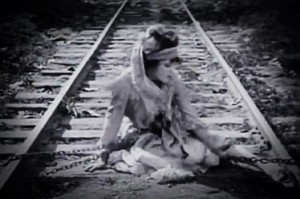 A Woman Like Me raises the subject of linked suffering between real-life sources and their fictional analogs, and how, or whether, that connection is shared with film audiences. Circa 2015, women in trouble can be used by cinema to generate story, as in the other films mentioned above; and/or women in trouble can use cinema to reach out, even beyond the grave, to communicate and connect with like-minded or like-suffering people. Unfortunately, the latter has not always been an option.
Consider the case of Geraldine Fitzgerald and her cinematic counterpart Grace Sutton.
In 1938, Geraldine Fitzgerald was a promising new actress from Ireland who appeared opposite Orson Welles at his Mercury Theater. Although she was married to a baronet, she was soon pregnant with Orson's child. Around that time, Geraldine elected to star in a film called A Child Is Born, in which she plays Grace Sutton, a frail, convicted murderess and expectant mother who faces death by childbirth. Did Geraldine play Grace as a way to comment publicly on her situation? While her biological life may not have been endangered, ala Alex Sichel, her creative and professional life most certainly was. She gave birth to her love child in May 1940, five months after A Child Is Born premiered, and named him Michael Lindsay-Hogg, hiding his true lineage, and her trouble from the world.
When we look at women-in-trouble on screen, we might consider the details of how they are used by cinema to entertain us, or how they use cinema to enlighten us. A Woman Like Me seems to incorporate both approaches. I look forward to seeing it when and if it plays in our own local festivals. And while you're browsing all those SXSW 2015 trailers, you might want to watch +/-, Petting Zoo, and Guest Room to see current manifestations of the eternal Grace Sutton.
(Visited 6 times, 1 visits today)