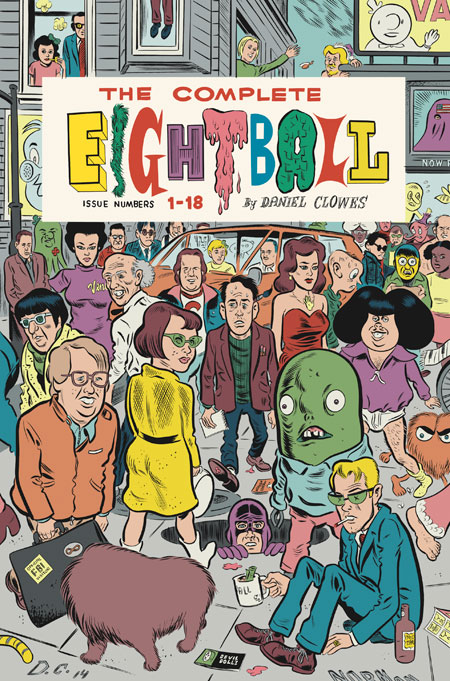 I have a confession to make.
I'm a semi-closeted graphic novel nerd fan boy.
I'm not keen on most super hero shit, though I'm a huge fan of Watchmen.
I am, however, a HUGE freaking fan of Daniel Clowes probably best known to the masses for Ghost World which became a successful art house film. But, he has many other works as well including his original comic series EIGHTBALL which ran from 1989 to 2004 and where many of his most famous works were created…both Ghost World and Art School Confidential began life within the Eightball umbrella.
Happily for Seattle alt-comics fans, we live in a city which is also home to the best publishers of alternate comics, the amazing crew at Fantagraphics who have their home base store down in Georgetown, at 1201 South Vale Street. They are the original publishers of Eightball and to celebrate the 25th anniversary, they've created a brand new edition of all 18 of the original comics into one gorgeous new book.
Even better, Daniel Clowes is on hand to sign new copies of the book, TONIGHT, Saturday, April 18, 2015 from 6pm to 9pm.
Yes. I am "squeeing" right now.
Why do I like Daniel Clowes and his oddball stories and art style?
Despite the fact the Clowes' World is dark, sardonic, twisted and outright bizarre, it also manages to document the reality of modern life. Every time I get on a city bus, or hang out in a bar, or just walk down a neighborhood street, I can witness "Clowesian" characters going about their daily business. I SEE their sad, little surprised faces all the time and wonder what banal and brilliant adventures they're having. That's the brilliance of Clowes' work; his unique ability to combine the mundane with the fantastigraphical. It's why he is a great literary artist.
Go buy his book.
(Visited 2 times, 1 visits today)