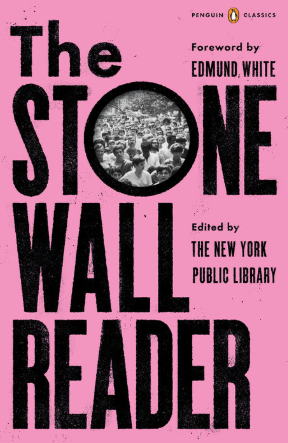 April has arrived and a slew of new queer books are coming out this month, with some real treats celebrating the 50th Anniversary of the Stonewall Riots which sparked the modern LGBTQ rights movement being released including Penguin Classics publishing The Stonewall Reader, which gathers together first person accounts, diaries and reportage on Stonewall with a forward by noted gay writer Edmund White. There's also a children's picture book coming out: Rob Sanders and Jamey Christoph's Stonewall: A Building. An Uprising. A Revolution(Random House Books for Young Readers) and a gorgeous coffee table book, Art after Stonewall, 1969-1989,  chronicling the effect of Stonewall on queer art and the art world. It's from Rizzoli, so you know it's fabulous.
Speaking of gorgeous and fabulous, there's also the memoir from Gigi Gorgeous, the transgender media star coming out this month. He Said, She Said: Lessons, Stories, and Mistakes from My Transgender Journey explores Gigi's transformation from a dorky Canadian named Greg to the fabulousness that is Gigi Gorgeous. 
And, Academy Award winning writer Dustin Lance Black is also releasing his memoir, Mama's Boy: A Story from Our Americas (Knopf) which focuses on his relationship with his mother and his coming out process. 
More on Mama's Boy:
And, for fans of graphic novelist/artist Jaime Hernandez and local comic/graphic novel publishers Fantagraphics, there's the release of  Is This How You See Me? this month, his latest "Love & Rockets" book which has been chronicling the lives of a huge cast of Chicano/Chicana characters, (gay and straight) over the last 30+ years. 
In Love and Rockets, Jaime Hernandez has followed the lives of his queer, Chicano cast of characters for over 30 years of romance, heartbreak, and the self-awareness that comes with age. Is This How You See Me? hones in on Jaime's two most beloved characters, Maggie and Hopey, flashing backward and forward in time to reveal how the passage of time has molded these young LA punks into complex, middle-aged women. An intimate look at how people change and drift apart, yet remain deeply affected by their formative years, Is This How You See Me? brings Hernandez's L&R series full circle.
Via Lambda Literary, a list of all the April queer books being released:
Fiction

Nonfiction

LGBT Studies

Young Adult and Children's Literature

Romance

Graphic Novels/Illustrated Books

Science Fiction/Fantasy/Horror

Mystery/Thriller

Bio/Memoir

(Visited 1 times, 1 visits today)