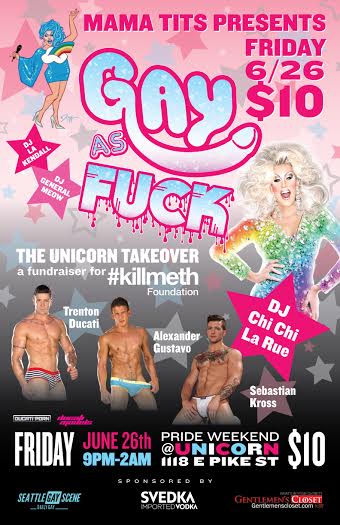 Who says you can't be filthy AND profound?
The just announced new Seattle Pride Week party, GAY AS FUCK is trying to accomplish both. It's a joint effort between Mama Tits and her Skyscraper Entertainment production company and her home base venue, The Unicorn/Narwhal, the hipster than thou mega cool circus themed bar that also hosts Mama's beloved weekly Sunday drag brunch show, "Mimosas with Mama". They've teamed up with Svedka Vodka and, uh, er, US (Seattle Gay Scene) for a deliciously dirty dance party to happen on Pride Friday, June 26, 2015 from 9pm to 2am.
GAY AS FUCK will feature Mama Tits as hostess du jour, (duh) plus very special guest DJ (and buddy of Mama) the one and only CHI CHI LARUE who'll also be in town to co-host the Sunday Pride Parade with Mama on June 28. DJ Chi Chi will also be joined by our own L.A. Kendall and General Meow on the turntable.
But, most eyes (at least the eyes that enjoy beefcake) will be on special guest Go Go Men TRENTON DUCATI, ALEXANDER GUSTAVO and SEBASTIAN CROSS who will be shaking their moneymakers to benefit the night's beneficiary, the #KILLMETH Foundation, which was founded by Mr. Ducati. For those of you NOT in the know, Trenton was, until recently, a longtime resident of Seattle. He also overcame his own serious addiction issues several years ago and after meth claimed the life of one of his best friends, SCOTT KALINA, Trenton vowed to do something to help others trying to overcome addictions to meth.
Tickets for this event are only $10 (grab them HERE) and….
***$5 from EVERY ticket sold will go directly to the foundation in Scott Kalina's name. There will also be merchandise from #KILLMETH available for purchase and 100% of the profits from those purchases go directly to the foundation***

Scott Kalina was one of our own that unfortunately lost his battle with his addiction, but through his memory and the #KILLMETH foundation we can help others win their battle!
GAY AS FUCK will be a sinfully naughty good time on Pride Friday. And, while you dance the night away ogling the zexy porn studs, you're also helping out for a good cause.
Win/Win.
(Visited 1 times, 1 visits today)