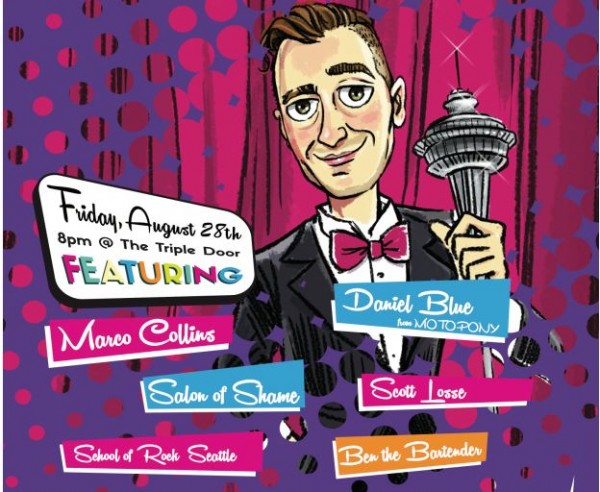 It's been EONS since the debut of Kimball Allen's variety/cabaret/talk show, TRIPLE THREAT back in April of this year but Seattle's very own version of Johnny Carson is back for an all new edition this Friday, August 28th at 8 pm (doors at 6:30 pm) at The Triple Door.
Back in April's inaugural show, Kimball welcomed Dan Savage and Mama Tits to his stage (among others) and for this edition he summons to his couch MORE talented folks who are ALLEGEDLY blessed with multiple talents. Like singing/dancing/chainsaw juggling and the ilk. Here is this edition's line-up of "triples":
Musical Guest: Daniel Blue from Motopony, Not a clue; I'm very bad about keeping up with local music especially since I'm elderly…

Featured Guest: Marco Collins Famed Seattle Disc Jockey and Subject of the award winning documentary The Glamour & The Squalor

Comedian Scott Losse who's very funny and I say that with all sincerity since we did a show together and he made me laugh which is not easy to do….

Childhood exploits from Salon of Shame, this is pretty funny; people reading embarrassing ass shit

Opening Act School of Rock Seattle, not a clue what this is; Jack Black is performing?
And, knowing Mr. Kimball, there are BOUND to be surprises….
I dunno….maybe, Cher?
Snag those tickets HERE!!
Here's Mr. Kimball with Miss Tits at the last outing of Triple Threat!
Tags: kimball allen, Talk Show, The Triple Door, triple threat, Variety Show