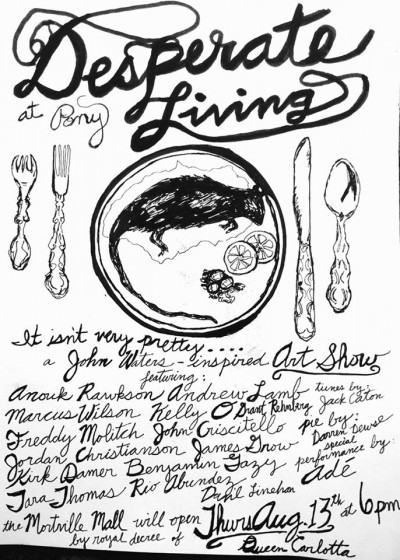 Mortville rises again!
Yes, within the filth encrusted walls of Pony, Seattle's beloved gay hipster than thou party bar, a new queendom is emerging for ONE NIGHT ONLY!
NOW!
TONIGHT! (If you're reading this in a timely fashion! If you're reading this in the Year 2535, then….no.)
Thursday, August 13th, 2015 starting at 6pm, Pony is hosting the very cool DESPERATE LIVING ART SHOW, a fun event inspired by the beloved 1977 John Waters film of the same name starring Liz Renay, Jean Hill, Mink Stole, Edith Massey, and Mary Vivian Pearce about an odd community of freaky misfits living in the fairy tale/nightmare world of Mortville, a slum ruled over by a despotic Queen Carlotta.
Yeah….it's a weird film even by John Waters' standards.
Here's what you can expect from the event:
Join us during art walk for a John Waters-inspired show at the Mortville Mall!! Attendance is mandatory or you will be injected with rabies by royal proclamation of Queen Carlotta!!! ART!! CLOTHES!! PIES!! SONGS!! Bring your cash because there are no banks in Mortville! Dress like the human trash that you are because there will be Photo ops with the Queen herself!! Works of art by Grant Rehnberg, Anouk Rawkson, Marcus Wilson, John Criscitello, Tara Thomas, Jordan Christianson, Kirk Damer, Benjamin Gazy, Rio Abundez, James Grow, Freddy Molitch, Dan'l Linehan & Andrew Lamb! Pies by Darren Dewse! Sounds by Deejay Jack! Special performance by Adé!!! It isn't very pretty…….
Sounds like the perfect event to start early Xmas Shopping!!!!
HINT HINT!!!
AND, there will be performances by the lovely Adé!
Yes, it is 21+ with ID. For those of you unaware, Pony is at 1221 East Madison Street on the odd little triangle of land nestled between Madison & Union.
(Visited 1 times, 1 visits today)