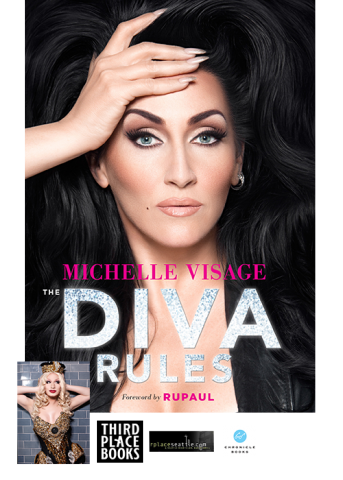 Madame Visage is here so frequently she should just buy a condo on the Hill and reign over us all…
Michelle Visage is coming to Seattle on November 11, 2015 as part of her publicity tour to flog her new book, The Diva Rules : Ditch the Drama, Find Your Strength, and Sparkle Your Way to the Top. (The title is almost longer than the damn book!)
RuPaul's favorite sidekick/co-judge will team up with our own Jinkx Monsoon, the Season Five winner of RuPaul's Drag Race as the host/moderator for an evening of candid conversation at the Egyptian Cinema on Capitol Hill in an event produced by Third Place Books.
Here's more poo on the event and a ticket link.
Join us for an evening with the fabulous Michelle Visage in conversation with RPDR season five winner Jinkx Monsoon for the release of her new book The Diva Rules : Ditch the Drama, Find Your Strength, and Sparkle Your Way to the Top.

Each ticket includes one copy of The Diva Rules.  BUY TICKETS

When : Wednesday, November 11 at 7pm, Doors at 6pm

Where : The Egyptian Theater, directions here.

SIGNING LINE TICKETS GIVEN AT THE DOOR WITH BOOKS.

SIGNING LINE TICKETS ARE FIRST COME, FIRST SERVED.

ALL ATTENDEES WILL GET INTO THE SIGNING LINE.

SIGNING GUIDELINES :

SIGNING GUIDELINES :
Personalizations allowed.
Posed photos allowed, one per book.
NO memorabilia.

Book Description :

Michelle Visage is not your average diva. Powerful, positive, and polished, this diva's not only glamorous, she's a savvy businesswoman with serious credentials who works her tail off. From her days vogueing in the downtown Manhattan clubs in the '90s to her successful career in radio and her ultimate cult status as a judge on RuPaul's Drag Race, Michelle has achieved her dreams and then some! In The Diva Rules, Visage shares her rules and advice for living life to the fullest and finding success no matter the hand you're dealt. With her no-nonsense style and super sassy voice, Michelle tells readers to "Keep Your Shit Together," "Give Good Face," and "Be Thankful You're a Misfit," in addition to 22 other invaluable life lessons on finding your power and sparkling your way to the top.

AFTERPARTY!

Keep the night going! Head down to R Place for drinks and Robbie Turner's Playground!  R Place is just two blocks from The Egyptian, and Robbie Turner is not to be missed!

*Michelle Visage and Jinkx Monsoon will not be appearing at R Place.
So, there's an after party event but the two stars OF the event won't be there?
Why would you want to go?
To go to Robbie Turner's Playground?
SNORT.
We're guessing that contractually they can't say they will or might be at the after party because then they'll need to be paid…and, no one is wanting to do that.
Or, maybe they'll just chill out at a better club.
Tags: Jinkx Monsoon, Michelle Visage, The Diva Rules : Ditch the Drama, Third Place Books