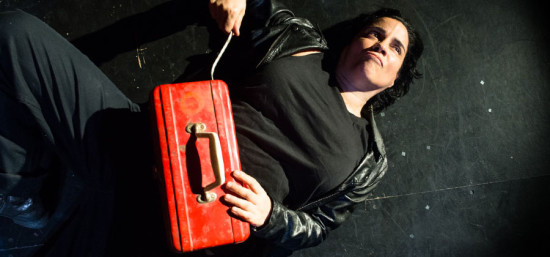 Performer/writer MARGA GOMEZ debuted her new solo show POUND at Theatre Off Jackson back in October for one performance only before moving on to a long and successful run in San Francisco. Now Seattle has TWO more chances to check out the show with the announcement Gomez will return to ToJ for performances on Friday, December 4 and Friday, December 11 with both shows at 9pm.  Grab tickets HERE!
Marga Gomez, in association with Theatre Off Jackson, presents
POUND
a slightly unplugged preview of a new solo comedy by Marga Gomez
Dec 4 & 11, 9pm (late night, after Hung By The Chimney)
$18 GA, $20 walk-up day of show
GLAAD award winning solo performer Marga Gomez brings her slightly unplugged sex fueled comedy to Theatre Off Jackson for one night only.

GLAAD award winning solo performer Marga Gomez brings her lesbian sex-fueled comedy to Theatre Off Jackson, back by popular demand!

In POUND, Marga Gomez plays a desperate version of herself as well as her gay nephew Mikey, and a delicious assortment of cinema's most obscure and toxic lesbian characters. A critically acclaimed audience favorite at New York's 2015 Hot Festival, POUND satirizes the gloomy portrayal of lesbian lust in film history and the sexual side effects Gomez suffered from watching these movies. Fighting to get her groove back, Gomez fumbles a ladies' room tryst and teleports to a steamy lesbian data cloud where extortionists, showgirls, murderers and school teachers hook up in spectacularly meta ways.

Event is strictly 18+

Marga Gomez is the writer/ performer of eleven solo plays that have been performed nationally and internationally. Her stage work earned her a GLAAD Media Award, Theater LA's Ovation Award and a nomination for New York's Drama Desk Award. Gomez is also one of the nation's first openly gay stand-up comedians with television appearances on HBO , Showtime and LOGO. She is a long time favorite comedian on Olivia Cruises along with Lisa Koch and other mermaids and sailor girls.
POUND will follow HUNG BY THE CHIMNEY, the naughty holiday show by Pulp Vixens featuring the talents of Shawmarie Stanton, Jennifer Jasper and Rebecca M. Davis. Savvy shoppers can purchase a special ticket and get BOTH shows for $20!! Go HERE to snatch this deal!
Tags: Marga Gomez, Pound, Solo Show, Theatre Off Jackson