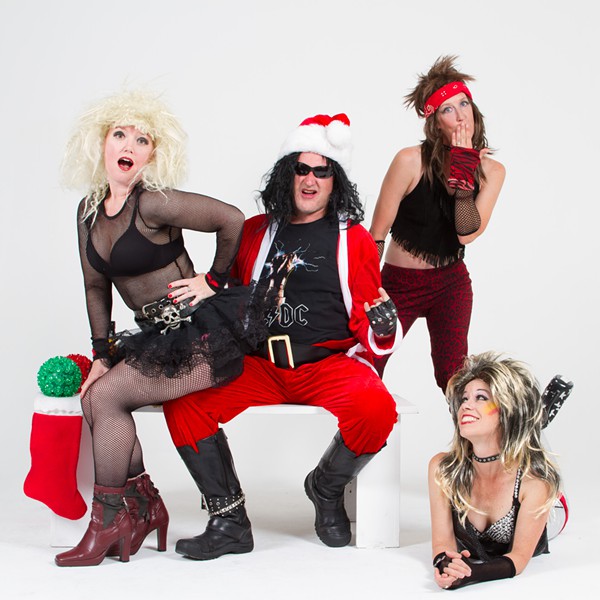 Mmmmmmm…..who doesn't enjoy the smell of buttrock in the morning? Especially on Christmas morning…
Well, it's not technically happening on Xmas morning but you CAN enjoy some of your favorite butt rock from the 80s during this Yuletide season as the team behind the insanely beloved Buttrock Suites dance series from the early/mid 2000s returns to a Seattle stage with The Buttcracker, their playful dance parody of a certain beloved holiday ballet usually populated by grinning children from the suburbs.
Instead, The Buttcracker is populated with winking adults from Seattle's dance community. Diana Cardiff, Jana Hill, Sara Jinks, and Matt Mulkerin are hair whipping up some novel approaches to cherished holiday material with the use of some of your beloved songs from the 1980s. If you enjoy big hair and Def Leppard/Journey/Ozzy, you're in for a treat.
But, it's only for 4 shows this weekend, Fri/Sat/Sun nights at 7:30pm with a late night show at 10 pm on Saturday. All shows are at the Erickson Off Broadway, (the theater space behind the Egyptian Cinema on Harvard!) and you should quickly snatch your tickets HERE before they vanish faster than David Lee Roth's hairline!
MORE info from the press release:
Nuts aren't the only things being cracked this holiday season. Behold The Buttcracker—a show with the moves of modern dance and the energy of an 80s rock concert.

Producers Diana Cardiff, Jana Hill, Sara Jinks, and Matt Mulkerin bring Seattle audiences their favorite "hair metal" songs in a festive holiday show based (quite) loosely on the cherished Christmas ballet with acts that include Dance of the Dingleberry Fairies, a holiday hand bell choir gone bad, and a scene where rag dolls will come to life in a raucous romp. Buttcracker will rock one's pants off capturing the Christmas spirit and regurgitating it back at audiences with reckless abandon.

In addition to The Nutcracker ballet, this new holiday tradition dips into the best of Buttrock Suites, the Seattle dance series whose popularity reached a fever pitch in the early 2000s. In 2005, The Seattle Weekly described Buttrock as "a hilarious-yet-heartfelt performance that will entrance both metalheads and fans of modern dance." With well-known Seattle choreographers such as Alex Martin, Juliet Waller Pruzan, Crispin Spaeth, and the Buttrcracker producers, these shows consistently sold out Velocity, Bumbershoot, Neumos, and Triple Door, to name a few.

"It's been seven years since Buttrock Suites graced the stage for its final show. Since then, the producers and performers have had children, acquired real jobs, started businesses and yes, aged a bit," said Cardiff, who's also a founding member of D9 Dance Collective. "But did these types of minor life changes ever stop the likes of Ozzy Osbourne? Did three decades, the loss of a limb, or major drug addiction slow down Def Leppard?  Heck no!"

In other words, Buttrock Suites is back with a vengeance, regardless of graying mullets and stretching spandex. Buttcracker will include performances by young whipper-snappers, guest and VIP performers: Cathy Sutherland (Aviatrix/Seattle), Richard Ayres (NY), and Wade Madsen (Seattle).

The Buttcracker

7:30 pm., Friday, Dec. 18

7:30 and 10 p.m., Saturday, Dec. 19

7:30 p.m., Sunday Dec. 20

Tickets:

Advance general admission $22/door $25

Advance student/senior $20/door $23  

Available for purchase at Strangertickets.com. http://www.strangertickets.com/events/27595796/buttcracker
(Visited 1 times, 1 visits today)