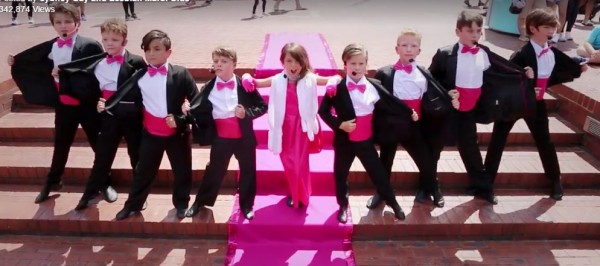 OMG! Even if you're kinda over Madonna, this still SPARKLES (to steal a trademark from Sparkle Leigh, but the daffy diva is in MEXICO tanning her BUNS so she won't know….SSSSSSH!!!!) Uber Madonna Fans got together with the folks at Sydney Australia's annual Gay & Lesbian Mardi Gras a couple weeks back to stage this fantastic Flash Mob Tribute To The Material One!
It features nine year olds, drag queens and a dancer stuffed into a papier mache Madonna head doing three of her hit songs at iconic venues throughout Sydney. Even though Flash Mobs are a tad 2011, this is still really cute…especially the opening with the little kids (who are good dancers and lip syncers!) We REALLY love the little diva who is channeling Madonna…we think she might be Madonna's grand child!
(No way could it be Madonna's child…holy miracles involving Madonna's giving immaculately conceived births at her age only happen every 2000 years or so…)
Check out the video at the website for Sydney Gay & Lesbian Mardi Gras...the actual video isn't easy to post here.
More from the website about the making of the video:
Sydney Gay and Lesbian Mardi Gras is proud to premiere our 'Queen Of Pop' video tribute to the one and ONLY Madonna.

The clip, features over 200 vogueing volunteers of all ages, performing several of Madonna's iconic tracks, including the original recordings of Material Girl, Vogue, Express Yourself and Living For Love. Queen Of Pop is a heartfelt tribute in recognition and respect of Madonna's support for our LGBTQI communities throughout her career.

As an artist, Madonna has helped define a generation during an era that has seen huge global changes, and diversity has ALWAYS been core to her message of self-expression and love. We hope that our video tribute goes someway to reflect the sheer joy, infinite love and deep respect that our diverse LGBTQI communities have for a unique performer who continues to empower, celebrate, and support us.

The clip was produced exclusively by TheFanBaseHq for Sydney Gay and Lesbian Mardi Gras and was filmed on Valentine's Day at Darling Harbour, Sydney during the Month Of Love celebrations.

With massive thanks to all our Vogueing Volunteers, Maddison Georgopoulos and her Material Boys, Coco Jumbo, Little X, Decoda Secret and the Queen Of Pop Dancers, Rhys Bobridge and the one and only Megadonna! With special thanks to everyone at Sydney Harbour Foreshore Authority & The FanBase HQ. 

Creative Director: Lewis Oswald, Producer: Lewis Oswald
Director: Dan Murphy, Editor: Dan Murphy
Choreographer: Aaron Farley (aka Minnie Cooper)
Costume Design: Ang Sinnett and Shirley Hamid
Tags: Flash Mobs, Madonna, Sydney Australia, Sydney Gay & Lesbian Mardi Gras