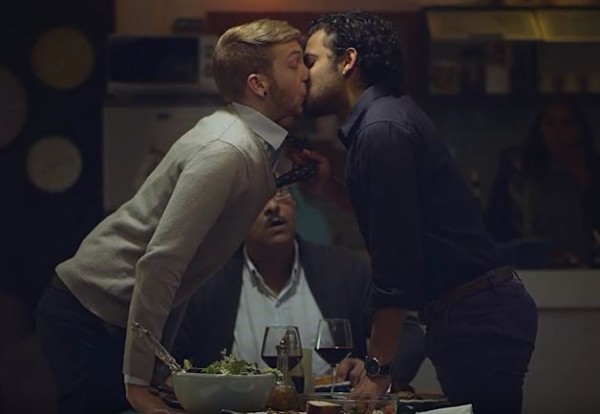 Apparently, this public service ad in South Africa was controversial enough to be banned from some media outlets. South Africa's "We The Brave" campaign is similar to ads and programs in the U.S. to help "bring sexy back to sexual health".
From their website:
We The Brave is a sexual health campaign with the MSM community in mind. This is the first large scale campaign ever in our country to specifically address gay men and other men who have sex with men.

Spearheaded by the Anova Health Institute, and funded by the Elton John AIDS Foundation, the WeTheBrave.co.za campaign addresses both prevention and treatment issues in an affirming, non-judgemental and sex positive way, which will be entertaining and engaging.

Are you ‪#BraveEnough‬ to make healthy sexual choices, like wearing a condom, getting tested regularly and knowing your status?
Go check out their website. It's very well done…in fact, better than many sites in the U.S.
We sort of wonder if this PSA was controversial in South Africa due to the same gendered kissing or also because it's a mixed race couple? Or, maybe a combo platter of "A" and "B".
We also like this funny dildo ad.
#WeTheBrave
(Visited 1 times, 1 visits today)