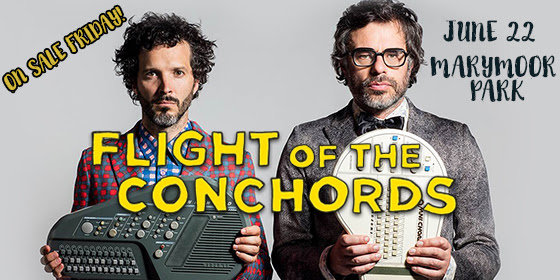 If you get too "gayed out" on Pride weekend in June, there's now a lovely option that's majorly fun but doesn't require drag queens, glitter bears, gallons of vodka or the same 129 drunken homosexuals you see at every drunken Pride bar party. Our favorite Kiwi comedy duo are back in the harness for a brand new tour…just announced via Twitter, FLIGHT OF THE CONCHORDS are back in business:
AMERICA!

New tour dates this summer as "Flight of the Conchords sing Flight of the Conchords". We've got new material, which we'll be showcasing on the road. The tour begins on June 11th in the great Cleveland, OH and ends July 27th in Los Angeles, CA. Highlight stops include Red Rocks Park and Amphitheatre, Newport Folk Festival, and SummerStage NYC. Tickets go on sale this Friday March 4th at 10am. For tickets and more details visit http://smarturl.it/FOTCsingFOTC.
Wheeeeeeeeeeeeeeeeeeeeeeeeeeeeeeee!
We j'adore them.
For those of you unaware, Flight of the Conchords is a two man comedy band consisting of Bret McKenzie (the one who has an Oscar for writing songs for The Muppet Movie reboots) and Jemaine Clement (the one with glasses who doesn't have an Oscar). They were an underground sensation internationally until HBO picked them up for a popular series. The duo only did 2 seasons of the show…they weren't canceled but they had run out of musical material! The act relies on their clever song parodies/pastiches and since every episode of the series had 2 or 3 songs, they were exhausted creatively. Since the show ended, the pair have worked on separate projects; McKenzie busy winning an Oscar for Muppet songs and Clement has worked on several indie films. Now they return for a summer tour…
Can a new television series be far behind?
What you need to know:
Flight of the Conchords Sings Flight of the Conchords
Wed, Jun 22, 2016 – 7:00PM
6046 West Lake Sammamish Parkway Northeast in Redmond, WA
Ages: All Ages to Enter, 21 & Over to Drink
Doors Open: 5:30PM
Onsale: Fri, Mar 4, 2016 – 10:00AM PST
(Visited 5 times, 1 visits today)