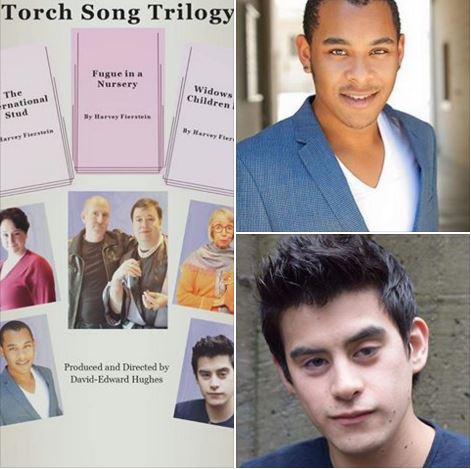 Torch Song Trilogy was the production that made Harvey Fierstein a Broadway icon. Fierstein was a struggling NYC actor in the late 70s who had started out in avant garde Andy Warhol theater productions and off off off Broadway plays. He was a large framed, flamboyantly gay and Jewish actor with a very distinctive voice who had a hard time getting work who realized he would have to create his own material if he wanted to work in the theater. With that in mind, Fierstein wrote and debuted International Stud, the first play in the trilogy, in 1978 for a two week run at LaMama, E.T.C. The success of that production led to a longer running production, then the sequel play, Fugue in a Nursery debuted a year later in 1979.
The huge success of the first two plays led Fierstein to writing a third play and adapting the first two, into the three act work we now know as Torch Song Trilogy.  The final full three act, 4 hour play debuted in October of 1981 with an original cast that included Fierstein starring as Arnold Beckoff, the torch song loving drag queen and central character, closeted gay actor Joel Crothers (famous for his work in soaps like "Dark Shadows" and "The Edge of Night";Crothers was himself a victim of AIDS, dying in 1985) as Arnold's bisexual lover Ed; a very young Matthew Broderick as David, Arnold's adopted gay son; and a pre-Golden Girls Estelle Getty as Arnold's  homophobic mom. The play transferred to Broadway in June of 1982 for a long run which included winning the Tony Award for Best Play and Fierstein also winning the Tony for Best Actor in a Play. The play was eventually made into a film, starring Fierstein and a too old for his role Broderick, in 1988. "Torch Song" was a major work that established gay characters could be the focus of compelling drama and accessible to mainstream audiences.
The "Trilogy" was an important step in the establishment of queer theater as well as being the first major work to deal with the AIDS Crisis…it predated Larry Kramer's The Normal Heart by 4 years. But, like "Normal Heart"  and other AIDS themed dramas like As Is and Jerker, Torch Song Trilogy has faded from stages as a long gone remnant of an era forgotten by many in the LGBTQ community. Some even argue that other AIDS themed theater pieces like the very popular musical Rent are also destined to fade and even Tony Kushner's Pultizer Prize winning Angels in America could be doomed to being admired and studied, but seldom produced.
But, a group of local theater makers are determined to give life to Fierstein's work by presenting a staged reading of Torch Song Trilogy, this coming Friday, April 8, 2016 at Studio East in Kirkland, Washington. It's part of a fund raising campaign to eventually fully stage the work in the future. David-Edward Hughes is a local theater writer (yes, David-Edward is a contributor to Seattle Gay Scene…) who's also been a theater maker for many decades and he's the mastermind behind bringing "Torch Song" back to Seattle area stages with the help of other artists like Marcus Wolland as Arnold and Gregory Lyle-Newton as Ed.
We poked David-Edward, Marcus and Greg to ask them a few questions about "Torch Song" and what it means to them to bring it back to life for a 21st century audience.
Seattle Gay Scene: Why this play?
David-Edward Hughes: More like why the hell not??? It is a seminal piece of gay playwriting from the pre-AIDS plays era. It was Harvey Fierstein's breakthrough play, won the 1983 Tony and Drama Desk awards for Best Play, and at the Tony Awards that year,  its producer publicly acknowledged his gay male partner, which was a first. It ran over 3 years in NYC.  Each act is set in a different year, 1978, 1979, and 1983, but because it is character-driven it does not feel dated. Yet, it's been done only once in the Puget Sound area since I moved here 26 years ago. Broadway has never revived it…we're not talking Abie's Irish Rose for god's sake! I want it to live again and be appreciated.
Gregory Lyle-Newton: I think of  "Torch Song" as something of a cultural touchstone, capturing an exciting moment in time when our community was reshaping sexual identity and the meaning of family for themselves and the world. Tragically, it just happened to be the same moment as the AIDS pandemic began its insidious course, ultimately decimating a generation of gay men prepared to take civil rights to the next step and refocusing our energies toward simple survival. So, in that context, it's very bittersweet.
SGS: What draws you to this material?
Marcus Wolland: The draw for me is the opportunity to revisit a role I played in college, but with 20 more years of life experience to support it. However, the most daunting aspect of portraying Arnold Beckoff is the shadow of Harvey Fierstein…he wrote the part for himself and so…although I'm not trying to impersonate him, the written lines require at least a nod to Fierstein's vocal quality and personality…it's not really a role an actor can make entirely his own. Perhaps (that's) another reason the show isn't staged more often. What I think younger audiences can learn is that we've come a LONG way from the early 1980s…social and political references that weren't reality in 1982 are now common, making this play an important historical marker for gay culture.
DEH: The range of emotions it displays, the growth of Arnold and Ed's rocky, riveting relationship, the fact that there are ONLY protagonists in this story, flawed as they may be, and more than anything that it is life affirming; no queers kill themselves in this show or moan about how much they hate their lives. It presents us as normal, fucked up people, just like our (presumably) heterosexual parents were.
SGN: Does this material still resonate after 30+ years?
MW: The resonance will always exist…as Fierstein wrote in his author's notes, "…the value of these plays…lies in the little mirrors in which we catch our reflections." Who hasn't struggled through love? Who hasn't felt angst over parental acceptance? Who hasn't been hurt or hurt others themselves? The human condition will always resonate.
DEH: It absolutely resonates. Gay humans haven't changed, so I don't see the roles as challenging, except that Arnold's role, which Harvey wrote for and about himself is, for an actor like running a marathon is for an athlete. I think the real challenge that exists is getting young audiences to see it, because I think it is just as necessary to see as The Normal Heart, As Is, or Angels in America . You have to look at the before as well as the during, and after of our community, not JUST the now.
GLN: Is it an artifact of another time? Sure. Does it still resonate today? I think so. It's funny. It's touching. It's personal. Growing up in conservative Texas, it helped replace or, at least, counter many of the toxic, suffocating stereotypes of queer life that were still so prevalent in arts and entertainment. And its surprise commercial success and Best Play win at the 1983 Tony Awards helped give it visibility and legs to meaningfully reach kids like me, struggling to figure themselves out and take advantage of new opportunities available to us in the aftermath of the Gay Liberation Movement. And I think that, although we enjoy civil rights and broad acceptance unanticipated at the time, many of the conversations Fierstein depicts in "Torch Song" are still playing out among friends and lovers, parents and children, in places across the country and around the globe. We can't take that for granted. The questions and conflicts "Torch" presents are still very real for an incredibly vast number of people.
SGS: (Question directed to Gregory Lyle-Newton): How does "Torch Song" compare to "The Normal Heart", a play you did to great acclaim at Strawberry Theatre Workshop over two years ago. How would you compare those two characters (Ed in "Torch Song" and Ned Weeks in "The Normal Heart")?
GLN: Ed's interesting. He's both a bit of a blank romantic canvas for Fierstein's hero, serving as foil, straight man and sparring partner–Omar Sharif's Nicky Arnstein to Barbra Streisand's Fanny Brice–and a snapshot of much of what Larry Kramer's Ned Weeks railed against in "The Normal Heart:" He's a little fatuous. Vain. Apolitical. Self-absorbed. Promiscuous. Closeted. But he's very much a product of his era, seeing love relationships as filtered through the limited binary social construct of his youth: either marriage with wife and kids, which he craves, on one hand,  or the marginalized ghetto life portrayed in "The Boys in the Band," which frightens him, on the other. And he lacks the imagination and courage to realize that he has agency to define how he lives on his own terms. That's his journey.
SGS (directed toward David-Edward Hughes): What are your plans for this production?
DEH: It's a staged reading that I fervently hope we will be able to move to a full Seattle production in coming months. Potential co-producers, contact me at kilshq@gmail.com if you are interested!
---
"EF productions is proud to present a staged reading of Harvey Fierstein's Tony Award winning play about Arnold Beckoff, a Draq Queen camping his way through the Pre-Aids era in NYC where looking for love could, eventually, lead you to all the RlGHT places, after a few detours and a lot of singin' the blues."
Directed  and Produced by David-Edward Hughes, the reading stars Marcus Wolland as Arnold. Gregory Lyle-Newton as Ed, Tracy Mayclin as Laurel and Lady Blues, Isaac Tiejie as Alan, Moshe Henderson as David and as Mrs. Beckhoff, Kathleen Roche-Zujko.
The performance starts Friday April 8 at 7pm at Studio East (11730 118th Ave NE in Kirkland, Washington). Tickets are festival seating and paid at the door. Adults are $25.00, Seniors over age 60 are $20. 00 and Students and Members of Theatrical Unions with ID are $15.00. Payment by Cash or Check only at the door.
There's also a GoFundMe campaign to support this project. If you are unable to attend the Friday reading, please feel free to contribute.