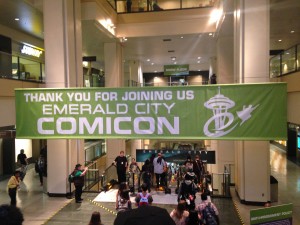 FOUR DAYS AND IT WAS ABSOLUTELY WORTH IT.
Bodies are sore and tired. Brains are (figuratively) oozing out skulls from hyper nerdspeak. Somewhere is a child excitedly refusing to take off their costume. And parents who are lovingly sighing over the weekend's haul of art, comics, toys, pictures, and t-shirts.
Where to begin?
For 2016, ECCC had been bought by ReedPop. ReedPop has come under some (rumored) flack for treating New York Comic Con like uber-commercialized trash, and recently The Mary Sue reported that one of the badges featured an image fit for trigger warnings. While most of the convention experience seemed quite positive for many attendees, nevertheless there were grumblings about swag bags, capes, having to buy everything under the sun, lack of (competent) staff, and general customer service oversights. It was also discussed among several fans that some of the guest cancellations had to do with poor communication between ReedPop/ECCC admins and agents. We're all aware, however, that filming times can change at the drop of a hat and there's nothing a convention can do about it. If you have a specific comment/complaint, feel free to contact ReedPop.
Enough with the negative! Did *you* have fun? Because it was hard not to smile with 80° and persistent sunshine. Even cosplayers with seven layers of makeup and full-body leather/latex outfits were grinning. AND OH YEAH NATHAN FILLION.
Thursday's turnout looked every bit like a normal convention Friday, as far as how crowded the Center was. First on my schedule was the DC Entertaiment-All Access preview panel—it was a BLAST. Dan DiDio, co-publisher, hosted the event wherein a camp of writers and artists showed off their work in the upcoming "Rebirth" line, including Bombshells, Dark Knight III, Poison Ivy, Superwoman, Supergirl, Green Lantern, and Harley Quinn. DiDio mentioned DC's Talent Devlopment program, and invited two people from the audience to sketch during the panel. A third contestant was chosen, and low and behold it was, in fact, JIM LEE himself! It was said that DC has lost some of its fan base with the run of the New 52s, and it's hoped that DC will generate fresh interest as well as make longtime fans happy with "Rebirth." The peek into "Rebirth's" art and stories was phenomenal itself, but the biggest joy was hearing that they'll be shipping about 17 titles, twice monthly, at the REDUCED PRICE of $2.99 per issue. DiDio said that the price will be maintained the next couple of years during the life of the line. They're "doubling down" on the core characters and celebrating everything that makes them great. The other huge announcement was the premiere of Gerard Way's (My Chemical Romance, former DC intern) new mature audiences-rated imprint Young Animals, which will feature four new titles, among which will be the resurrected "Doom Patrol" and "Shade."
Afterward, I headed to the DC fan meetup, and spoke with a Harley Quinn cosplayer who unwittingly met Jim Lee while standing in line for the panel. The meetup was fun, and I'd like to think we made some friends while geeking out. Meetups this year were sponsored by Meetup.com. Speaking of which, mixers were held most mornings at 10am. Can we say "ugh, day drag with no caffeine?" (That's how I felt, anyway, as I'm not typically a morning person.) From there, the ECCC edition of Geek Out! Trivia Night at Raygun was a blast! The place was full, and my team had a couple of cosplayers. Northwest Press guest-hosted a laundry list of the nerdiest questions ever. Placing third was awesome, and I thank the super-knowledgeable guys for knowing all the things.
Friday and Saturday were full of panels, cosplayers, photo shoots/ops, autographs, and every big name on the list. On Saturday, as is the norm for large conventions, the place was nearly packed to the brim with people. Nathan Fillion's panel was in the main hall, on the main stage, and the room was full to capacity. (Though seriously, folks, was it really necessary to save entire rows two hours in advance?) He was hilarious, engaging, fun, and of course ruggedly handsome. Some fan questions were great, and others reached "superfan" mode ("How's your cat?"). Aside from being funneled into one small doorway at the end, everyone walked out seemingly pleased and starstruck.
That night, the after-party at the Hard Rock Cafe was awesomely good fun! People geeked out over their con experiences, and celebs made appearances throughout the night. Dante Basco (Rufio, Zuko) showed up in a smart grey fedora and danced a little moonwalk on stage. The crowd chanted "Rufio! Bangarang!" with the beat of the music, and life was good. When I'd met him earlier that day, I thanked him for being in But I'm a Cheerleader, and he said, "Thank you, I was sooo honored to be a part of that."
Sunday rolled around, and as I circled the Artists' Alleys, I congratulated the guests for making it till the end. Some were tired, others were feverishly snacking, but all were still jovial and polite to fans. By the end, some people were tallying the number of Deadpools, Reys, and Harley Quinns, the numbers reaching into double digits. Even the ubiquitious T-Rex costumes made ridiculous appearances!
So the the whole shebang was awesome! Yes, you're probably bankrupt as a result. No, you might not have done everything, but who can? The same ECCC is still there, folks. But money is ultimately the name of the game. The comics industry runs on our support and dollars, and without it, conventions wouldn't be successful, nor would we have as much fun attending them! We'll see you next year, ECCC!
*flops over, naps contentedly, plans next convention trip*
(Visited 1 times, 1 visits today)