So alike and so different.
Two local offbeat theater companies have a lot in common yet differ significantly in many ways. Annex is the respected hippie elder of the two, a Seattle institution dedicated to creating new work, much of it locally written, and frequently featuring genre themes like sci-fi, horror, fantasy and crime thrillers.
Washington Ensemble Theatre, aka WET, is younger and a bit brasher/brattier. They also prefer new works by new playwrights and produce/create work by local writers…though, WET occasionally does dabbles in "bigger" more established pieces like this winter's The Motherfucker with the Hat. They also like genre themes but they tend to go with skewed versions of various genres…they do love themselves some detached irony with a dollop of sarcasm! WET's a bit more "art school" while Annex has more of a "hippie/DIY" vibe. Annex is funkier/grungier and WET is hipper/slicker.
Annex=working class hippies. WET=the children of working class hippies who went to a good school and have massive amounts of debt.
Seattle is privileged to have both of these companies producing odd, off-beat works. Their productions can be frequently uneven, or over the top, or underdeveloped but they're always pushing the envelope, if not your buttons. At least once a year, Annex and WET will produce a show that makes me wanna slap them but then they'll follow up with a delightful piece of inspired brilliance.
Sometimes they stage works where you want to alternately do BOTH in the same production.
They both just debuted new shows this past week…are my hands itching to slap someone, or are my arms aching to give them avuncular hugs of a congratulatory nature?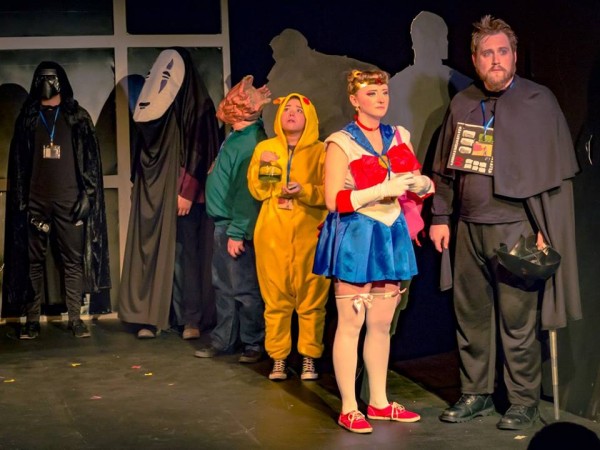 Review: Puny Humans by Bret Fetzer & Keiko Green. Produced by Annex Theatre. Directed by Gavin Reub. With David Rollison, Ben McFadden, Nic Morden, Rachel Guyer-Mafune, Kelly Johnson, Grace Carmack, Heather Persinger, Patty Bonnell, Zenaida Smith, Te Yellend, Lauryn Hochberg, Cole Hornaday, Kevin Bordi. Now through May 14, 2016 at Annex Theatre.
Let's kick it off with Annex's PUNY HUMANS co-written by longtime Annex company member, Bret Fetzer and rising young Seattle actor/writer Keiko Green who solo, penned last year's Bunnies for Annex. Puny Humans is a "day in the life of" show about a beloved Seattle institution with a very contemporary topical theme as it explores one full day at "Queen City Comicon" their very thinly disguised version of the actual annual comic book/genre convention that takes place in town every spring. Featuring a huge cast of 13 actors playing multiple roles, "Puny" intertwines all these characters with several plot threads that keep intersecting with each other. If you're a movie fan, it's very reminiscent of a Robert Altman or Paul Thomas Anderson film…it's a geeky nerd version of Altman's Nashville or PTA's Boogie Nights but you can replace the country/western stars of Nashville and the porn stars of Boogie Nights with characters dressed up like Pikachu, Sailor Moon, Batman and Darth Vader.
The major plot threads are:
Two childhood buddies who have gradually drifted apart try to reconnect at the Con. One is the angry, loud nerd type; the other is a bit of a yuppie bro
Bizarre Love Triangle features a sweet Dr. Who fan/writer who discovers she's pregnant by her first love, an awkward nerd with self-esteem issues who discovers a kindred soul in the form of an offbeat anime fan
Fierce feminist gamer blogger has to deal with "Gamergate" bullying while learning how to promote herself without betraying her ideals
A young girl on the autism spectrum negotiates the difficulties of interacting at the event with the help of her kind but exhausted mother
Fading sexy genre actress copes with her lagging career
Rising young male genre actor struggles between being a nice guy and a complete Hollywood douchebag
Oh, and there's the angry comic book guy who bemoans what Comicon has begun; the frazzled on air hostess for a media outlet who hates her job; the even more frazzled Comicon stage manager dealing with all the insanity…and lots and lots of minor characters/in jokes running around in cosplay costumes.
All these characters and plots mix with each other as well. The two buddies intersect with Offbeat Anime Girl and Fierce Feminist Blogger Girl who is best friends with Sweet Pregnant Girl who has a moment with Tired Autism Girl's Mom. Hollywood Actor tries to bed every female in the cast while Fading Sexy Actress offers words of advice to Blogger Girl.
Fetzer and Green have created several memorable characters and plots and have done a fantastic job of weaving them all together in a story. Puny Humans contains clever dialogue, spoken by fully formed fascinating characters in intricately connected stories. It's topical. It's timely. It's full of wit and wisdom. It's a huge delight for genre fans but it's accessible to non-fans as well. It's a strong piece of theater writing.
It's also in desperate need of a dramaturg to work with them to cut, trim and shape all this material. Puny Humans actually has TOO much good stuff in it…it's a big show and it runs about 2 and a half hours but it would play much better with a strong edit and an overall tightening. There's repetition and some deadwood that needs to be removed. Nic Morden does a great job of playing the horny Hollywood Actor but frankly, it's the character/thread that probably could be totally axed or severely trimmed back….or, even saved for a different play. I look at this production as its first tryout. I'd love to see the playwrights get together with the team AFTER the run and with a dramaturg to work out what needs to be done to get this material to its next version…because Puny Humans is a smart play that needs to be seen outside of the Annex Theatre World. It has potential to go places.
Director Gavin Reub has done a nice job of staging this show…it's tough to wrangle that many actors/characters/plots on one stage and he keeps it all moving along and interesting. He's also done a terrific job of casting. There are many great actors in this show, all ideally cast including several new young actors on the scene. I can't flag everyone but I have to praise David Rollison as Gus, the Angry Nerd/Joker who manages to make an unlikable character very real and compassionate over the course of the play. Te Yelland as the pregnant Dr. Who fan Hazel is such a lovely center of calm amidst all the crazy noise of many of the other characters; she grounds this show and gives it a heart. Zenaida Smith's fierce feminist blogger Sam is a complicated multi layered character and she plays all those different layers of the character with such finesse. Rachel Guyer-Mafune as the Emma, the girl on "the spectrum" is just a lovely revelation…it's more than obvious that the writers understand this character and are able to create a very real and honest world for her to inhabit. Ms Guyer-Mafune does a splendid job of capturing that reality.
Finally, Kevin Bordi as the misfit nerd in the awful Darth Vader costume, Jacob and Grace Carmack as the delightfully odd Sailor Moon anime fan are just a huge delight as they awkwardly court each other. Mr. Bordi is just great at portraying that shaggy awkwardness (who despite his own sense of low esteem has managed to hook up and impregnate one really adorable girl and then snag another adorable girl…) Ms Carmack is just so delightfully Looney Tunes as Lauren…it's like "Harry Potter's" Luna was cross pollinated with Louise from "Bob's Burgers". It's a deliciously demented and scene stealing performance in a show that's full of them.
In a nutshell, Puny Humans is a clever treat with a brilliant cast. They get an avuncular hug.
It just needs a bit of a pruning to make it perfect.
Or, maybe turned into a movie.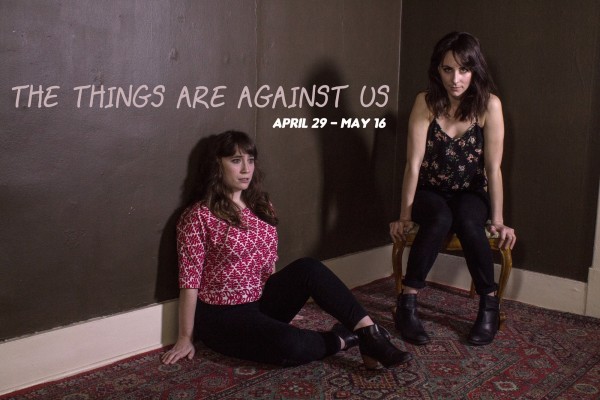 Review: The Things Are Against Us by Susan Soon He Stanton. Produced by Washington Ensemble Theatre. Directed by Bobbin Ramsey. With Allison Standley, Samie Spring Detzer, Robert Bergin, Jany Bacallao, Jeffrey Azevedo, Ian Bond. Now through May 16, 2016 at 12th Avenue Arts.
A block and a half away, there's a different kind of demented at 12th Avenue Arts as Washington Ensemble Theatre debuts another odd new play. It's their production of up and coming young playwright Susan Soon He Stanton's The Things Are Against Us a very strange haunted house play that also manages to include the ghostly presence of famed Spanish playwright, Federico Garcia Lopez.
The Things Are Against Us is an example of a typical WET production. Big, messy….full of some terrific individual elements…in this case, a superb cast of actors, brilliant design work, an innovative director making clever choices. It's also full of some awful ones…the primary example being the train wreck of a script which is the primary "thing" against WET having a coherent production.
"Things" is about….what, exactly? It seems it centers on two sisters, messy lovelorn Solange who lives in New York City and is getting over a bad break-up with Carlo, and the slightly more centered but also quite odd Tessa who has returned to fix up and run a creepy old house in Massachusetts as a bed and breakfast. We alternate between the lives of the two women as they communicate back and forth with one another lamenting over the troubles in their lives. Solange still pines for Carlo and Tessa is living an odd dream life with some ghostly visions in her increasingly freaky house.
But, the playwright also adds in a couple other plot threads. We have a slyly charming Federico Garcia Lorca commenting on the proceedings in between fervid bouts of writing poems. And, there's also a sweetly earnest young Arab immigrant named Yusef who inherited a suit and a watch from his grandfather, who might have had an affair with Garcia Lorca in his youth. Somehow, wearing the suit and watch triggers Yusef to…what? Time travel or maybe just move to a different plane of existence where he re-enacts his grandfather's life with Garcia Lorca circa 1930. Meanwhile, Yusef also encounters Solange and begins an odd relationship with her. Eventually, Solange and Yusef and the ghostly presence of Garcia Lorca all travel by train to visit Tessa and that's when the caca hits the fan as The Things Are Against Us switches gears to become a weird hybrid of Stephen King's The Shining and Shirley Jackson's classic novel, The Haunting of Hill House, but mixed in a bit with a "funny" tone seemingly swiped from an episode of the parody tv show, "Robot Chicken".
And, those are the main problems with "Things". It doesn't know what it wants to be (or, tries to be TOO many things) and it doesn't seem to know what tone it should take. Is this play funny? Serious? Tongue in cheek? Scary? It veers from one to the other and that's not really a feasible way to create a piece of coherent art or entertainment. If it's supposed to be mostly funny AND scary, that's a feat that's very hard to pull off…many have tried to do it, and, most fail. Including this play.
(Also: why the hell is Garcia Lorca IN this play? He just feels…plunked.)
But, frustratingly, there are many great things to like about this production. It has terrific design elements including a fantastic set design by Julia Welch. You enter the smaller studio theater at 12th Avenue Arts to encounter a BIG, skewed replica of a creepy haunted house. It's one of those sets that you want to applaud as this curtain opens. Tristan Roberson has created a truly spooky lighting design with a fun creepy use of projections to illustrate the ghostly presence in the house. James Shreck's high contrast sound design includes a lot of different elements to create the worlds of "Things"…though, the spoken dialogue that emanates from the House (which is not credited) didn't really work. It comes off more arch and affected than scary, but we'll blame the director/performer for those choices…though the voice could have been manipulated to be menacing.
Bobbin Ramsey has made some fascinating and fun directorial choices here…including a sexy and hilarious scene involving Tessa and her Phantom Handyman enjoying a fruit filled snack. The production is full of several cleverly constructed and staged moments from the director.
There are many talented actors in this cast but…they're not always shown to their best advantage and that's usually because of the confused writing. The play is written by a woman and centers on the two sisters but frankly, they're the weakest written characters. Samie Spring Detzer is having a lot of fun playing the rather deranged Solange but the role is so crudely drawn. Meanwhile, poor Allison Standley is stuck with a role that's so vaguely defined; Tessa is rather a bland enigma. Ms Standley is such a good actress…it's a shame she hasn't been given a role worth her talents.
The men come off better…to a degree. Jeffrey Azevedo is charming as Yusef, the sweet natured immigrant who's rather amazed by the events in his life. Jany Bacallao has the advantage of playing a "real" character so his Garcia Lorca has a bit more heft and he plays the part with huge amounts of charisma and suave confidence. Robert Bergin's sexy handyman is appropriately…sexy and handy. His aforementioned fruit eating scene with Allison Standley, is a show highlight.
I love WET but despite the many terrific elements (that set!), The Things Against Us is a miss for me. They get a "slap" but it's a gentle slap. They should keep the set in storage and just DO "The House on Haunted Hill" sometime soon.
Tags: Annex Theatre, Puny Humans, The Things Are Against Us, Washington Ensemble Theatre, WET