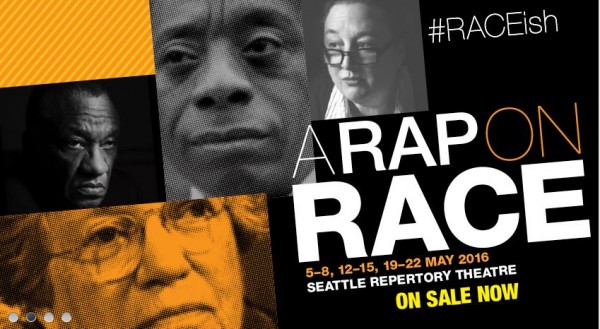 It's an unusual series of teamings. A dance theater company with a drama company…an award winning choreographer with an award winning actor/playwright. It's a "conversation" set to dance; a theater piece that combines movement, dialogue, music…it's the meeting of several different minds all having a "rap on race".
It's the latest production for
Spectrum Dance Theater
as part of their 2015/16 season they've titled and themed, "RACEish: An Exploration of America's 240 Years of (failed) Race Relations" which aim to "instigate debate, conversation, and examination of RACE and EQUITY in America."
Spectrum, in association with Seattle Repertory Theatre are presenting the world premiere of A Rap On Race based on an actual 1970 conversation on race between noted playwright James Baldwin and anthropologist Margaret Mead.
Co-created by Spectrum founder, the Tony Award-nominated and Bessie Award-winning director/choreographer
Donald Byrd
and Pulitzer Prize-nominated and MacArthur Award-winning actress/playwright
Anna Deavere Smith
,
A Rap on Race
is a genre defining piece of theater "where movement, dance, text, imagery, music, and sound co-exist to create an experience that nudges, prods, entices, seduces, and provokes the feeling and intellect of the spectator – a theater of mind, senses, and soul."
And, it's all based on an actual event. From the press release:
In 1970, these two towering personalities of American intelligentsia sat together and recorded a conversation about the defining subject of the American experience: race.  Mead, 68 years old, white and liberal, was the most famous anthropologist of the 20th Century. Baldwin, 46, black, living in exile in France, was one of the most prominent novelists. The two had never met before. Their conversation, carried out in three long sessions over two long days, was tape recorded, transcribed, and published as a book. Now over 40 years later, two contemporary artistic icons, Smith (best known for her documentary theater style in plays such as "Fires in the Mirror" and "Twilight: Los Angeles") and legendary, local choreographer Donald Byrd, re-imagine this monumental moment in history through an evening of devised dance and theater.

In this innovative production featuring the world-renowned dancers of

Spectrum

Dance Theater, Julie Briskman (

The Seagull Project

) as Mead, and Donald Byrd as Baldwin, Smith and Byrd excavate the truths buried in the facts of this cultural artifact. But this cultural artifact, though over 40 years old, is far from archaic. "What is heartbreaking for me, is when you listen to these tapes that were recorded in 1970, the conversation is the same," states Briskman.  "It has not evolved in the way that James Baldwin and Margaret Mead might have imagined that it would. It has not evolved to the point that I imagine most of humanity would thought it might have."

"Within the current dominant aesthetics of performance, virtuosity is often dismissed as empty display," Byrd comments. "In this new work it is used as a means to communicate the complexities involved when talking about race, a topic that is decidedly necessary yet often deemed too difficult to address." The work will take the form of a series of choreographed 'physical duets' played in tandem or juxtaposed with verbal duets gleaned from the Baldwin/Mead tapes. The physical duets are not fact but rather the explorations and search for truth that cannot be found within the limitations of language. "I think what we are doing in terms of our dance theater is really sort of genre obliterating. For A Rap On Race, dancing and physical theater play together in a unique way that truly reaches people and in essence defines a new sort of theater for the 21st Century," Byrd concludes.
A Rap on Race
runs May 5th through May 22nd with 7:30 pm shows Thursday through Saturday and a 2 pm matinee on Sundays, at the Leo K. Theater at Seattle Rep, 155 Mercer Street. Tickets are on sale now at:
http://bit.ly/25XmG5R
More info about the creators:
ABOUT DONALD BYRD

Donald Byrd, the enfant terrible of the New York dance scene of the 1980s and 90s, achieved international visibility for the creation of the The Harlem Nutcracker.  Byrd is aBessie Award winner for The Minstrel Show and was nominated for a Tony Award for his choreography for the Broadway production of The Color Purple. Byrd's body of work is varied and impressive, spanning more than four decades, pushing the boundaries of movement and message. The work may be purely an aesthetic experience or it may wrap itself around a compelling civic issue, encouraging a community to examine ideas and attitudes that it may impact.

ABOUT ANNA DEAVERE SMITH

Anna Deavere Smith has performed in film, television, and on stage. She currently plays Attorney General Mary Campbell on Madame Secretary and appears as Alicia on Blackish. She played Mrs. Akalitis on Nurse Jackie, Nancy McNally, the National Security Advisor, on the West Wing and was featured in the series Presidio Med. Smith has been featured in several films, including Rachel Getting Married, The American President, The Human Stain, Dave and Rent.  As a writer and a humanist, she has received numerous awards for her work including the prestigious 2013 Gish Prize for achievement in the arts, the 2012 National Humanities Medal presented to her by President Obama, and the 1996 MacArthur "genius" Award. In 2015, she was named the Jefferson Lecturer, the federal government's highest honor in the Humanities.

ABOUT JULIE BRISKMAN

Julie Briskman has performed in leading roles at Seattle Repertory Theatre, ACT Theatre, Seattle Shakespeare Company, and Seattle Children's Theatre. National credits include: Yale Repertory Theater, Berkeley Repertory Theatre, Trinity Repertory Company, Milwaukee Repertory Theater, Arizona Theatre Company, Portland Center Stage, and The Guthrie Theater where she was a company member for seven seasons. Julie is the Founding Artistic Producer of THE SEAGULL PROJECT, co-founded with Brandon Simmons, where she has played Arkadina in The Seagull, and Olga in The Three Sisters, which received the 2015 Gregory Award. Julie is a recipient of the 2014 Lunt Fontanne Fellowship, studying under the tutelage of David Hyde Pierce, and was invited to return to Ten Chimneys last year for a Master Class on the Greeks led by Olympia Dukakis. She will be seen this Fall at Seattle Children's Theater reprising her role as The White Witch in The Lion The Witch and the Wardrobe. In February of 2017 she will take on the role of Ranevskaya in THE SEAGULL PROJECT production of The Cherry Orchard.

ABOUT

SPECTRUM

DANCE THEATER

Under Donald Byrd's artistic leadership since 2002,

Spectrum

Dance Theater has become the foremost contemporary modern dance organization in the Pacific Northwest, gaining recognition nationally and abroad.  For over thirty years,

Spectrum

Dance Theater has brought dance of the highest merit to a diverse community working to make dance accessible to all through contemporary dance performances and high quality dance training in a variety of dance styles.  Three components comprise the organization: the professional Company, the School and Outreach programs.  With Donald Byrd's visionary artistic leadership, the organization has embarked on an exhilarating transformation that has attracted world class dancers, produced some of the most avant-garde works in contemporary dance, and generated local and national praise. 

www.spectrumdance.org
And, here's a trailer for the production:
"A Rap On Race" Sizzle Reel from Spectrum Dance Theater on Vimeo.
Tags: A Rap on Race, Anna Devere Smith, Donald Byrd, Seattle Repertory Theatre, Spectrum Dance Theater