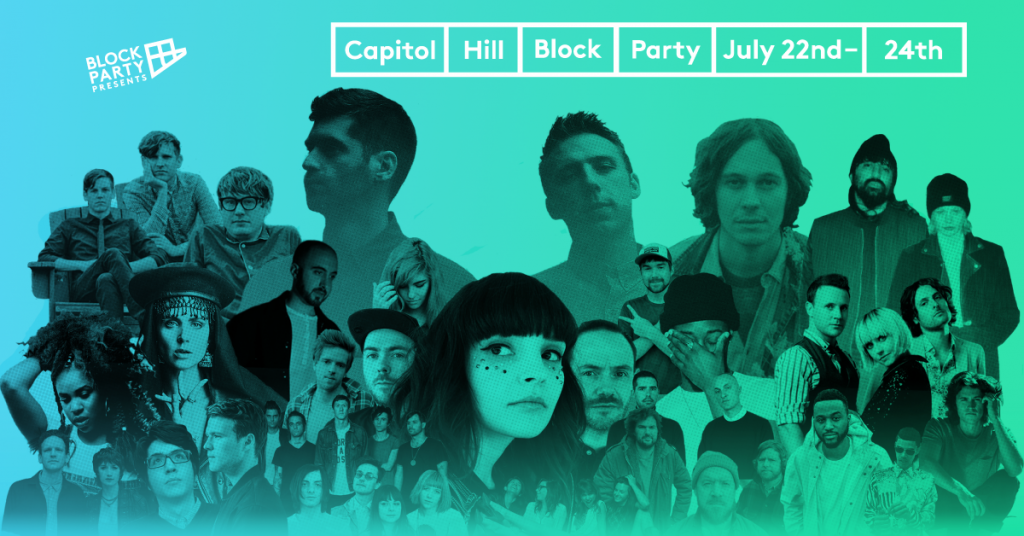 Capitol Hill Block Party is back to takeover Pike/Pine  July 22-24 with a HUGE lineup and even some FREE shows to check out!
To celebrate its 20th anniversary with the local community, this year CHBP is going "beyond the fences" of the festival's footprint and partnering with surrounding Capitol Hill venues to offer extended programming. Extended programming includes free evening shows at Unicorn on Friday, Saturday and Sunday, daytime performances and Sunday Morning Yoga at Chop House Row, as well as a poster show in conjunction with the Capitol Hill Arts Walk that begins July 14th and runs through the festival.  The posters will be on view in the V2 Gallery Space (1525 11th Ave) through the end of Capitol Hill Block Party July 24.
"Capitol Hill is the artistic and cultural epicenter of Seattle," says owner/producer Jason Lajeunesse. "This year, we want to activate the entire neighborhood and community to celebrate arts and culture with us."
Love it or hate it, one has to give credit to the organizers of the Capitol Hill Block Party for producing an increasingly successful event in the neighborhood for 20 years.
More information on CHBP's 20th anniversary extended programming will be available via the CHBP Twitter account https://twitter.com/CHBlockParty/ and website http://capitolhillblockparty.com/ as the festival approaches.
For those that want to fully experience Block Party, there are still single day and multi-day tickets available here: http://capitolhillblockparty.com
The full lineup has been released and is below:
Friday
Washed Out // Crystal Castles // MØ // Emancipator // Sango // The Dip // DJDS // Head Wound City // Dilly Dally // Mild High Club // Iska Dhaaf // Pillar Point // Dick Stusso // JET // Zoolab x King Snake // Wild Powwers // DoNormaal // Nail Polish // The Echolarks // Sebastian & The Deep Blue // Into Violence // Great Falls // Donzis // Merso // Heavy Petting // Western War // Sundog // Astro King Phoenix // Amy Viking // Pale Noise
Saturday
ODESZA // Big Wild // Tourist // Car Seat Headrest // Thunderpussy // Israel Nash // Porter Ray // WAND // Pure Bathing Culture // Great Good Fine Ok // On An On // Woods // Ultimate Painting // Good Co. // Tangerine // Prism Tats // JET // The Grizzled Mighty // Ramblin' Years // Duke Evers // Bardot // Tilson xoxo // Down North // Erie // Bread & Butter // Acapulco Lips // Boyfriends // Steal Shit Do Drugs // Dude York // Mommy Long Legs // Lisa Prank // Scott Yoder // Moon Dial // JusMoni // Screens // The Good Wives // Tape Stacks // Sego
Sunday
CHVRCHES // STRFKR // Goldlink // The Joy Formidable // Mick Jenkins // NAO // The Cave Singers // Phoebe Ryan // Laura Gibson // Oh Pep // cardiknox // Benjamin Francis Leftwich // Absolute Monarchs // Bad Future // Paralyzer // Sashay // Big Trughk // Wolfgang Fuck // Stallion // Stefan Paul George // Joe Gregory // Colorworks // Jamie Aaron Aux // Sister Girlfriend // Sassyblack
(Visited 1 times, 1 visits today)