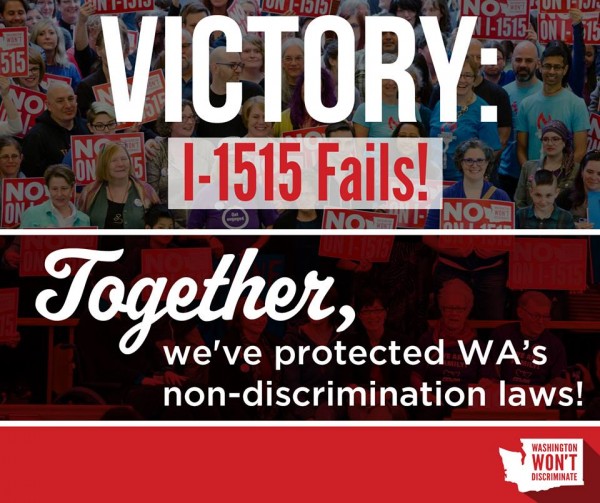 The transphobic proposed Washington State Initiative 1515 failed to acquire the required number of signatures to make the November ballot. The creators of I-1515 quietly canceled a meeting with the Secretary of State scheduled for today to turn in those signatures. I-1515 would have repealed existing Washington State non-discrimination laws that currently protect the rights of transgender Washingtonians.
That announcement is a victory for the battle for equality for all queer people and sends a clear message that the majority of Washington citizens choose to support our community and specifically our transgender friends, family and neighbors.
The I-1515 campaign has faced criticism and scrutiny for months for alleged underhanded tactics that included charges of signature gatherers misrepresenting themselves to the public (as ANTI-1515 signature gatherers) as well as allegations that "I-1515 campaign manager Joseph Backholm instructed male signature gatherers to follow women into public restrooms with the express intent of intimidating them into signing the petition in support of I-1515." The I-1515 campaign was severely rebuked for these actions by Washington State Attorney General Bob Ferguson who warned the campaign they could face criminal charges for illegal trespass and harassment.

Seth Kirby, the chair of the "Washington Won't Discriminate: No On I-1515" campaign, released this statement:
"As a transgender man, I'm encouraged that voters didn't buy the pitch that repealing our state's non-discrimination protections for transgender people would somehow make everyone safer…everyone in our state should be able to earn a living, frequent a business, earn an education, and raise a family free from the fear of discrimination."
Kirby went on to state that this was an important day for Washington State and the battle for civil rights in our state.
"Washingtonians have sent a clear message – we won't discriminate."
(Visited 1 times, 1 visits today)