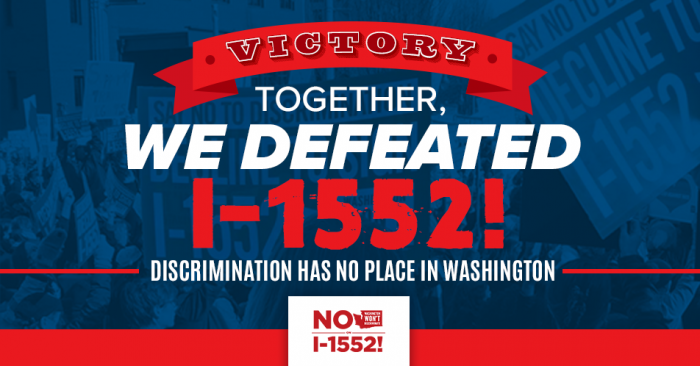 For the second time in a row, anti-trans bigots failed to get a citizen's initiative on the Washington State ballot that would seek to get voter approval in the state to remove non-discrimination protections for transgender people. The Washington Secretary of State office announced at 3 pm this afternoon that the anti-trans groups failed to acquire enough signatures to get on the November 2017 ballot. This is another victory for LGBTQ rights in Washington and a sign that the majority of citizens in the state are opposed to transphobia and in support of equal rights and protections for transgender residents.
More from HRC:
I-1552 Fails to Qualify for the November Ballot
Anti-transgender campaign fails second time in a row
WASHINGTON STATE: For the second year in a row, a campaign to rollback non-discrimination protections for transgender people failed to turn in enough signatures to qualify for the ballot in Washington State. The WA Secretary of State's office just announced that the I-1552 campaign cancelled its 3pm Friday appointment to turn in 259,622 valid signatures.

Law enforcement, sexual assault prevention groups and YWCAs opposed I-1552 because repealing the state's non-discrimination protections would be unnecessary, unenforceable, and harmful.

"We all care about safety and privacy, but people understand that repealing protections from discrimination for transgender people won't make anyone safer," said Seth Kirby, a transgender man and Chair of Washington Won't Discriminate, the No on I-1552 campaign. "It's already a felony to assault or harass someone in public facilities, and no one should have to prove their gender to self-appointed bathroom cops."

Washington Won't Discriminate, a coalition of more than 500 businesses, labor unions, faith organizations, and many others, ran a vibrant "Decline to Sign" campaign, collecting more than 50,000 pledges from Washington voters.  The No campaign raised nearly $300,000 from thousands of people, groups and businesses including ACLU of Washington, Microsoft, Pride Foundation, Legal Voice, Human Rights Campaign and Freedom for All Americans, and had already recruited more than 100,000 activists and volunteers ready to oppose I-1552 if it had made it to the ballot.

"Washington would have been the first state to put a repeal of transgender rights up for a public vote, and we're proud of our state for saying no a second time.  As more people get to know transgender folks like myself, it's clear the tide is starting to turn against discriminatory efforts like I-1552," said Kirby.

Earlier this week, former WA State Republican Chair Chris Vance urged voters to not sign I-1552, saying "We need laws that protect the rights, safety, privacy, and dignity of all citizens, including transgender people."

Also this week, the Texas Republican House Speaker announced he opposed a similar measure saying he worried about the impacts of discrimination on the state's economy and on the future of young transgender people.

"It's time for the forces behind I-1552 to get the message — Washingtonians aren't buying what they're selling because in this state we value freedom and liberty, and we don't want to go backwards from the progress we've made for LGBTQ people," said State Representative and Judiciary Committee Chair Laurie Jinkins

"Transgender people like me deserve the same basic protections as everyone else – to use public facilities with safety, privacy and dignity," added Kirby.

Like Washington, more than 200 cities and counties and 18 states have nondiscrimination laws protecting transgender people's access to facilities consistent with the gender they live every day—without negative impacts on public safety.

"I've devoted my career to preventing sexual violence in our community and there is nothing more important to me than ensuring our community is safe. I'm proud that voters declined to sign on I-1552, an initiative which would have done nothing to make us safer and instead would have caused serious unintended consequences for the privacy and safety of all of us by encouraging more discrimination and harassment," said Andrea Piper-Wentland, Director of Washington Coalition of Sexual Assault Programs.

While I-1552 did not qualify for the ballot this year, Washington Won't Discriminate will continue to mobilize public support for protecting our state's non-discrimination laws from future attacks.
(Visited 1 times, 1 visits today)