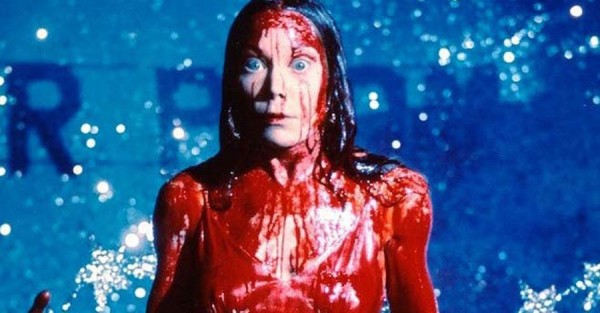 Sigh.
I TRIED to get a local film group to put together a 40th Anniversary Screening/Party for "Carrie" the 1976 classic horror film directed by Brian De Palma and based on the novel by Stephen King. It just seems like a natural fit. It's a beloved film with a terrific cast…and, it couldn't be THAT hard to lure up a cast member to attend. I mean, bless their hearts, it's not like P.J. Soles or Nancy Allen or even Edie McClurg are THAT busy…alas, as far as I'm aware, that group didn't "bite" and no one is throwing a "Carrie" event in Seattle this year.
(Are they?)
But, someone has OBVIOUSLY been monitoring my brain waves and brilliant ideas because Los Angeles is throwing a big "Carrie" party in October. Ace Hotel and Shout Factory, who are releasing a 40th anniversary special home edition of the film are teaming up for a big screening/party which is also a fundraiser for weSpark, a non-profit cancer support program. It's happening Friday, October 14th at the Ace Hotel in Los Angeles with several cast members and crew in attendance.
Here's the bloody bucket of info:
It's gonna be a bloodbath. To mark the 40th anniversary of Carrie — Brian De Palma's genre-defining horror classic — The weSpark, Ace Hotel and Scream Factory is hosting a halloween season screening party with cast and crew in attendance. We'll have The Lobby fully decked out for a rampage-free senior prom circa 1976, complete with a costume contest, photo booth, "Bloody Carrie" cocktails and a live DJ into the evening.

$25 General Admission including Prom-Themed After Party

$75 Preferred Seating + Exclusive Carrie Poster + New Scream Factory Blu Ray + Photo Op including Prom Themed After-Party (Limited availability)

$125 VIP seating + Exclusive Carrie Poster & Blu-ray + Photo Op with cast/crew including After-Party + Private Pre-Party (Limited availability)

All proceeds will directly benefit weSPARK's cancer support programs. 

Tickets HERE.

The star-studded cast and crew reunion is set to include Carrie stars Academy Award™-nominated Piper Laurie (The Hustler), Nancy Allen (Dressed to Kill, Robocop), William Katt (The Greatest American Hero), P.J. Soles (Halloween), Academy Award™-winning editor Paul Hirsch (Star Wars: Episode IV) and Casting Director Harriett B. Helberg (The Jazz Singer). The cast will participate in a live Q&A moderated by Bryan Fuller (the creative genius behind NBC's Hannibal, ABC's Pushing Daisies and the upcoming series American Gods).
So far, it seems star Sissy Spacek, and co-stars John Travolta, Amy Irving and Betty Buckley are not set to attend.  And, where's Brian De Palma?!?!?! I mean, they're all quite old…what else do they have going on that night? Mah jong? Harassing massage therapists?
Still…I'd burn down a gym full of Mean Girls to attend this soiree.
Who wants to sponsor me?
Oh, and you can snag the new DVD/digital edition of "Carrie" over at Shout Factory!
(Thanks to Alonso Duralde for the heads up on this event and additional information.)
(Visited 1 times, 1 visits today)