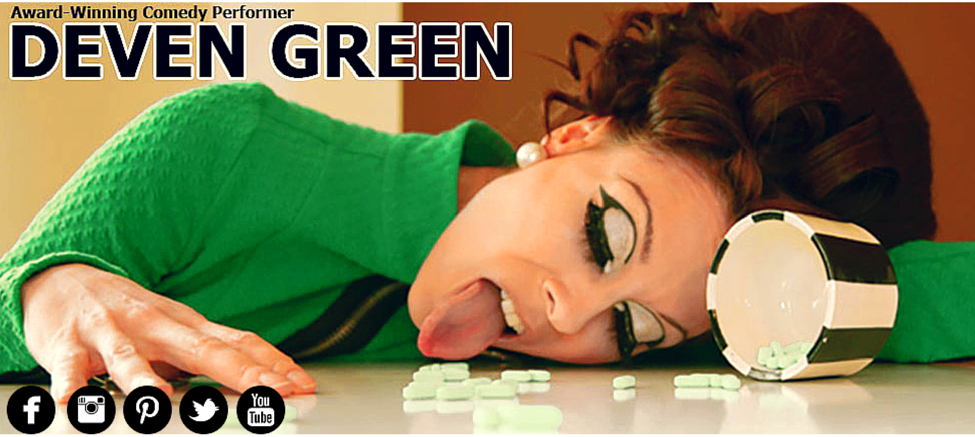 When we first decided to invite Deven Green for the 4th installment of the "Icon Tour", it was largely at the request/urging of DJ Tony Burns.  "You've gotta bring her!" he said…."So many people will die!" he said.  So of course, with such strong feelings, we felt we should trust his judgement.  At the end of the last installment of the Icon Tour (with Ms. Sherry Vine), Mama Tits announced that Deven would be our next guest.  The crowd went nuts.  Obviously, Tony had the right idea.  Months later, here we are,  3 weeks out from our engagement with Ms. Green.  This promises to be quite a happening, a hilarious, wonderful happening, and we can't wait to expose the Seattle scene to her live and in person!  To warm things up, we thought an interview was in order.  So we collaborated with Ms. Green on this little ditty for our gracious media sponsor, Seattle Gay Scene.
LA Kendall/Tony Burns: We have friends who LOVE you and have no clue who you are!  Who the hell are you?!
Deven Green: You may know me from the oft-quoted "Welcome To My Home" parodies.  When you hear others greet each other with a, "Well Hello", in an affected voice with patronizing judgement, that is me!  If you ever re-shared a satirical video called "Traditional Marriage by Betty Bowers – America's Best Christian" that is me!  If you watched RuPaul's Drag Race Roast Season 5 you saw me!  If you love the ads for #LipTar from OCCmakeup that was me! If you read the advice column in GOLIATH magazine, those were my words! If you see a white, stick of a girl with a B-cup headlining Pride's across North America because she has supported the community for decades that will ALWAYS be me!
LAK/TB: You play a live music show?
DG: Yes, a live music show where I belt out my version of songs sometimes using the audience as I am wont to do. Did I mention that I sing all the songs while I play an electric ukulele?  No? Well let me serve you this: I will put out in Seattle.
LAK/TB: Drag?
DG: Yes please! It's the highest form of entertainment!  Most are funnier than traditional stand up comedians, most are better singers than main-stream singers, and most are better performers than hookers.  I do call Drag Queen Bingo, I do open up for and perform with Drag Queens because I compliment them.   I do wear costumes and false eyelashes but I am not a drag queen – you will have to find out for yourself what the hell I am on Sept. 28th!
LAK/TB: Why the Unicorn/Narwhal in Seattle?
DG: I am based in Los Angeles but DJ Tony Burns and I were looking for a way to hang out together in Seattle and thought of this elaborate ruse! In actuality, I am honored to be part of Skyscraper Entertainment Group and Kendall's DJ & Event's: Icon Tour.  And, because my dear friends whom I admire CoCo Peru, Sherry Vine and Jackie Beat, have already been part of this, it puts me in A-list territory.  You only pay $20 – $30 but I will give you a $100 show…and that is in American dollars.  I want to meet you, take photos and make you happy – it's going to be a crazy fun night.   If you don't laugh at least once I will personally refund your ticket.  DevenGreen.com
You know this bitch is gonna make you laugh, right?
Deven Green @ Unicorn/Narwhal – Wednesday, September 28 – $20 advance, $25 at the door, $30 VIP
Purchase tickets NOW: Icon Series: Deven Green! Tickets | Unicorn – Narwhal | Seattle, WA | September 28, 2016 | Stranger Tickets
Check out "Betty Bowers: America's BEST Christian"!!!
(Visited 104 times, 1 visits today)