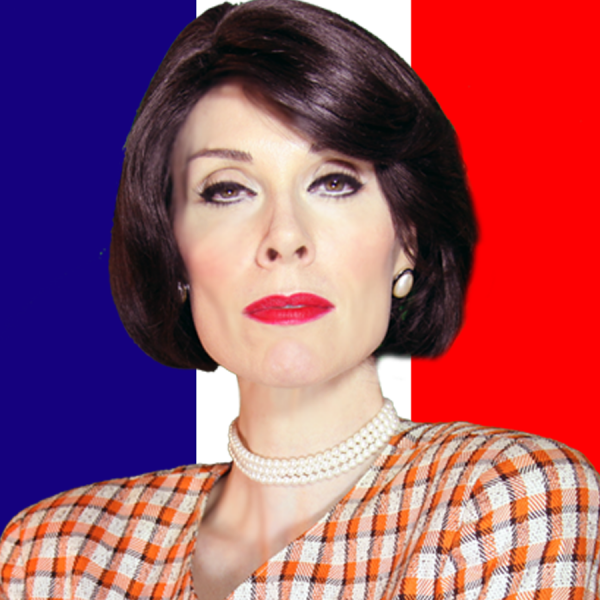 We're so excited to help Skyscraper Entertainment (aka Mama Tits) and Kendall's DJ & Event with their ongoing "Idols Series" at Unicorn/Narwhal. Over the last year or so they've brought so many of our favorites to Seattle: Jackie Beat and Coco Peru and Sherry Vine. It's so smart to showcase these legendary cabaret/comedy drag performers and expose them to younger audiences who only know of drag performances via "RuPaul's Drag Race" and tend to not be familiar with the legendary stars who pre-date RPDR.
Now Kendall and Mama T. are bringing an equally brilliant performer to town but for a change, it's a real lady and not a pretend one…on Wednesday, September 28, 2016 the legendary comedian/singer DEVEN GREEN will headline a show at the Unicorn/Narwhal. Best known as her terrifying alter ego, "America's Best Christian, Mrs. Betty Bowers" and for numerous, hilarious videos (including the ridiculous "Welcome to My Home!") Deven is one of those comedians that other comedians seek out for divine inspiration. And, she's not only blessed with razor sharp wit and improv skills, she can also belt out a tune…while playing the electric ukulele.
Here's some more skinny on the show:
Skyscraper Entertainment Group LLC and Kendall's DJ & Event present another installment in the "Idols Series" at Narwhal @ Unicorn! This time our special guest is the amazing and hilarious: Deven Green. Hosted by the one and only, Mama Tits.
Deven Green performs her versions of songs from the 1920s to today in her very fun, eclectic music show all played on electric uke. Mash-ups, sing-alongs, and requests – a veritable human jukebox!
"Charming, funny and original – you never know what she will say or play next. On top of it all this girl can sing!"
DevenGreen.com
BIO:
Deven Green is the Los Angeles-based, award-winning comedy performer originally from Canada. You know her as the satirical Betty Bowers – America's Best Christian, from the cult "Welcome To My Home" parodies, as an OCC makeup spokesmodel, "RuPaul's Drag Race" comedy judge, World of Wonder YouTube winner, Top 10 Funniest Videos from NY Magazine, Star Magazine's Fashion Squad, Goliath Magazine's advice columnist and performing her live music shows in brothels across America.
DevenGreen.com
Wednesday, September 28th
$20 GA/$30 VIP
(Visited 1 times, 1 visits today)