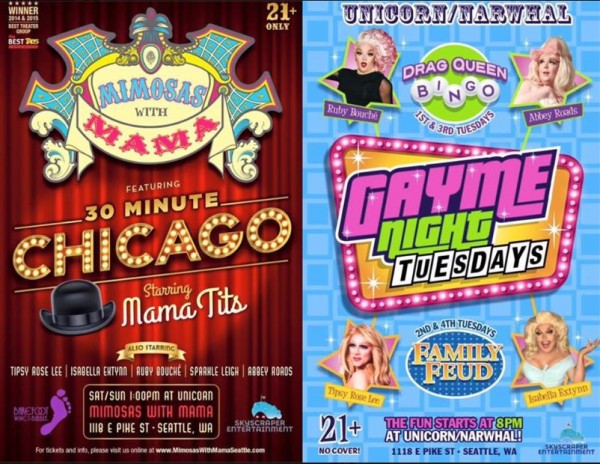 Good grief…the Skyscraper Entertainment/Mimosas With Mama/Unicorn Crew have a whole slew of big changes all happening RIGHT NOW!!! Mama Tits and her Gang of Cutthroat Misfit Drag Divas are:
#1: Opening a brand new mini-musical this Sunday, June 5th with their debut of their twisted version of the beloved Kander/Ebb musical CHICAGO starring Mama Tits as Mama Morton, Tipsy Rose Lee as Velma and Ruby Bouché as Roxy, and Isabella Extynn and Sparkle Leigh as everyone else! Grab tickets here and More poo:
Gleaming inspiration from the Broadways masterpiece and the fabulous Film adaptation Mimosas with Mama takes you back to Chicago in the mid 1920's where Murder, Deception and GLITZ were all the rage. Join the "Mary" Murderesses as they share their story of Deception, Greed, Lust and MURDER in our very own condensed parody version of "Chicago"….you never know what surprises we have in store!

This completely remastered and restaged original adaptation is brought to life with all new lighting design by our very own Ruby Bouché and over the top costuming by our costume masters: Reymond Chapman, Kozzma Monsoon and Abbey Roads! All the fan favorite songs like "All That Jazz", "Razzle Dazzle", "Cell Block Tango" and many more are in our sleek and sexy rendition of this all time favorite.

The cast of Mimosas with Mama will take you on a twisted journey of murder and deception with masterful lip-sync to song and dialogue that will transport you back to 1920's Chicago, plus we have even sprinkled in some LIVE Singing through the show. Come out and see whats new when Mimosas with Mama presents 30Minute Chicago!
#2: Oh, and they're also adding SATURDAY "Mimosas with Mama" shows starting next Saturday, June 11, 2016 at 1 PM. Grab tickets HERE!
#3: If that wasn't enough, the "Mimosas" team are producing a fun new evening Tuesday night event at The Unicorn/Narwhal starting this Tuesday, June 7th at 8 PM with their fun new NO COVER party night, GAYME NIGHT!  Here's more poo on it:
Fun Games, Audience participation and PRIZES!! Come on out to the world famous Unicorn/Narwhal and be transported into a circus themed world full of games, booze and Drag Queens!

Not only does the Unicorn/ Narwhal boast a fabulous arcade collection of vintage and hot new PinBall games as well as skeet ball, vintage Ms Pacman and more, now starting June 7th at 8pm, we will bring you even more fun with the addition of GAYme Night Tuesdays!

GAYmeNight Tuesdays will bring you different audience participation games each week on a bi-weekly rotation.

Opening up our new night and joining us Every 1st and 3rd Tuesdays is Drag Queen Bingo! Hosted by the Ravishing Ruby Bouché and the hilarious Abbey Roads!

Next week and every 2nd and 4th Tuesdays of the month we dive into the age old favorite "Family Feud" with hosting by the Incomparable Tipsy Rose Lee and the Glamazon Goddess Isabella Extynn!

Come out on Tuesday's starting June 7th at 8pm and see what fun we can get into! Your new Tuesday Night hang out has arrived, now let's PLAY some GAMES!
WOW! That's a lot of exciting new events and changes for the "Mimosas with Mama" team…
Wait, I thought they were supposed to fold up and fade away after that Disco Stu/DJ 80s Grandpa Dude left them in the lurch last fall?
Seems like they've just gotten better without him…
Go figure!

Oh, and be aware that "Mimosas with Mama" will not be performing their Sat/Sunday Brunch shows at Unicorn/Narwhal on Pride Weekend, June 25 and 26. However, do check out Skyscraper Entertainment's fun partnered show with Kendall's DJ & Events on Friday, June 24 at The Unicorn/Narwhal when they present Mario Diaz's BFD Unicorn Takeover with the King of Nightlife, Mario Diaz and two of his "Big Fat Dick" crew from Los Angeles. It's gonna be a DUUUUURTY Fun Time at The Unicorn on Pride Friday. Snag tickets and here's more poo:
Skyscraper Entertainment and Kendall's DJ and events presents:

BFD (BIG Fat Dick)

Unicorn Takeover: Seattle Pride Edition 2016

With James Cerne and Bennett Anthony!

Mario Diaz and his bevy of sexy menz have been making the boys sweat for a long time wherever they pop up their legendary club for the night. A staple in the LA nightlife and a favorite among gay men and their naughty friends throughout southern California, now this party is making its way up to Seattle to the world famous Unicorn/ Narwhal for a 1 night Takeover!

Join Mama Tits and Mario Diaz for a night of drinks, debauchery, dancing and sexy men! This is the 3rd installment of Pride Party Takeover shows for Mama Tits and this one is sure to be more fun and even more dirty!

Fierce beats will be bumping all night long for your dancing pleasure , Big Dicked GoGo Boys will be shaking their stuff for your visual enjoyment all night long as well as the ever sexy Nario Diaz will be on hand to make sure you and your friends have a sexy fun time.

21+ Only

at Unicorn/ Narwhal – 1118 E Pike St
(Visited 1 times, 1 visits today)