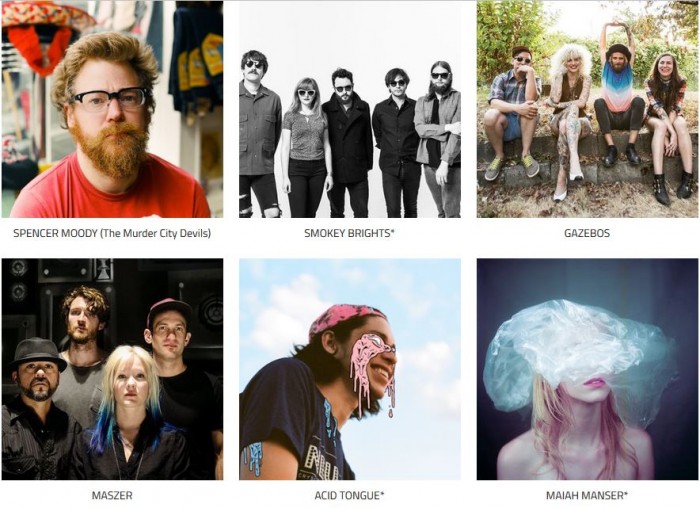 God DAMMIT, I'm sick of being pissed off/depressed/seriously fucking annoyed/distraught and plain ole FREAKED THE FUCK OUT about this fucking atrocity of a presidential election!
FUCK THIS SHIT!!!!!!!!!!!!!!!
I'd head to the Valley of the Dolls but "dolls" don't work well with heart medications.
FUCK BEING OLD!!!!!
Sigh.
Anywho, if you're like me, you need a gawdamned break from being so fucking pissed off and FREAKED THE FUCK OUT so it might behoove you to….
(No…I'm not going to suggest seeing a gawdamned fucking holiday themed show….FUCK SCROOGE AND THE NUTCRACKER!!!)
Go see some fucking LOUD live rock music at a live music venue on the Hill before they're all gentrified out of existence by fucking rich people destroying art and live music culture. FREAKOUT FESTIVAL is the rebranding of a not very old music fest started just 4 years ago as "Psychedelic Holiday Freakout Festival" by the folks over at Seattle based music label, Freakout Records. This year's festival is happening next week, December 8 and 9 and all centered around the vicinity of 14th & Madison on Capitol Hill at venues like Chop Suey, Bar Sue and Pony. The festival naturally features stars from the Freakout label including:
Spencer Moody (of The Murder City Devils), Smokey Brights, Erik Blood (Shabazz Palaces, THEESatisfaction, The Maldives), MASZER, Maiah Manser, Acid Tongue, Cumulus, Wyatt Blair (of Lolipop Records) and MORE!
Check out the full line-up and snag single day or festival passes over HERE.
Oh, and no…this isn't a "gay" music festival. It's a music festival for everyone that's happening at venues that either ARE LGBTQ (Pony) or LGBTQ friendly (and host to LGBTQ events). Just in case you were wondering…
More poo snagged from the website:
WHAT IS FREAKOUT FESTIVAL?

Freakout Festival, previously known as The Psychedelic Holiday Freakout, is the reason that this record label exists in the first place! Guy Keltner (label co-founder) started the Psychedelic Holiday Freakout Festival in 2012 as an annual event curated in different parts of Seattle (the 1st year was at DIY spaces on Capitol Hill; the 2nd year was in Ballard; the 3rd year featured No Age, The Grizzled Mighty, The Shivas, Tesla Boy, and Rose Quartz at Neumos/Barboza). As the festival grew, he brought on more team members to help coordinate, which brought us all together. We've rebranded this year to make it a Freakout Records event, but at it's core, Freakout Festival is still an event for the local Seattle music community.

I'VE NEVER HEARD OF ANY OF THESE BANDS BEFORE

Uhh, that's not a question, but you still have time to fix this! Go check out that fancy Spotify playlist of Freakout Festival artists that we have above, click on each of the artists to check out their social media or website, and follow the Facebook Event as we update it regularly with news about all the artists.

I'VE IGNORED EVERYTHING ON THIS WEBSITE… WHERE/WHEN IS THE FESTIVAL, AGAIN?

That's what we're here for! Freakout Festival takes place for two-nights on December 8 and 9 with doors opening at 8:00pm both nights. It will be located in Seattle, Washington at four venues on E Madison Street & 14th Avenue:

Chop Suey (Both the Main Stage & The Den back bar)
Pony
Bar Sue
Lovecitylove (Located at the CLEANERS across the street on Madison)

HOW WILL THESE TICKETS WORK?

If you pre-order your tickets for a Day 1 Only, Day 2 Only, or 2-Day Pass online through Ticketfly, you can pick up your tickets the night before (Dec 7) at the Freakout Records table at Chop Suey's Red Bull Sound Select event, or your name will be on the will-call list at Chop Suey the nights of the festival. Tickets will still be available at the Chop Suey door on the night of the event.

We will not be doing wristbands this year. Instead, we will have a snazzy Freakout stamp that will give you access to all four venues; Chop Suey, Pony, Bar Sue, & Lovecitylove.

BUYING A PASS ON TICKETFLY IS GOOD FOR ENTRY AT ALL FESTIVAL LOCATIONS

WHEN WILL YOU ANNOUNCE SET TIMES?

There is a schedule already listed above that breaks out the bands by Day & Stage. We will have a downloadable schedule with set times available by December 2.

CAN I BRING MY KIDS?

Are your kids 21 or older? Then yes. Major points to you for being a cool parent.

Otherwise, yes, but only for one stage. Erik Blood + Maiah Manser + Youryoungbody + DoNormaal + Neu Yeuth at Lovecitylove on December 9 will be All-Ages & an alcohol-free stage.
$12 tickets for those under 21 will be available at the door for THIS SHOW ONLY. Those 21+ will still be required to have a Day Pass. See! You can still be a cool parent (or older sibling or Tinder date) on Friday.

WHAT'S THE PARKING SITUATION?

It is all street parking, my friend. Welcome to the joys of Capitol Hill! We obviously strongly recommend that everyone uses the Sound Transit Light Rail, Uber/Lyft, or public transportation.

Thursdays and Fridays are busy evenings for nightlife so the earlier you get there, the better chance you'll have of finding close parking. If you don't mind walking a few blocks, the QFC on Broadyway & Pike usually has affordable overnight rates for their above-building lot.

WHAT CAN I BRING INTO VENUES?

ALLOWED:

Bring your ID! And, no, the security isn't going to remember your face just because you've entered 3 times tonight. Have it out and ready.
Some cash to buy the band's merch.
Cigarettes & lighters or vape pens are fine.
iPhones (But don't be that guy who holds it up for the entire show. Your Instagram video looks bad and your blocking my mom's face)
Fanny packs
Purses & backpacks are allowed, but will be subject to search at every venue so… that'll be really fun for you.

NOT ALLOWED:
Misogynists, Racists, Bigots.

Outside food or drink. All venues except for Lovecitylove (Chop Suey, Bar Sue, Pony) will be serving alcohol and Chop Suey even has a fantastic kitchen that will be serving a special Freakout Festival-themed menu. The Chop Suey kitchen is cash-only but trust me, it's worth it.

Professional cameras with detachable lenses, video cameras, laser pointers, paint, knives, weapons, chains, illegal substances.
WAIT….CHOP SUEY HAS A KITCHEN?!?!?!? AND, SERVES FOOD??!!!!!???
When did that happen?
It's been awhile since I've gone clubbin'….
(Visited 1 times, 1 visits today)