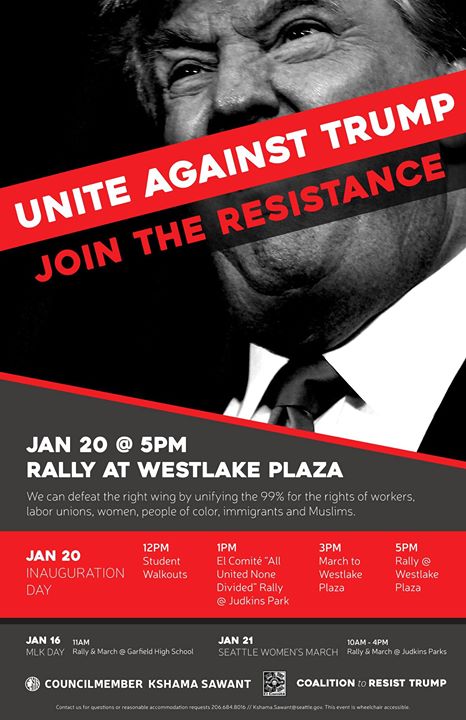 The Day We've Been Dreading Is Upon Us.
The Inauguration of the Klown Prince of Evil, aka Donald J. Trump as the 45th President of the United States is happening Friday, January 20, 2017 at 12 Noon EST (9 AM in Seattle). Despite having won fewer votes in the November 2016 General Election, due to our outdated electoral system of electing presidents, the least qualified man in the history of American politics will now be in control of a huge nuclear arsenal and the lives of 300 million Americans.
Despite the fact all sane people are feeling horrified and terrified at this prospect, we must carry on to…you know the drill.
Resist. Protest. Obstruct. Inform.
Until Trump and his Illegitimate Regime are gone from Washington D.C. That includes the leaders of the Republican Party as well who allowed/encouraged this to happen while they strip our rights away in favor of their own bloated capitalistic interests.
In Seattle and vicinity, there are a number of protests planned for the entire weekend, including marches, rallies and protests. Here are some options:
For Friday, January 20, 2017
Voices of a People's History of the United States Seattle City Hall 12 Noon.
Join us for a special live performance of "Voices of a People's History of the United States" featuring readings by Brett Hamil, Marcus Harrison Green, Jerrell Davis, Claudia Castro Luna, Valerie Curtis Newton, Carlynn Newhouse, Shontina Vernon and more.
The Resist Trump Coalition, immigrant rights organization, El Comité, and Councilmember Kshama Sawant will host a day of bold, unified peaceful protests of the 99% against Trump's racist, bigoted, and anti-worker agenda on Inauguration Day, Friday, January 20!

Join us for a day of events, including:
—12pm Student Walkouts;
—1pm rally at Judkins Park;
—3pm March from Judkins Park to Westlake Plaza; and our
—5pm Resist Trump rally at Westlake Plaza!

Tens of thousands of people have already poured into the streets to demonstrate since November 8th. We must bring together hundreds of thousands of progressive workers and young people to build a wall of mass resistance against Trump, and to defend immigrants, women, Muslims, LGBTQ people, and all others targeted by his presidency! Inauguration week marches and rallies will play a critical role in setting the tone and laying the groundwork for the struggles ahead.
Please join Planned Parenthood and leaders of progressive organizations in and around Seattle for an evening of reflection, reaction, and hope as we look ahead to our plans and work under the future Administration.

Featuring:
Sherman Alexie
Ijeoma Oluo
Sonya Renee
ACLU
Casa Latina
Washington Conservation Voters
…and others
For many of us in the Seattle community, Inauguration Day will be difficult – a reminder of how much harder we now have to fight for our essential human rights-

STILL HERE is a community event and forum designed to be a safe space for local artist of all types, and their respective friends and allies especially women, PoC, undocumented and documented immigrants, LGB/Trans/Queer, disabled and differently abled people, and all marginalized, disenfranchised peoples and communities to come together and pronounce that we are STILL HERE.
Ok people. In lieu of watching our country piss on everything you believe in by inaugurating Jerkface Balonyzone to office on January 20th, come drown it all out with Queen Shmooquan, the Shanghai Pearl, Rainbow Fletcher, Jess Leotard Klein, Tony James, Tim Keller, Matt Riley, Matthew S Manges, Annastasia Workman, Anna Urband, Sari Breznau, Jeremy Lightfoot, Kathy Moore, Jovie DeVoe, Scarlett O'Hairdye, Bolt Action, and the Fabulous Downey Brothers at the Crocodile!
Inauguration day isn't the end of the world. It's the beginning of the resistance. Instead of feeling depressed on a crappy day, we're going to party down, hug it out, and raise a bunch of money to help fight the oncoming shitshow.

All bar and poster shop proceeds, and a portion of ticket sales, will be donated to the ACLU and El Centro de la Raza.

$35 ticket. Get them here:
https://www.eventbrite.com/e/salon-de-la-resistance-an-anti-inaugural-ball-tickets-30698456911
There are more events happening on Saturday, January 21, 2017 but the main one is the big WOMEN'S MARCH (ALL PEOPLE ARE INVITED TO MARCH REGARDLESS OF GENDER!!!) which starts lining up at 10 am in Judkins Park before proceeding downtown then to Seattle Center.
Start Location: Judkins Park 2150 S Norman St, Seattle, 98144
10:00 Start time – arrive, find a group with which you'd like to march
10:30 rally/speakers begin
11:00 groups begin marching
End Location: Seattle Center, 400 Broad St, Seattle 98109
Route Length: 3.6 miles
We must make our voices heard but also please remain as safe as possible while marching and protesting. Wear comfortable shoes and clothing (it's winter and it's wet!) Make sure you have ID on you! There is always an unknown element to protesting…whether you want to or not, you may get caught up in situations that can be dangerous as well as situations where you could be arrested (regardless if you deserve to be arrested or not…) Stay alert at all times and be aware of the situation. If it starts to feel "ugly" and potentially dangerous, then it's best to quickly remove yourself from the scene if you're not able to handle that level of demonstration. (Police and will use tear gas in certain protest environments.) And, experienced protestors recommend writing contact information on your arm in Sharpie in case you are arrested…phones are confiscated upon arrest and if you don't have your contact info memorized, you could be stuck in a bad situation, at least temporarily while you figure out a way to get help. And, you should always alert family and friends if you plan to protest in case you need to be bailed out.
Stay safe and stay strong.
(Visited 1 times, 1 visits today)