It's a new and terrifying year full of hope and promise and new theater.
Well…at least we have new theater.
2017 is getting off to a musical start with two new(ish) productions that combine music and memoir. One satisfies and one…not so much.
We'll be upbeat and positive and kick off with MADAME DRAGON'S 60TH BIRTHDAY the kinda new show at Cafe Nordo, Seattle's delightful food/theater cabaret now permanently located in Pioneer Square. "Madame Dragon" might be a familiar name to Seattle theater fans since it's the name of a both a character as well as an ongoing series of shows depicting that character all created by Seattle wunderkind Sara Porkalob, the very young theater artist who is quickly making a name for herself in area theater circles. She's been grabbing awards and great roles in the last couple years including a showy role out in last fall's Village Theatre production of "Pump Boys and Dinettes" which just snagged her a Gypsy Rose Lee award nomination as a supporting actor in a musical. Porkalob was also just named this year's co-curator at Intiman and will help pick and produce that theater company's summer season.
But the Seattle native might be best known for her creation of "Madame Dragon" and the ongoing solo project the performer/director/writer has been working on since her time at Cornish College of the Arts where she earned her BFA in Theatre and Original Works. Madame Dragon's 60th Birthday is her most recent version of a work she calls:
"one part feminist manifesto, one part attempt to destroy the patriarchy, one part artistic license and all parts an act of love. Each act is a complete solo piece, meaning an individual act can be performed as an independent solo-performance show. The first act of DRAGON LADY focuses on my Grandmother's version of our family creation story:

It is the year of the Water Dragon and the eve of Grandma Maria's 60th birthday. By the light of the karaoke machine, fueled by pork dumplings and diet Pepsi, she shares a dark secret from her Filipino gangster past with one lucky grandchild. Traveling back and forth through 40 years of faulty memories, Sara Porkalob embodies the women of her family to weave a tale about their past that seems too grandiose to be true.

3 generations, 6 women, 1 Dragon Lady.
In Porkalob's own words (taken from her terrific and well written blog):
DRAGON LADY is always changing. In tracking the different drafts, I realize that this show has been a vehicle for the evolution of my artistic process, my understanding of self as a woman of color, and my understanding of performance as a means for social change. By simply writing and performing DRAGON LADY, I am asserting my place in the world of theater and in the world. I belong here because I say I do.
That's a lot of heavy backstory for what is supposed to be a fun night of light entertainment in a hipster dinner theater in Pioneer Square but…it all works. Ms Porkalob's version of her Grandmother is fascinating, complex, problematic, endearing and just a tad terrifying but it's also full of enough familial love to fuel an army of proud dragon ladies. And while the characters crack jokes about the "soap opera" theatrics of their own story, it still all works because….let's face it. All families are "soap opera". Which is why we (usually) love them while fighting with them.
I'll confess this is my first visit to "Madame Dragon/Dragon Lady" Land…various versions of the piece have been produced over the last couple of years and I'm sorry to say I've missed them, so I can't comment on the evolution of the piece. I think it's a smartly written show that offers a considerable amount of plot but also sometimes leaves us in the dark about certain motivations of the characters, primarily Madame Dragon herself. But, I'll hazard to guess that "Madame Dragon" and her family's life story are going to be a major part of Sara Porkalob's journey as an artist. There's so much material here and stories left to tell, that she could spin this into films, television and graphic novels. I'm looking forward to more "Dragon Lady Tales".
The other aspects of this production are quite good as well. Since this is Nordo, there are several great songs added to the story mostly pop standards appropriate to the mood of the story and mostly performed by Porkalob with superb backing from her house band (referred to as Madame Dragon's ex-husbands) consisting of Classic Jimmy, Mickey Stylin and Pete Irving on guitar and band vocals. There are clever song choices made including a lovely performance of the less frequently performed James Bond theme song from the film "Moonraker" the third Bond song sung by the divine Shirley Bassey. Kudos to Ms Porkalob for including it and performing it so well.
The show looks good, too. Robin McCartney's simple but elegant design incorporates numerous actual Porkalob family portraits and the entire look and the sound of the show are professionally executed. This production of "Madame Dragon" also features a charming end of show appearance from the REAL Madame Dragon, Sara Porkalob's actual grandmother Maria and they end the night with a delightful duet.
I'm not a huge eater of Filipino cuisine but the four course meal is very faithful to their traditions but accessible to Western palates as well. The starter was the very traditional lumpia, (which is basically the Filipino version of an eggroll) followed by a tart palate cleansing broth that brought to mind a Jolly Rancher in soup form. The main course (for the meat eating inclined) was a fabulously hearty shredded beef short ribs in black truffle/beef blood sauce served over rice (no, you don't "see" or really "taste" blood…and, for the squeamishly inclined, ALL meat dishes contain some remnants of blood in them…don't be a fusspot). Dessert was an interesting corn porridge that included chocolate hints and a sauce that used coffee infused coconut and hazelnuts. (Note that there are non meat options and Nordo can also honor other food requests including gluten free options, with sufficient notice to the kitchen. Please call ahead to arrange when ordering your tickets.) (Note 2: There are also drinks served with the food but due to medications being taken, I had to decline a lot of very delicious sounding cocktails…quelle dommage!)
"Madame Dragon's 60th Birthday" has a short run at Nordo and I highly recommend you check out this iteration of the piece.  It's also highly recommended you snag your tickets asap.
Review: Madame Dragon's 60th Birthday by Sara Porkalob. Produced by Sara Porkalob and Cafe Nordo. Directed by Sara Porkalob. Original Music by Pete Irving. Band: Hot Damn Scandal. Set Design by Robin McCartney. Lighting Design by  Emily Leong. Sound Design by Erin Bednarz. Starring Sara Porkalob and Maria Porkalob Sr. Now through January 22, 2017.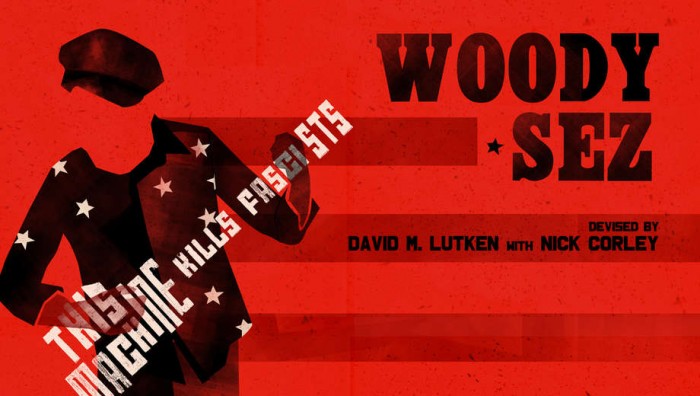 As for last week's other offering, WOODY SEZ: THE LIFE & MUSIC OF WOODY GUTHRIE currently on stage at Seattle Repertory Theatre, you need to go down this checklist:
Do you like iconic folk singer/activist Woody Guthrie, best known for his songs "Bound for Glory" and "This Land is Your Land"?
Do you like folk music?
Are you a "Lefty Lucy" as opposed to being more of an "Up Tighty Righty"?
Do you enjoy nicely performed and earnest but rather bland evenings of entertainment that only scratch at the surface of a fascinating topic?
Do you enjoy "hagiograpy"? (Biography that idealizes its subject and ignores anything too negative…)
If you answered "yes" to most of these queries, then "Woody Sez" is just the show for you! It's very nice. It's modestly entertaining. It's a long going tribute show that's just making its west coast debut (surprising since it's a left leaning show…but not THAT left leaning…more "Left Leaning Light" actually….)
It stars David M. Lutken who co-created the show, as Woody Guthrie who does a nice job performing "the greatest hits" of Woody Guthrie. The other three performers are fine and strong musicians and all play various figures in Guthrie's life: Darcie Deaville, Helen Jean Russell and Andy Tierstein. It's an attractive looking show. It's an unassuming way to spend two hours of your life. It's about as informative and gripping as a Wikipedia entry. But, with better songs.
If you answered yes to most of the above questions…go. Have a nice time.
Otherwise, if you didn't answer yes to most of them, it might need to be a pass.
Review: Woody Sez: The Life & Music of Woody Guthrie. Devised by  David M. Lutken with Nick Corley and Darcie Deaville, Helen Jean Russell and Andy Teirstein. Directed by Nick Corley. Music Direction by David M. Lutken. Orchestrations & Vocal Arrangements by David M. Lutken, Darcie Deaville, Helen Jean Russell and Andy Teirstein. Scenic Design by Luke Hegel-Cantarella. Costume Design by Jeffrey Meek. Lighting Design by Robert J. Aguilar. Sound Design by Nathan Kahler. With David M. Lutken, Darcie Deaville, Helen Jean Russell and Andy Teirstein. Now through January 29, 2017 at Seattle Repertory Theatre.
(Visited 1 times, 1 visits today)