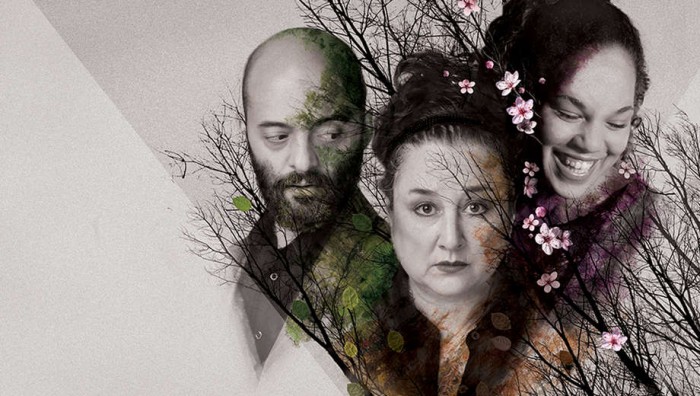 Review: The Cherry Orchard by Anton Chekhov. Produced by The Seagull Project and ACTLab. Directed by John Langs. Movement Direction by Helen Heaslip. Scenic Design by Jennifer Zeyl. Costume Design by Doris Black. Lighting Design by Robert J. Aguilar. Sound Design and Original Music by Robertson Witmer. With Julie Briskman, Ayo Tushinde, Sydney Andrews, Peter Crook, Brandon J. Simmons, Spencer Hamp, David Quicksall, Hannah Victoria Franklin, Alex Matthews, Hannah Mootz, Mark Jenkins, Tyler J. Polumsky, Jose Abaoag, Hannah Ruwe. Now through February 19, 2017 at ACT.
The author specific theater company known as "The Seagull Project" are producing their third biennual Chekhov production. Following 2013's inaugural The Seagull and 2015's Three Sisters comes this year's journey to Chekhov Land with their staging of his final play, 1904's THE CHERRY ORCHARD, his tragicomedic look at a provincial Russian upper class family who have fallen on hard times…largely due to their own hubris and the passing of an era which finds their class to be irrelevant and doomed to extinction.
The play centers on Ranevskaya, a comedic yet tragic figure, an aging actress from an aristocratic family who has returned to her decaying country estate after living in Paris with an abusive lover for many years following the drowning of her young son. The estate, which includes a beautiful but poorly maintained cherry orchard, is on its last legs and is due to be auctioned off to pay down the family's substantial debt. Neither Ranevskaya nor her dilettante brother Gaev have any common sense when it comes to money, and despite the intelligent advice of Lopakhin, the descendant of serfs (slaves) owned by their family who is now a wealthy local businessman, or warnings from Trofimov, a young student courting Ranevskaya's daughter Anya that their way of life is coming to a close, they fail to do anything to prevent the loss of their home.
Yes, it does sound dourly heavy and ponderous, doesn't it? What's "funny" about a play that centers on the decline of one social class as another one rises and all eventually leading to a revolution which will sweep both of them away?
But, The Cherry Orchard IS a comedy, as the author intended and despite the original staging by Stanislavski who insisted on treating it as a tragedy. It's certainly a very dark and Russian kind of comedy; it's not whoopie cushions and fart jokes but the material does feature highly comic moments from the clueless aristocrats (both Ranevskaya and Gaev are especially stupid about handling money) and has a trio of amusing supporting characters (a bumbling clerk courting the family maid; the foreign governess with a variety hall background; a money mooching neighboring aristocrat).  In fact, ALL the characters have humorous sides to them…the very elderly butler who yearns for the "good ole days" when he was owned by a master; a wise cracking servant yearning to get back to the bright lights of Paris; the much put upon elder (and adopted) daughter who has to manage her mother's messy life while yearning for some sort of escape from her dreary life, either as a nun or as Lopakhin's wife. There's humorous situations and moments throughout The Cherry Orchard which is why it's probably one of the more cherished Chekhov plays. There's a bit more light here…less gloom than The Seagull, Three Sisters and Uncle Vanya. While The Cherry Orchard does end in multiple deaths; both literal and figurative, even the dark moments are less dark due to Chekhov's tongue being planted firmly in cheek. He's saying serious things here, but he's also being a bit of a smartass in the way he says them.
Seagull Project's production certainly captures the humor of The Cherry Orchard…maybe even a bit too much so. There are moments that might be a bit broader than they should be..the bumbling "Mr. Catastrophe" clerk with the squeaky shoe quickly wears out his welcome with his shtick. Actually,  all the intentionally "funny" characters all seem a bit superfluous at times and they don't seem very connected to the material or even the other characters. To be frank, I wasn't even sure WHO some of these characters were, in relation to the other characters in the play; it's been 20+ years since I've read/seen The Cherry Orchard. I wasn't aware that Hannah Victoria Franklin's very funny Charlotta Ivanova, the foreign former music hall artist, was in fact the governess to the younger daughter, Anya in the household; I had to look it up on Wikipedia to refresh my memory. And, to be clear, that's not Hannah Victoria Franklin's fault…she's never placed into a situational or physical space to ever really feel connected to the character of Anya, the girl she's in charge of. There's no connection between the pair, physically or emotionally.
And, that's my chief problem with this production. Director John Langs has created some astonishing staging with this "Orchard". The opening makes unique use of the Falls Theatre space and the show is briskly paced and energetic. But, there are moments when that pace is TOO brisk and we lose character moments and the establishment of certain relationships. There's a sense of intimacy lost in some of the scenes and other moments when there's just too much going on…too much business distracting from the story.
That's most apparent in the play's third act (of four), the "Party Scene" which takes place on the evening of the day that the auction is held to sell the estate. It's a busy scene with a lot of things happening simultaneously both physically on stage as well as the subtext of what's going on both "behind the scenes" but also the underlying  motifs of the play. Mr. Langs (and we're assuming with the aid of the credited movement director, Helen Heaslip) takes a very literal approach to staging this party scene as a series of choreographed dances and movements between all the various characters in all their various scenes within the act. It's a clever and audacious idea, to use actual physical dance choreography to move the story along and, in theory, it has huge potential to be dramatic and visually appealing. But, Act III of this "Orchard" was, in my opinion, a bit sloppy and out of control. It seemed like there was too much going on at the same time, too many scenes overlapping too quickly. And, spatially if felt like too many people (the entire 14 member cast and 3 musicians) are frequently all onstage at the same time; if felt crowded and cramped. In order for this idea to work, it really needed to be more precisely staged with fewer people onstage at times, and with a lot more precision. (And, maybe more rehearsal?) And, because the act started out at such a high level of manic energy, it had nowhere to build towards, thus the drama of the denouement (the announcement that Lopakhin has bought the estate and will chop down the Cherry Orchard) is diluted. It's still a very powerful moment (largely due to Brandon J. Simmons' dynamic and passionate performance) but the sloppiness of the staging did rob it of its greatest potential.
That said, Mr. Langs has done some fantastic individual work here with his actors. As I just mentioned, Mr. Simmons is ideally cast here as the successful capitalist Lopakhin, channeling all of that character's frustration and rage in his dealings with a family that once owned HIS family. Lopakhin is a complicated and fascinating character; despite his attempts to help the family, he still revels in the moment where he succeeds in stripping them of what little power they have left. This is Mr. Simmons best work yet on a Seattle stage and certainly his best role in the Chekhov plays they've produced so far. Ideal casting of the right actor with the perfect role.
He's well matched with Julie Briskman's heart breaking Ranevskaya, the kind hearted but rather foolish center at the heart of The Cherry Orchard. Ms Briskman gives a passionate but endearing performance here, which nicely contrasts with her performance as the less endearing actress/mother Irina Arkadina in The Seagull back in 2013. Both are larger than life characters, but Ranevskaya has more heart than the stony Arkadina and Ms Briskman feels more at home with the frailer charms of the more tragic of the two actresses.
There's fine work from the entire cast especially Peter Crook as the foolishly foppish Uncle Gaev and Sydney Andrews as the long suffering elder daughter Varya who pines for Lopakhin as well as the tranquility of the nunnery but never quite achieving either. Mark Jenkins doesn't seem quite decrepit enough to entirely convince as the old servant Fir but he's still compelling in a role which in many ways, is the secret heart of this play… his closing moments in the play are captivating. And, to be fair to the direction, there are many smartly staged moments in this production such as an encounter in the gardens between the family and a menacing homeless person well played by Jose Abaoag.
All in all, there IS much to enjoy about The Cherry Orchard. It's beautifully designed, features some very fine performances and there are moments of both great power and great poetry. It's only fault might be that its direction might overreach at times, especially in the chaotic third act. Overall, it is a strong production of one of dramatic literature's greatest works. It's recommended to both the Chekhov fan as well as to any theater patron who enjoys classic theater.
(Visited 1 times, 1 visits today)