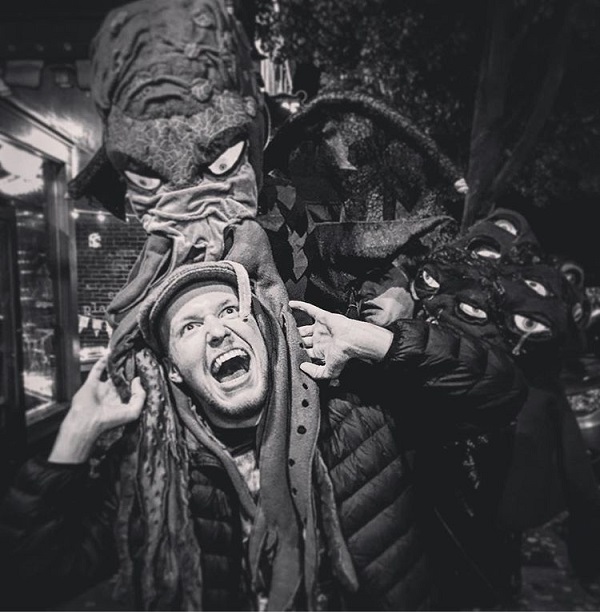 Cthulhu returns to wreck havoc on Seattle!
But, thank the Dark Lords that it's not the awful locally made movie starring Tori Spelling that almost single handedly destroyed Seattle film making for a decade!!!
It's so much BETTER!
IT'S CTHULHU PUPPETS FROM OREGON!!!
UPDATE: AND, IT LOOKS LIKE THE RUN IS SOLD OUT! SHOW UP EARLY AT THE THEATER TO GET ON A WAIT LIST IF YOU'RE KEEN TO SEE IT!!!
What you MUST know:
After six weeks of sold-out performances in Oregon, Puppeteers for Fears, Oregon's only dedicated puppet musical horror troupe, will be bringing its original show, Cthulhu: the Musical, to Seattle for performances at 18th and Union July 21, 22 and 24.

"We've always been a touring company, but this will be our first time in Seattle," says PFF Artistic Director Josh Gross. "Normally, we stick a bit closer to home since the production is so big, but we got so many requests to bring the show there that we couldn't refuse."

Far from the lo-fi puppet show stereotype, the production features a full cast of five actors with elaborate custom-made puppets, a full-rock band, and projected multimedia backgrounds.

"It's not quite War Horse, but it's a lot to bring on the road," says Gross. "But it's always worth it when we see audiences shocked at how big a show it is."

The play is adapted from the 1929 short story, The Call of Cthulhu," by horror icon, H.P. Lovecraft, and tells the story of his most famous creation: Cthulhu, a giant, malevolent, octopus-faced elder god who hibernates beneath the ocean, communicating to humans through their dreams, slowly driving them mad. Though Lovecraft is not as much of a household name as writers like Stephen King or Edgar Allen Poe, he is widely considered to be the creator of the genre of gothic horror, and the creatures and themes he created are highly influential on modern literature of all genres. The story PFF chose to adapt is dark, disturbing, and totally unfit for musical comedy—all qualities that make it a perfect fit for their irreverent style.

"We are always looking to turn classic themes on their head instead of rehashing tired storylines," says Gross. "So when thinking about what our next piece might be, I sometimes add the words, 'the musical,' to different phrases in conversation to see how people react, if it has that magic combination of familiar hook, and new twist. When I said, 'Cthulhu: the Musical,' for the first time, a bunch of heads immediately turned in my direction, and strangers started asking where they could see it. So I knew we had to do that as a show, even though the challenge of turning something so dark into musical comedy was pretty daunting. It was definitely worth it though. There was a lot of comedy to be found and this show is so much fun to perform."

The show will be directed by Eric Solis, and with a script and original songs from playwright Josh Gross, and a new cast of hand-made puppets hand and rod, or muppet-style, puppets from master crafter Brooke Sharp.  Performances will feature live puppetry, a full rock band, and multimedia backgrounds courtesy of visual artist and Production Designer, Aubry Hollingshead. It stars Rachel Routh, Eric Solis, Beth Boulay, Alyssa Mathews, and Stephen Connolly, and the band includes Moreno on drums, Will Shapiro on bass, and Josh Gross on guitar.

Run time is approximately two hours with an intermission. Complete performance dates and locations are below.

–————–

18th and Union, 1406 18th Ave, Seattle

8pm – July  21, 22, and 24

Tickets available in advance at https://www.18thandunion.org/cthulu-the-musical

NOTE: Attendees should be aware that though this is a puppet show, it is NOT a children's show. The material is R-rated, and children should be brought to matinees only at parent's discretion.
(Visited 1 times, 1 visits today)