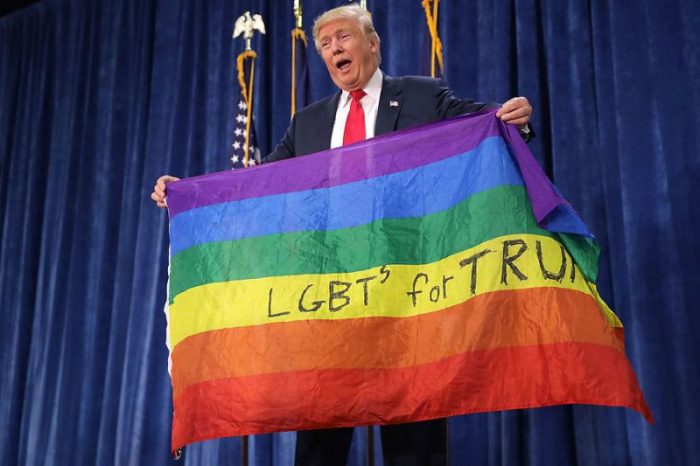 In yet another pathetic attempt to distract and divide, Donald Trump tweeted out this morning his plans to reinstate a ban on transgender citizens from serving in the US military. This comes as a complete reversal from the Obama Administration's policy which allowed transgender military personnel to actively serve. That policy, made over a year ago, is still in the process of being implemented.
Trump based the decision on the alleged and estimated high cost for medical care for transgender military personnel which could potentially add $8million to a budget in the hundreds of billions of dollars.
Trump's tweet:
"After consultation with my Generals and military experts, please be advised that the United States Government will not accept or allow Transgender individuals to serve in any capacity in the U.S. Military. Our military must be focused on decisive and overwhelming victory and cannot be burdened with the tremendous medical costs and disruption that transgender in the military would entail. Thank You."
Not surprisingly, there are many unanswered questions about this new policy…such as, will currently serving transgender personnel be forced out of the military and will they be eligible for veteran's benefits after their forced removal.
Meanwhile, groups and individuals across the country denounced this decision, with many accusing Trump of trying to divert attention away from the many ongoing scandals in his six month old administration.
Locally, several politicians have made public statements in opposition. U.S. Senator Maria Cantwell (D-WA) quickly sent out this statement: "Transgender servicemembers are honorable and patriotic. They, and all Americans protecting the freedoms and values we hold dear, must receive our utmost respect and dignity. Discrimination in any form is unacceptable. We must defeat this discriminatory policy."
Seattle Mayor Ed Murray released this statement this afternoon:
"In the last 24 hours, the Trump administration's ugly agenda has been on full display and we should not be surprised. This White House has never been interested getting things done for America. They are all about undoing—such as taking away healthcare for millions of poor Americans and now stripping transgender people of their rights. The Trump administration is undoing this nation's commitment to equity and spirit of community that makes America great.

"The President's attack on transgender people is a shameful, despicable, and unacceptable attempt to marginalize an entire community of Americans. Serving one's country is a patriotic calling that every single American, including the thousands of transgender people who currently serve, have the right to aspire to. Taking away that right is antithetical to the American value of equality and Seattle's unwavering commitment to protect and promote the rights of the transgender community. If we've learned anything from the chilling history of the 20th century, it is that attempts to marginalize entire populations cannot be taken lightly. This inclusive city does not take it lightly."
And, aspiring politicians got in on the response as well with local community activity and first transgender candidate for Seattle's City Council in this year's municipal election,  Mac McGregor not only issuing a statement but including ways for citizens to fight back:
I am Seattle's first transgender candidate for City office. We, as transgender people, are your neighbors, co-workers, peers, friends, and service workers. We contribute to our communities and care about them just as you do.

Today, in a hasty tweet by President Donald J. Trump, it was announced that a ban on transgender people serving in the military will be instated. According to recent statistics, there are currently 15,000 transgender military personnel serving the United States – and those are just the ones that are out. These fine soldiers serve the same as all other soldiers and are willing to give their lives for their country on a daily basis. The weight of this sacrifice cannot be overlooked.

The President announced this ban without the support of the Pentagon or Congress. We, as American citizens, cannot stand for this type of disregard against our own people.

To the transgender folks currently serving, I want to personally  thank you for your commitment, dedication and loyalty to our great nation. I know this is a scary and difficult time for you, and I want you to know: we will fight for you.

To the community, please reach out to our transgender brothers and sisters and show your support if you can. They need to be surrounded by community and in love and support, especially now.

I also ask each of you to pledge to RISE UP. Get off the couch and take a stand.

Take These Steps to RISE UP

Call the White House and let them know that you do not approve of this discriminatory ban. The number is 202-456-1111.
Email the White House here:

whitehouse.gov/contact.

Contact your representatives and let them know you want them to stand against this anti-trans military ban. Find your representatives here:

whoismyrepresentative.com.

Use

5calls.org

for an easy way to contact your elected officials. Provides a script to read and allows you to track your results.
Tell your friends and family to call and email.
Reach out to a transgender person and let them know that you are there for them.
Make public statements as an ally on social media.

It is time to write letters, make phone calls, march, protest, and let your voices be heard!  Many of you are already doing these things and I thank you for that first and foremost. For anyone else, if you can't physically join the movement for equal protections for all, please consider donating to Also, transgender justice organizations so they may continue to serve the community during and after this difficult time. They are the folks on the front lines doing the hard work and they need our support. This administration will not stop taking the rights from marginalized people unless we demand it! Peaceful protests do make a difference.
Nationally, other organizations and individuals protested today's announcement including celebrity transgender personality Caitlyn Jenner who initially supported Trump in his bid for the White House and had aspirations to work with Republicans on building bridges with the trans community. Today, Jenner called out Trump and rebuked him for his failure to live up to his "promise to fight for (LGBT people)".
Tags: Caitlyn Jenner, Mac McGregor, Maria Cantwell, Transgender Military Ban, Trump Bans Transgender Military