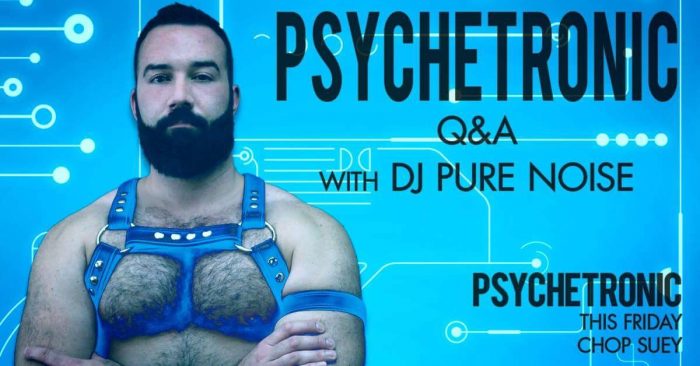 Seattle's gay scene has gotten used to going through the motions.  Seattle event producer Kirk Calvo sat down with

DJ Pure Noise

to pick his brain about DJing, Seattle gay nightlife, and the concept behind Psychetronic.
---
Kirk Calvo: So, let's start with the obvious.  What inspired you to start DJing?
DJ Pure Noise: Music, of course… I suppose that is a pretty obvious place to start too hahaha. I was drawn to dance and electronic music at a pretty young age. I got Sunscreem's O3 album in 8th grade and was like 'Whaaaat is this?!?!" I didn't even know what a rave was, but I knew I was into it.
Remember the whole Electronica trend in music that happened in 1996? I was definitely on board with that. Chemical Brothers, Prodigy, Underworld, and Orbital were all pretty seminal to my teen years. I grew up in Maine, so I wasn't exposed to a whole lot of electronic music other that what was being played on the radio and MTV (Firestarter, basically), so I began to read electronic music magazines and I sought out new music obsessively (something that has never, ever subsided). So when most of my friends in high school were listening to Dave Matthews Band, Tool, or N'Sync… I was obsessed with Roni Size, Massive Attack, Aphex Twin. I was super into drum & bass, trip-hop, and IDM in the late 90s. Cultivating good taste in music has been one of my strange obsessions for as long as I can remember. I've always been actively seeking out new music and pushing my personal taste in new directions.
I went to college in Boston and lived a few blocks from Landsdowne, the big club strip. This was at the height of progressive house and trance in 1999-2001, and I saw all the big superstar DJs of that time- Sasha & Digweed, Paul van Dyk, Oakenfold, etc. That's when I really fell in love with DJ culture and began listening to a lot of DJ mixes. I had always had a vague fantasy about doing it, but for some reason I just didn't pursue it until later.
When I hit my 30s something clicked inside and I was just like, "fuck it, it's time I learned how to do this." So I taught myself how. I have a background in music (percussionist and drummer for years), so it wasn't a foreign concept at all. I read a book about DJ mixing, I learned the software, and started making mixes as a hobby. I practiced, and got better. I bought a controller, and practiced more, and got even better. The fantasy was getting less and less vague, but I still hadn't played out or even know how to go about getting booked for gigs. I went to a party in Portland called Yes Please thrown by DJ Sappho (Megan Andricos). I loved her music, and thought she was awesome. We were chatting at the party and she mentioned starting a night where she brought in new talent. I sent her a mix I had made and the next time I saw her out, she asked me to play with her. She gave me my first few gigs. I call her my DJ mom lol.
You're fairly new to Seattle gay nightlife, but you've been here long enough to feel it out.  Where do you see the scene right now, and what do you think it's missing?
OOOOF. That's a pretty loaded question! I'd like to preface my answer by saying I am in no position of authority to make any definitive statements about Seattle's gay nightlife scene… hahaha.. nevertheless I'll try to give my impressions of it without stepping on too many landmines, hopefully.
It would be impossible to talk about my experience in Seattle's gay nightlife without starting with The Eagle. I kinda hit the jackpot of luck when I first moved here a year ago. I didn't know too many people here yet and didn't have any direct connections with any clubs, so I wasn't expecting to play out so quickly, but Nark (Kevin Kauer) had put out an open call for a DJ on Facebook to play the night before NYE, and a friend who knew I had just moved tagged me in the post. I think I had been here maybe 3 or 4 days, and Kevin asked me to play. So my first gig in Seattle was about 2 weeks after I arrived. I knew like maybe 3 people, so I invited pretty much everyone I had been chatting with on Scruff hahaha… and it ended up being a really fun night. Keith, the owner of The Eagle, invited me back in January, and by March I was playing there twice a month, sometimes more. It's just been a really great fit for what I play, and the feedback has been overwhelmingly positive. Playing there has been integral not only to my DJ career over the past year, but it honestly feels like my second home here in Seattle. It has been a great way to meet people and make friends, and has helped me find my place here in this community. In terms of the gay venues here in the city, if I wasn't already playing at the The Eagle, I'd be trying to play at The Eagle. So I feel very "hashtag blessed" about that.
Outside of The Eagle, it seems the gay scene falls into two camps: hip underground parties with amazing house and techno music at various smaller venues around the city (sometimes gay, sometimes not) and then the bigger gay club venues like The Cuff, R Place, and Queer/Bar that cater to more mainstream musical tastes (circuit, hip-hop, pop). I'm a huge fan of the underground parties I've gone to… Nark fucking kills it with Botttom Forty, and with the talented DJs he brings through Kremwerk and his parties at The Eagle. There is also an amaaaazing house music community here with a ridiculous amount of talented DJs, and while it's not exactly the "gay scene," it is definitely very inclusive and adjacent to the gay scene. I've had a blast at the mixed parties I've attended at Monkey Loft and Rebar, and I have a list of parties I want to check out when I get the chance. It seems to me that there is a large segment of our gay community here that is really into underground cutting-edge house and techno, and I absolutely love that.
What's missing here? It feels like we're missing a venue; there doesn't seem to be a lot of middle ground. We've got underground parties with great music and a big club that plays circuit. I would love to see a mid-to-large size gay venue that gives the big club experience (large dance floor, great sound system, cool lights), that can host parties that cater to guys who want to hear something other than pop remixes and circuit house. The community is here, the enthusiasm for good house and techno music is here, but where is our space for that though? I know that sounds like a utopian dream of sorts, but those are the kinds of venues and parties I'm playing when I travel. I can play big bangin' house, tech-house, and techno to bigger venues in NYC, Vancouver, or Palm Springs, and the dudes come out, and they are INTO IT. So I'm optimistic that we can figure it out here in Seattle too. I'm hoping Psychetronic is part of that answer.
You and I wanted to work together ever since we went to Flammable Sundays at Rebar that one time… I think it might've been Memorial Day.  I know we both love that party over a long weekend.  What about the vibe stuck out to you?
Oh my god… that night was MAGICAL. I had been hearing about Flammable since I moved up here as one of the 'must check out' parties, and wow, it did not disappoint one bit… I think I said quite a few times that night that I had died and gone to house music heaven! The DJs were off the hook, and the music was phenomenal, but I think what struck me the most was just the enthusiasm of the crowd. The energy in that room was just electric. Everyone was sooo into what the DJs were playing, and every new track felt like an event. I loved the whole thing with the hanging lamp over the DJ too- how if you're feelin' what the DJ is doing, you go up and swing the lamp… such a simple yet powerful symbol. As a DJ you live for that kind of energy in a room. When you're DJing, there's such a strong empathetic connection between you and the crowd, and the music is the conduit. Your energy and mood informs your set, your set moves the crowd, their response feeds back into you, and that night at Flammable it was all in a crazy positive feedback loop. I loved it.
I also remember at one point there was a short power cut and the sound went out. I've had that happen a couple times and it is seriously the WORST. It's a punch in the gut and it can throw off your whole night and even kill the vibe of the party. But everyone in the room started clapping and cheering for the DJ, and didn't stop until the sound came back on. It was nothing but love. It was fucking rad.
I came up with "Pyschetronic" because I asked you for two words you used to describe your sound, and you said "psychedelic" and "robotronic".  Can you talk about how the music you play combines the two?
When I'm looking for new music and picking tracks to play out, I'm not too hung up on specific genres. I tend to stick to house, tech-house, and techno, but really my taste is all over the place. I'm more interested in finding tracks with really interesting production; I like tracks with layers of sounds and textures and melodies, lots of interlocking rhythms that not only move your body but stimulate your brain. So that's what I mean when I say psychedelic. It can mean literally referencing psychedelic culture and music- bongos, tribal percussion, and lots of dubby, echo-ing sounds, or subtly evolving patterns that feel like they're massaging your brain. Or it can just mean that I find it very mentally stimulating; I like tracks that don't easily reveal their tricks on the first listen. A lot of dance music follows pretty standard formulas for tension and release, so when tracks have a lot of little details floating around in the mix, something new to discover on each listen, it increases the track's lifespan in my book. I'm definitely a fan of maximalism in dance music. Not necessarily big sounding beats or drops, I'm talking more about tracks that have lots of elements playing off each other and creating a big wall of sound. Thats what really turns me on.
I also have a bit of a fetish for robots, sci-fi, and futurism in general. Robotronic refers to that. What I love about electronic music is that there are always new sounds coming out. I'm a bit addicted to the "new." I like tracks that make me think 'what the hell was that sound?!?!" I'm also a big fan of robo-vocals hahaha.
One of the really cool things that sticks out to me about you is that you change what you play based on the four seasons.  What can we expect 

this Friday

?
I had noticed that my taste in music was going through cycles along with the changing of the seasons, and that was actually a huge source of inspiration to me when I was first learning to DJ. Before I ever played out, I was creating and posting DJ mixes based on this seasonal concept. I did a whole year: My Summer mix was happy house and nu-disco with a sunny balearic vibe. Autumn had this moody, and kind of jazzy/organic sounding deep house vibe. Winter had this cold, frosty vibe with a lot of melodic techno with sparkly arpeggios… there were a lot of Kompakt tracks on that one. Spring was very bright, high-energy, euphoric progressive house. It was a really fun project and a great way to explore how to mix different types of genres.
My recorded mixes that I put up on my Soundcloud page still adhere a bit to this cycle, but not nearly as rigidly as that group of mixes. I am however currently working on a techno mix and it does happen to be winter so… there you go.
I do inevitably bring this into my live sets. For example this past summer I was really into this trippy neon jungle tribal house vibe. I was playing tracks with lots of bongos and dubby effects and birdsong, which ended up inspiring my last mix Free Your Mind. The whole idea behind this concept, and I think this underlies my whole cyclical taste in music…. is that one of my core philosophies as a DJ is that I want to be playing music that feels appropriate in that moment- not only appropriate to the season but appropriate to the environment, to the energy in the room, to the crowd, to the vision of the promoter,  and to the lighting and vibe of the venue or space we're in.
What can you expect at Psychetronic 
on Friday
? I mean… I'm gonna turn it the fuck out, obviously. Hahahaha… for real tho, I've got a pretty clear idea of how I want this party to sound. It will definitely be me doing my thing, but I really want to push aspects of my aesthetic even further, into more adventurous territory. Aesthetically, I want it to sound like a tribal rave in the neon jungles of Pandora (from Avatar) filled with aliens and robots and shirtless muscle dudes. Pretty straightforward, you know? Hahahah…
I have a couple philosophies when it comes to DJing. One is "I can't DJ a party I'm not at yet." Another is "Play to the party that is happening." Ultimately, my goal is to keep people dancing. I'm not into DJs that impose their weird taste onto a crowd and refuse to adapt when the crowd isn't into it. I've picked a lot of tracks for this night that I think are really awesome and I'm hoping that everyone comes not only ready to dance, but also with an adventurous, open mind, ready to hear something new. Be the party you want to see in the world! Because I definitely won't be playing Whitney Houston's "It's Not Right, But It's Okay" honey.  😉
---
Friday Dec 8
Kirk Calvo Presents:
PSYCHETRONIC with DJ Pure Noise
Chop Suey
https://www.facebook.com/events/2060964927469731/
Kirk Calvo and DJ Pure Noise introduce PSYCHETRONIC, a gay dance experience that weaves together house, techno, and tribal rhythms to take you on a trippy, dark, and intense journey on the dance floor. PSYCHETRONIC is NOT for the faint of heart. It WILL take you to a whole new dimension of gay dance parties in Seattle. Show up, take your shirts off, and grind to the eclectic, electric, and sexy sounds of DJ Pure Noise.
DJ PURE NOISE has made a huge splash on the Pacific Northwest gay party scene over the past year with his distinct high-energy style and exceptional selector skills. As a resident DJ at The Eagle, he brings his love of big-room dance music to several monthly events, including the popular Ruckus party. While his sets feature a strong emphasis on cutting edge house, tech-house, and techno music, his expansive taste draws from the entire spectrum of electronic music including everything from psychedelic disco to dark progressive tribal house.
A night with Pure Noise on the decks threads together his love for the cutting edge and underground, while balancing it with an equal affinity for mainstream and classic club tracks. With an improvisational style and personal philosophy of playing to the party that is happening, he has an uncanny ability to read a crowd and give them exactly what they need to keep the energy going strong. Once he sets the groove early in the night, there's no telling where he might take his dance floor, but it is sure to be an unforgettable journey filled with body-shaking grooves and cathartic hands-in-the-air moments.
2017 has been a breakout year for Pure Noise. When he's not holding down the fort in his home base of Seattle, he has been making huge waves on the national gay party scene, headlining major events in NYC, Vancouver, Palm Springs, San Diego, and Los Angeles. With his profile steadily rising as each weekend brings new bookings at bigger and bigger parties in major cities across the country, 2018 is shaping up to be even busier for this exciting new talent, and he is enjoying the ride every step of the way.
9PM // $7 // 21+
(Visited 3 times, 1 visits today)