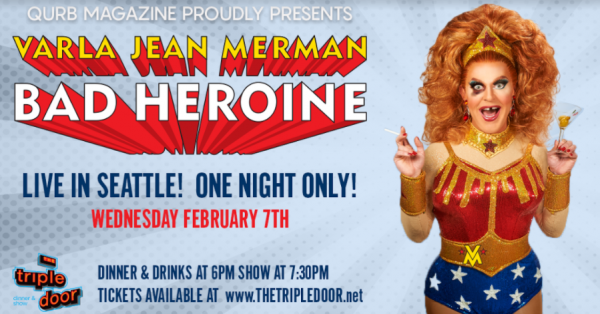 It's been faaaaaaar too long.
International drag star/chanteuse/comedian/bastard hate child of Ernest Borgnine and Ethel Merman, the one and only VARLA JEAN MERMAN is finally headed back to Seattle for ONE night only, Wednesday, February 7th for a gig at the gorgeous cabaret theater, The Triple Door.(TICKETS HERE!!!) 
It's been several years since Varla Jean, the toast of New Orleans, Provincetown and every filthy mattress in a dark alley in the Western Hemisphere, has been in The Emerald City and it's delightful she's bringing her new show BAD HEROINE to some place "classy" like the Triple Door.
More deets below but snag those tickets now. It might be decades before she returns to us again.
INTERNATIONAL DRAG ICON, VARLA JEAN MERMAN, MAKES HER GLORIOUS RETURN TO SEATTLE WITH HER NEW SHOW "BAD HEROINE"

Grab your tickets NOW to see this one night only event in Seattle coming to the beautiful Triple Door Theater on Wednesday, February 7th, 2018 at 7:30PM.

The United States is tripping, so what do we need to keep us from hitting rock bottom? Bad Heroine!

Drag superstar (and recent parolee) Varla Jean Merman's new show pays tribute to the inspiring women who have inspired her to think about becoming…inspirational.

Will Varla Jean be an inspiration…or end up on Intervention?

Make tracks to this year's most addictive comedy cabaret!

This LIMITED engagement will sell out! Tickets on sale Friday, January 5th at 10AM. VIP Meet & Greet tickets available while they last.

"Bad Heroine" written by Jeffery Roberson and Jacques Lamarre

Additional material by Ricky Graham

Featuring Gerald Goode and Brian Johnston

Directed by Michael Schiralli

TICKETS:  $35 Advance, $50 VIP Meet & Greet available (Includes:  premium front row seating, complimentary glass of champagne, meet & greet, and a professional digital photograph with Varla Jean Merman)

(TICKETS HERE!!!) 

VARLA JEAN MERMAN is a character originated and portrayed by Jeffery Roberson, an American actor, singer and drag performer. Actress & international chanteuse Varla Jean Merman has appeared on Broadway, in film, & daytime television. As Varla Jean, Jeffery has filled cabarets and concert halls across the world.  

THE TRIPLE DOOR is a popular dinner theater, lounge and music venue, located at 216 Union Street in Seattle, Washington. Taking up residence in Seattle's historic Embassy Theater, an A-list movie house established in 1925, The Triple Door is the perfect setting for "BAD HEROINE," an intimate evening of sharing in drinks, laughter, and great food.
Tags: Bad Heroine, Drag Cabaret, Drag Comedy, The Triple Door, Touring Drag Shows, Varla Jean Merman