He announced it via social media on Saturday night, but Three Dollar Bill Cinema makes it official that they've accepted the resignation of longtime employee/recent executive director Jason Plourde, who leaves the non-profit after 20 years of service. The group, which produces a number of film events in Seattle for the LGBTQ community including TWIST: Seattle Queer Film Festival and Translations: Seattle Transgender Film Festival, sent out this message today to supporters.
Dear Members and Supporters,

As recently announced, Jason Plourde, Executive Director of Three Dollar Bill Cinema, is moving on to new challenges.  For the past twenty years, Jason has dedicated his time and energy to supporting and leading Three Dollar Bill Cinema as a Programming Director and Executive Director, building our premier LGBTQ cinema organization.  Jason's portfolio of film festivals and events reflected our community in all of its diversity, persistence, and beauty.

With respect and appreciation for all he has done, the Board of Directors and staff of Three Dollar Bill Cinema wish Jason the best in his future community and creative work.  We know he will make a meaningful impact in his next role.  Jason leaves the organization with a talented staff poised to bring exciting and relevant LGBTQ film, filmmakers, and media to Seattle for many years to come.

Moving forward, in the interim, the executive committee of the board will directly support the staff and operations of the organization, while launching a national search for a new Executive Director. We will provide updates once a new Executive Director has been selected.

Sincerely,

Board of Directors, Three Dollar Bill Cinema

From Jason Plourde:

"It's been an honor and a privilege to meet all of you, and to work on your behalf, over the past twenty years. I've loved creating community around the art of cinema, and together we've experienced some truly great films. 
After two decades, I'm ready to move on and find new challenges and opportunities. I will miss this organization, but am excited about what lies ahead. I look forward to seeing the next chapter for Three Dollar Bill Cinema, and I know I'll see many of you soon at LGBTQ events and at the movies! Thank you all for your friendship and support."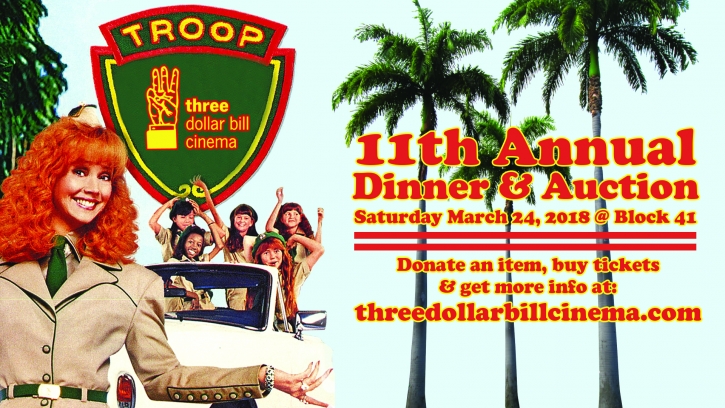 We'll keep you posted on the search for a new Executive Director.
Three Dollar Bill has several upcoming events of note including its big annual dinner/auction in March:
and,
Three Dollar Bill Wednesday: Date Night Shorts & Fast Flirting
Share the Facebook Event with your friends!
Three Dollar Bill Cinema and Little Gay Book, LLC are partnering to bring you Queer Fast Flirting and Date Night Short Films at Northwest Film Forum on Capitol Hill! Let's ring in Valentine's Day with a bang.
Date/Time: Wednesday, February 7 at 5 PM – 9 PM
Location: Northwest Film Forum (1515 12th Ave, Seattle, Washington 98122)
***Please Read***
Queer Fast Flirting is open to queer people ONLY. This includes anyone in the LGBTQ+ community. Allies: please join us for the film screening!
***Schedule***
5pm – Queer Fast Flirting (find friends or dates!)
7pm – Date Night Short Films (of the queer variety)
***Tickets & Cost***
You can buy tickets to one or both of these events! Each event has a separate ticket page linked here:
Fast Flirting: Cost is $30 in advance, $35 at the door. Tickets to Fast Flirting are available in the "ticket" section above, or at this link:www.littlegaybook.com/seattle-3dollarcinema
Date Night Short Films: Tickets are available now at http://bit.ly/2AlDZlx. Cost is $3 for members of Three Dollar Bill Cinema or $12 for not-yet-members. To become a member, visit https://www.threedollarbillcinema.org/participate/membership/.
Tags: Jason Plourde, Seattle Queer Cinema, Staff Changes, Three Dollar Bill Cinema