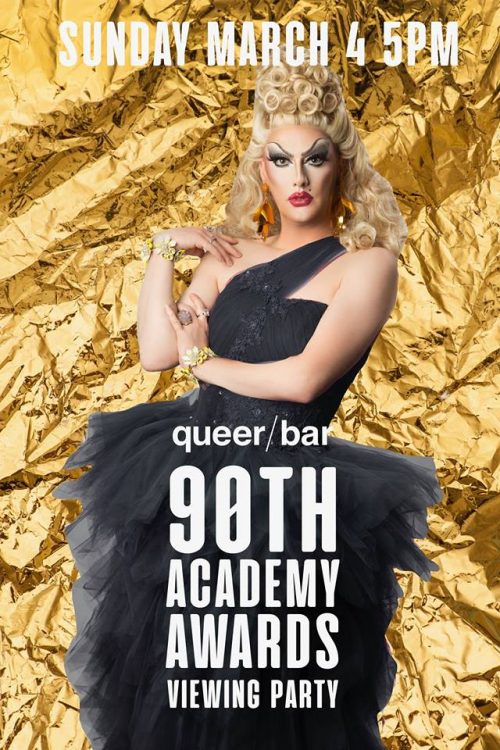 Sooooooooo, for many of you, I know the fact that Gay City and Three Dollar Bill Cinema decided to not do their annual Oscar Party this year must be leaving you feeling bereft, dazed and as uncertain as Warren Beatty handing out the Best Picture Oscar last year…
It's gonna be ok. (Pats heads of gentle movie award loving readers)
There are a SLEW of other options to watch this year's Academy Awards ceremony which happens Sunday, March 4th with most places starting their party at 4pm local time with Red Carpet Realness!
Your first and biggest option (and not just because they're advertisers…well, maybe…perhaps…IT DOESN'T HURT TO PAY ME, PEOPLE! YOU CAN BUY MY LOVE!!!!) is the fun Oscar party at QUEER/BAR which has a frequent Gay City/Three Dollar Bill Oscar host, Robbie Turner as the mistress of ceremonies of QB's show. Robbie is a good fit for this…she's a huge movie nerd and can list every movie Norma Shearer ever made.
(Note to the Kids: Norma Shearer was an old timey movie actress from 'back in the day' when movies were so much better….she played the lead in "The Women" which every good homosexual should have seen and had entirely memorized by now. If not, you are being judged by every queen over the age of 50.)
Queer/Bar is also a good choice for vegetarians since they have that delicious vegetarian friendly menu.
We're going to give our second party recommendation to another queen with a movie fetish: Mark "Mom" Finley. There's also the delicious irony that the town's two biggest old movie fans/drag queens are also BITTER, BITTER enemies (I'm not making this up or being catty….they declared open warfare on each other at last year's Mama Tits' Roast. It was more combative than "Dunkirk" but with a lot more booze and viciously cruel remarks that left deeper wounds than the Luftwaffe…but, I digress)
Ms Finley is hosting her 2nd annual Oscar Party at Madison Pub, one of her many bars away from home. Since Mark is older than Cinemascope, she should be a decent hostess as long as the delightful old battleaxe limits herself to only a quart of booze prior to curtain time.
Also: don't feed her after midnight.
Really….DON'T!!!!
Another queen, the lovely Gaysha Starr is also hosting a party down at the new Purr in Montlake and since they have a million TVs you won't miss a thing! They also have food and drink specials.
For you homospecial people on the West side of Seattle, there's a shindig at OutWest with food/drink specials and prizes and all the usual fun associated with watching rich people win awards.
RPlace has a viewing party as well. 
If you are REALLY missing a more formal party with a cover, then your best/gayest bet is Black Tie Red Carpet Oscars Viewing Party at Century Ballroom since it's a REAL party and they want you to dress up! It also has the very gay Waxie Moon and the not technically gay/but so hilariously funny and talented and a campy hoot she might as well be gay, Sarah Rudinoff as the hosts. Here's the skinny with the ticket link:
Join us March 4th at Century Ballroom for our special Black Tie Red Carpet 2018 Oscars® Viewing Party with hosts Waxie Moon & Sarah Rudinoff!

3 pm Doors
3:30 pm Oscars Pre-show
5 pm Oscars Ceremony

21+
$15 Adv / $20 Day Of
Tickets are going fast: https://www.brownpapertickets.com/event/3327254

UPDATE: VIP Tables are sold out. VIP Tables (seats 4) $125 (includes a bottle of Moet & Chandon champagne, reserved seating up front, food service, party favors, and your photo taken with your hosts).

Contests and prizes for:

best gown
best suit
best dressed hollywood couple.

Pick all 24 category winners correctly win the grand prize!

Plus: Red Carpet Photos

Get your tickets, then RSVP and invite friends!
For not as gay options (but still kinda gay since it's the Oscars and we live in GayTown USA….) and also HELLA expensive, there's the big annual Film School Oscar Party/Gala at The Triple Door that is super fahncy and has STARS and stuff.
If you're on a budget and don't need to be around Tom Skerritt, you can check out the FREE annual party at Central Cinema.    But, get there early since they tend to fill up.
And, to be honest, many many bars with tvs are probably showing the Oscars. After all, it IS the gay Super Bowl.
(Visited 1 times, 1 visits today)