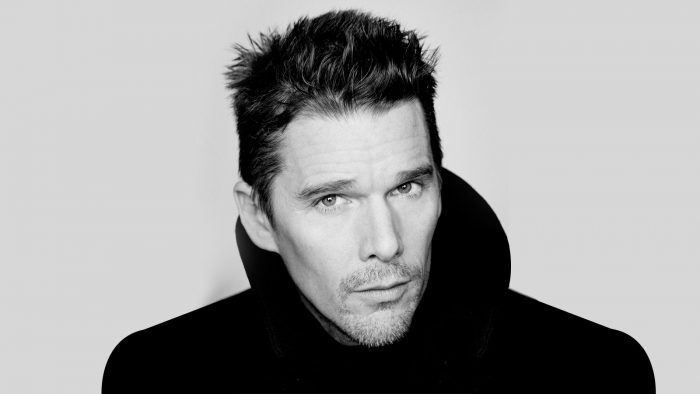 A few tickets remain for the Seattle International Film Festival's starry tribute to actor/writer/director ETHAN HAWKE happening this Friday, June 8th at the Egyptian Theater on Capitol Hill. Several of Hawke's films have been screened and the Friday event features Hawke in person at the screening of his latest directorial effort BLAZE with a Q & A to follow. 
There's even a super dooper/fancy shcmancy VIP option with the added addition of a reception with the "modern-day renaissance artist"….
More poo:
A modern-day renaissance artist, Ethan Hawke's creative talent continues to flourish in several realms of expression. An actor, screenwriter, novelist, and filmmaker, his body of work is broad as it is deep in a career that now spans three decades. From portraying a rock-steady police sergeant and cowboy, to a sensitive teenage poet and young heartthrob, his versatility as an actor is renowned, cementing him as one of the great performers of this generation.

SIFF is proud to present Hawke with the Seattle International Film Festival Award for Outstanding Achievement in Cinema. A Q&A with Hawke will follow the screening of his new film, Blaze.
Get the full VIP experience! Attend an exclusive reception with Ethan Hawke before the film from 5:00 PM – 7:00 PM. Hors d'oeuvres, wine, and beer provided. (21+)

SIFF honors Hawke with a repeat screening of Blaze on Saturday, June 9, and two screenings of First Reformed (in which he stars) on Friday, May 18 and Tuesday, May 22.

Director Biography
Ethan Hawke is an Academy Award®-nominated actor and writer whose career as a novelist, actor, director, and screenwriter spans more than three decades. Blaze – which Hawke also co-wrote and produced-is his most recent foray into directing. The film premiered at Sundance and SXSW Film Festivals in 2018. His other film directing credits include Chelsea Walls, The Hottest State, and the critically acclaimed documentary Seymour: An Introduction.

Sponsored by Chihuly Studio, Chateau Ste. Michelle Winery, Red Element Studios
Director:Ethan Hawke

Principal Cast:Benjamin Dickey, Alia Shawkat, Josh Hamilton, Charlie Sexton

Premiere Status:Seattle

Country:USA

Year:2018

Running Time:127 minutes

Producer:Jake Seal, John Sloss, Ryan Hawke, Ethan Hawke

Screenplay:Ethan Hawke, Sybil Rosen

Cinematographers:Steve Cosens

Editors:Jason Gourson

Website:Official Film Website

Awards:Sundance Film Festival 2018 (Special Jury Award for Achievement in Acting)

Filmography:Seymour: An Introduction (Doc, 2015); The Hottest State (2006); Chelsea Walls (2001)

Language:English

Format:DCP

US Distributor:Sundance Selects

International Sales:The Exchange
(Visited 4 times, 1 visits today)