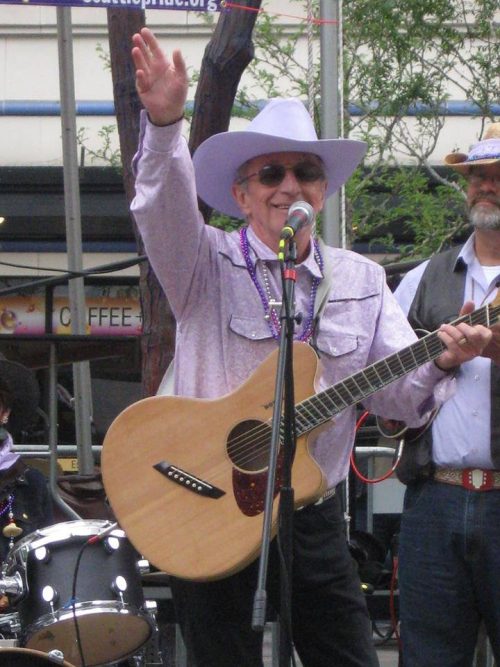 Queer pioneering country western music group LAVENDER COUNTRY is still going strong DECADES after breaking glass ceilings in the 1970s. Yes, they were on hiatus for quite a long time but original lead singer/songwriter Patrick Haggerty gathered together new musicians and are playing gigs all over the country.
Patrick and the band have several upcoming gigs in the Pacific Northwest including an August 11th show at "The Fixin' To" in North Portland, Oregon (8210 North Lombard. With Soft Butch and Jenny Dont and the Spurs. 8 p m. 10 dollars. age 21 +).
Closer to Puget Sound, you can check out Lavender Country at The Crocodile's Back Bar on August 19th and then on September 14th at Conor Byrne in Ballard.
Here's more info on the show at The Croc.  Note that Backbar shows are Door Only so get there early to make sure you get in!
The Crocodile Presents:

LAVENDER COUNTRY @ THE BACK BAR

Secret Emchy Society, Shawna Virago

SUN,

 

AUGUST

 

19,

 

2018

7:00 PM

$10 at The Door

Tickets at the Door

THIS EVENT IS ALL AGES

Lavender Country is the world's first gay country band and album. Originally a bootleg, community sponsored project for gay liberationists, Lavender Country died after distributing just 1000 LP albums and a few performances at gay liberation and Pride events. Nobody but us wanted to listen in 1973…

Forty-five years later, all that has changed. Reissued in 2014 by an up and coming label, Paradise of Bachelors, Lavender Country took off like wildfire… What was dead for decades sprang to life with cross country performances, music festivals, country music and other club dates, videos, documentaries and plans for a feature length screenplay and film are underway. Now everyone it seems wants to hear Lavender Country's songs and stories.

Lavender Country's original and lead singer/songwriter Patrick Haggerty, now 73, is alive and kicking, accompanied by a range of baby boomer, Gen X, and Millennial musicians from Seattle to Nashville.

Oakland's First Lady of Queer Country. Cindy Emch, plays foot stompin' heart breakin' americana music about good friends and hard times. You'll be haunted by the dark, sexy, boozy ballads, off-kilter anthems, and foot stompin' heart breakin' cowboy songs performed by her band the Secret Emchy Society. With turns that are happy, sad, heartbreaking and humble, their new album 'The Stars Fall Shooting Into Twangsville' echoes a variety of vintage styles, from rowdy honky tonk to vulnerable ballads, with broad swaths of zydeco, country and cabaret tossed in for good measure that will appeal to fans of June Carter Cash, Lydia Loveless, Neko Case, Shovels & Rope, Dolly Parton and Porter Wagoner.

Named by the HuffingtonPost as the 'First Lady of Queer Country,' by TheBoot.com as one of the Ten Queer Country Bands for Real Country Music Fans to Listen To, and by the Atlanta Auditory Association as having one of the 50 best album of 2017 – Secret Emchy Society is a truly raw, honest, and authentic listening experience not to be missed.

Shawna Virago is a transgender music pioneer celebrated for her striking lyric-based songs. Her music twists together folk, punk and trans-americana, offering raw observations about survival in a predatory world, queer love, sticking up for the underdog, and gender rebels. Virago has performed as an out transwoman since the early 1990's.

Virago's live performances are celebrated for their compelling mix of original songs, storytelling and standup. Her music has been profiled in many publications, including No Depression, the Huffington Post, Paste Magazine, Louder Than War, The Big Takeover, Bitch, The Advocate and Curve magazines and on left-of-the-dial radio.

Shewired named Virago as one of the nation's "Top 25 Hot Femmes." The Advocate named Virago's song 'Objectified' as one of the nation's top transgender anthems. Virago is the Artistic Director of the San Francisco Transgender Film Festival.

Virago's music video Transsexual Dominatrix has screened at more than 30 film festivals throughout North America and Europe, and was awarded Best Music Video at New York's CineKink Festival.

Virago is a published writer and her work appears in Gender Outlaws: Next Generation and in the anthologies Trans/Love: Radical Sex, Love & Relationships Beyond the Gender Binary and Take Me There. Virago has been featured in documentary works on PBS and NPR. Virago composed original music for choreographer Sean Dorsey's acclaimed dance theater work Uncovered: The Diary Project, about pioneering transman Lou Sullivan.
(Visited 5 times, 1 visits today)