November 1, 2022

•
by
Michael Strangeways
A true legend and a pioneer, country singer and LGBTQ rights activist PATRICK HAGGERTY died Monday, October 31, 2022 in Bremerton, Washington, after weeks of illness following a stroke. The Pacific Northwest native was 78 years old.
Patrick Haggerty will be remembered for a life well spent but he first garnered attention for heading the first openly gay country music band, Lavender Country, which he created in 1973 with friends in Seattle. The group performed gigs around the area including early gay pride events and recorded a self-titled album that featured songs like "Come Out Singing" and "Cryin' These Cocksucking Tears".
Like most bands, they eventually drifted apart but Patrick Haggerty spent the next 40 plus years working tirelessly as an advocate for LGBTQ equal rights and then during the AIDS era, fighting to save gay lives through the activist group, ACT-UP.
Haggerty was also a fierce social justice warrior in a time before that was even a label, fighting for Black civil rights in the 70s and 80s including a fight to stop construction on a new police station in the Central District. Haggerty waged campaigns for the Seattle City Council and the Washington State legislature alongside the Nation of Islam but failed to win any elected office.
Haggerty and Lavender Country got a second shot at fame in 2014 when the album was re-issued by the indie label Paradise of Bachelors which drew national attention and the opportunity for Haggerty to tour the country singing songs he created in the early Seventies. He eventually recorded a second album called Blackberry Rose and toured with various musicians up to just a few weeks before his final illness. Out musical artists like Orville Peck have cited Lavender Country as an influence on their own work.
Patrick spoke with Seattle Gay Scene's Jeffrey Robert back in 2017 about his early life growing up on a dairy farm near the small community of Dry Creek which was near Port Angeles, Washington in the 1940s and '50s:
"My father was a very colorful character. He wore Farmer Brown overalls and he had cow crap on his hands and he wore clodhopper boots and had half of his teeth – he looked like Pa Kettle. My father saw who I was at the age of five. And he helped me the best way he knew how through that but you couldn't say 'Gay' you couldn't say 'I'm a queer'… I was in a Catholic family. It wasn't 'I am gay'…that was never a sentence pronounced in my family. What was pronounced and what everybody knew and accepted at face value was that I was a sissy. I had all the classic symptoms. I was playing with dolls…I was running around with girls all the time…I was terrible at sports…I was not a very good farmer.

When he was 13, back in 1959 he went to 4H camp where one of the girls showed up in a ballerina outfit. "I knew goddamn I was going to get in that outfit" so he devised a plan where a group of the guys would dress up and put on a skit, except Patrick loved it so much he wore it the next day " Dancing and singing and jumping up and down and pretending I was Tinkerbelle".
Patrick collaborated with the StoryCorps project in 2015 and told them a story about his gruff farmer dad accepting his very flamboyant son and they created the wonderful animated short "The Saint of Dry Creek" with Patrick telling his own story. Check it out in the above video.
Check out the whole interview at https://seattlegayscene.com/2017/02/sissy-that-country-patrick-haggertys-ccksucking-tears/
Patrick Haggerty is survived by his husband/partner of 35 years, J.B. Broughton, two children, other family members, and thousands of fans of his artistry and activism.
A BIG toast to the incomparable Patrick Haggerty, a true LGBTQ rights pioneer, social justice warrior, and artist.
Salud.
(Visited 33 times, 1 visits today)
As the Editorial Director/Co-Owner, Michael Strangeways writes, edits and does about a million other jobs for Seattle Gay Scene, Puget Sound's most visited LGBTQ news, arts and entertainment website now celebrating its 14th year as a media outlet. A semi-proud Midwesterner by birth, he's lived in Seattle since 2000. He's also a film producer who would like you to check out the Jinkx Monsoon documentary, "Drag Becomes Him" now available on Amazon.com. In his spare time, he gets slightly obsessive about his love for old movies, challenging theater, "otters", vodka, chocolate, "I,Claudius", Lizzie Borden, real books made out of paper, disaster films, show tunes, Weimar era Germany, flea markets, pop surrealistic art, the sex lives of Hollywood actors both living and dead, kitties, chicken fried steak, haute couture and David Bowie. But, not necessarily in that order.
Related Posts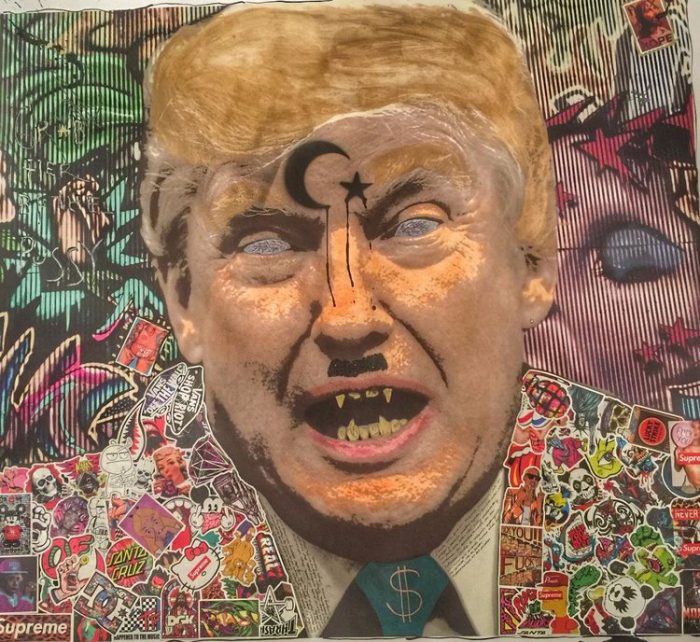 *Resist. Protest. Obstruct. Inform. • *The Illegitimate Regime of Donald Trump • Advocacy • Arts • Arts & Entertainment • Arts News • Capitol Hill News • Community • Community Events • News
Check out some of the artists and their art up
...