LGBTQ Victory Fund Shatters Previous Endorsement Record,
Endorses 55 More LGBTQ Candidates and 272 Overall in 2018
Historic candidates would become first out LGBTQ elected officials
in Kansas, Nebraska State Legislatures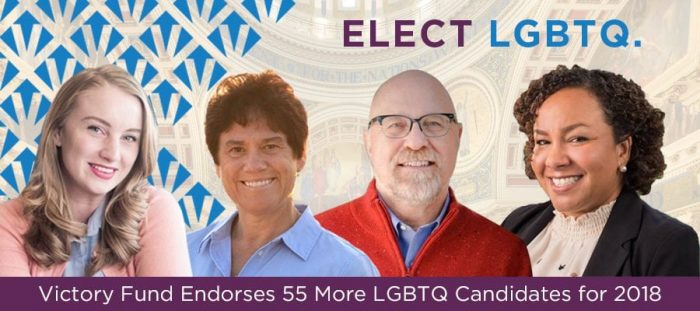 Washington, DC – Today LGBTQ Victory Fund, the only national organization dedicated to electing LGBTQ leaders to public office, endorsed 55 more candidates for elected positions across the nation. The latest slate brings to 272 its total number of endorsements for the 2018 election cycle, shattering its previous record of 180 candidates in 2012. The record-breaking numbers reflect the Rainbow Wave of LGBTQ candidates running for office this year and the potential to dramatically increase the number of LGBTQ elected officials at every level of government.
"Never before in our 27-year history have we seen so many viable and qualified LGBTQ leaders standing up to run for office," said Mayor Annise Parker, President & CEO of LGBTQ Victory Fund. "While the Rainbow Wave of LGBTQ candidates is impressive in numbers, we are also running for more high-level offices than ever before and for positions where no openly LGBTQ person has served. We can elect our first out trans governor, our first representatives to the Kansas and Nebraska state legislatures, and a historic number of LGBTQ leaders to Congress. This surge in LGBTQ political power is important not only because the LGBTQ community needs us, but because America needs us. Our nation needs more values-driven leaders determined to find solutions to the issues that matter most to everyday Americans –