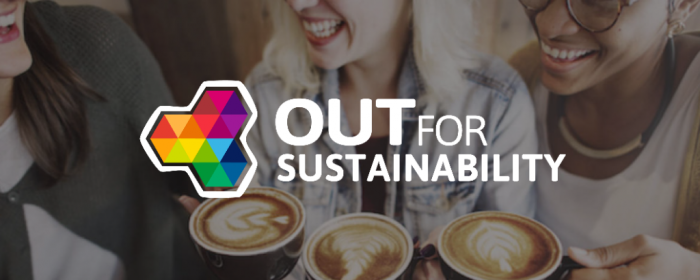 Are you concerned about the environment and climate change and a dozen other issues facing Planet Earth? Does the fact that in recent years, the increase in nature fires has resulted in the loss of lives, both human and animal, as well as reduced habitats and has greatly impacted the lives of people living on the West Coast, worry you?
OUT for Sustainability is an LGBTQ community group focused on issues related to the environment and community. Started in Seattle, it has spread to other cities and the group is seeking more community members to get involved. To facilitate that, they're trying to organize relatively informal coffee talks in the four areas the group has current members: NYC, Washington D.C. in the East and Seattle and the San Francisco Bay area on the West Coast. (If you want to organize a group in your area, I'm sure they'd love to hear from you, too.)
Here's some more info on the group and how to get involved.
Hello fabulous friends,

Have you been craving wonderful conversation with other LGBTQ folk on sustainability? Are you interested in helping OUT for Sustainability move the needle on our vision of a Fabulous Planet? Are you wanting to get involved, or at least learn more?

Join OUT4S folks in your region by hosting or participating in a coffee talk.

This informal gathering opportunity is currently slated for four regions, but we'd love to see you raise your hand for other regions!! The current four regions are: New York, Washington D.C., Seattle, and the Bay Area in California. We have known interest in other areas, just not the hosts yet.

Email info@out4s.org to get involved!!
Here's more info on the group:
Identity and Values

OUT for Sustainability (OUT4S) mobilizes the lesbian, gay, bisexual, transgender, and queer (LGBTQ) community for environmental and social action. An all-volunteer run organization with a broad network of LGBTQ and environmental organizations, OUT4S is a contributing voice for the next evolution of the LGBTQ community at the intersection of identity and values.

Intersectionality is key to our philosophy and perspective on sustainability, where the facets of who we are are viewed as an interconnected paradigm of identity, society, and environment (Our logo is a reflection of this philosophy). OUT4S is headquartered in Seattle, Washington with board members, volunteers and activity throughout the United States.

Current Action

OUT4S is focused on two main areas: service and advocacy. In service, OUT4S is best known for Earth Gay, our volunteer program inspired by Earth Day that facilitates service projects as an opportunity to express Pride in ourselves, our community and our neighborhoods in regions across the United States. In advocacy, our Fab Planet Summit, an intimate conference held every other year, delves into intersectionality to showcase social and environmental sustainability actions and ideas by leading LGBTQ individuals.

Programs also include Greener Pride, our vision to highlight environmental action including supporting Pride celebrations and other LGBTQ events around the world to achieve zero waste, carbon neutral community celebrations. We also host "salons" in cities around the country as a chance to mix and learn from each other on intersectional topics that connect LGBTQ identity and sustainability values.

History

OUT for Sustainability was dreamt up in the fall of 2008 on the premise that LGBTQ identity and the sustainability values are absolutely interconnected. Our first advisory council set the tone that partnerships, action, and positive engagement must be the cornerstones of our work. Since those early days of community building in Seattle, OUT4S has evolved organically to become the voice of LGBTQ sustainability. In collaboration with over 150 partners, OUT4S has hosted 3,000+ LGBTQ and allied folks at more than sixty events in Washington, Oregon, California, Arizona, Vermont, Texas, and New York with an impactful vision of a Fabulous Planet.
(Visited 1 times, 1 visits today)