I just noticed something.
Pretty much every film screening at one of SIFF's cinemas this week/weekend is either gay, kinda gay or hella REALLY mega gay.
Sweet!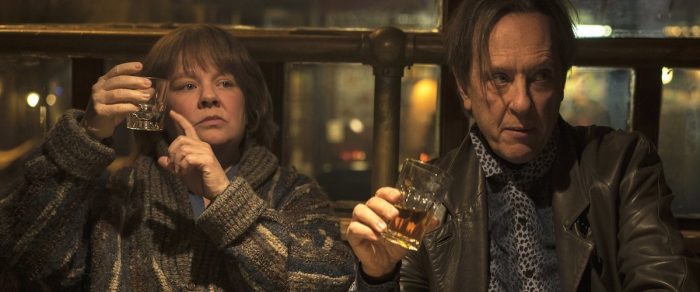 Up on Capitol Hill at the Egyptian, there is the critically acclaimed CAN YOU EVER FORGIVE ME? It's a sorta of biopic that focuses only on a specific part of the life of best-selling celebrity biographer Lee Israel who made a name for herself for biographies of Tallulah Bankhead and Dorothy Kilgallen but after her style of book writing fell out of favor, found herself in dire financial circumstances by the late 70s. But, when the writer stumbled upon the lucrative literary autograph market, she turned to forgery to earn her living.
The cat loving, lesbian Israel is played by Melissa McCarthy and both she and co-star Richard E. Grant as her gay best friend are earning places on awards season long lists.
You can snag tickets (and more info) over here!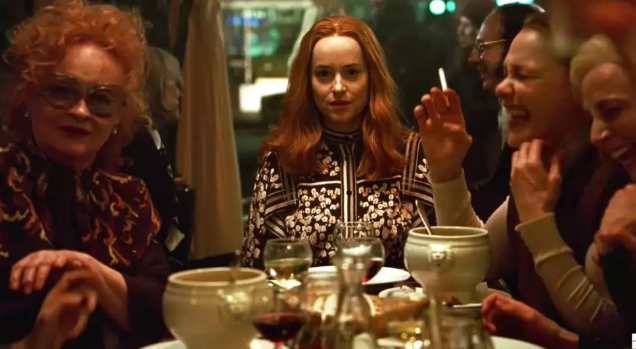 Meanwhile, at SIFF Uptown cinema triplex, there are multiple gay options..the creepier choice is from out gay Italian director Luca Guadagnino in his follow-up to last year's very successful gay romance Call Me By Your Name. SUSPIRIA is his remake of the classic 70s horror film centered on a young American dance student getting caught up in creepy/queer situations at an all female dance school in Berlin.
Some poo on the film:
We find American Susie Bannion (Dakota Johnson) auditioning for a prestigious international dance school. She's untutored, but has the kind of ferocious commitment to her dance that the strange mistresses who run the all-female school are looking for. In particular, she entrances the precise Madame Blanc (Tilda Swinton), who is both an exacting tutor and elegant den mother. Is Susie finally the 'one' to dance the mysterious 'Volk'? At the same time, students are disappearing and it's apparent that some ancient wickedness lurks in the bowels of the school. Swinton and Johnson are incandescent at the heart of a fabulous, almost exclusively female cast. And Thom Yorke contributes an eerily dramatic, disquieting score to the film.
Uh, it's got a lot going for it…a great premise, a great director and TILDA SWINTON! Oh, and Thom Yorke doing the music and Sayombhu Mukdeeprom's gorgeous cinematography. To be honest, the movie is getting VERY mixed/negative reviews…if you're looking for the traditional horror film, it's probably not for you. Guadagnino is always about creating moody, deliberately paced films (which some might call glacially slow, while others revel in the commitment to the slow build up…) If Euro-Arty cinema and 70s design aesthetic and Thom Yorke's moody music and the Divine Ms Swinton playing multiple roles and looking GORGEOUS are things you like to revel and roll around in, it's right up your art nerd alley!
Oh, and beware this film closes at the Uptown on Tuesday, November 20th!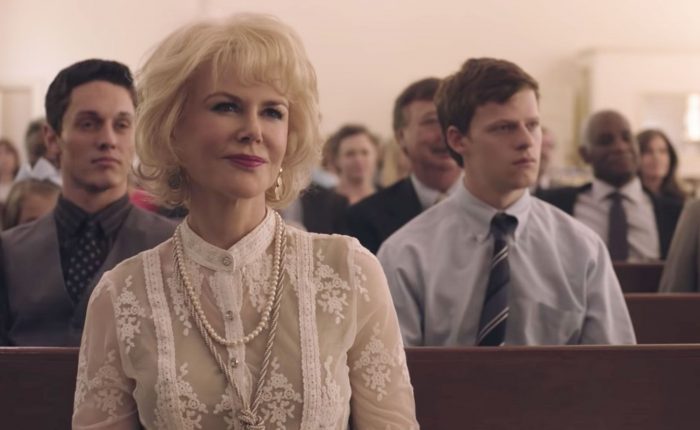 Across the hall at the Uptown, there's a more traditional gay drama happening….it's the much promoted BOY ERASED, the based on a true story account of a rural teen forced by his ultra religious parents to undergo gay conversion therapy.
Boy Erased tells the story of Jared (Lucas Hedges), the son of a Baptist pastor in a small American town, who is outed to his parents (Nicole Kidman and Russell Crowe) at age 19. Jared is faced with an ultimatum: attend a conversion therapy program – or be permanently exiled and shunned by his family, friends, and faith. Boy Erased is the true story of one young man's struggle to find himself while being forced to question every aspect of his identity.
This movie has a great cast; the rising young actor Lucas Hedges, who is in just about every movie being made about teenagers plays Jared (and has himself done interviews that he's not exactly hetero and not exactly homo….Mr. Hedges is apparently exploring his sexual options….good for him!) and a bunch of very famous Australians in other roles… Nicole Kidman and Russell Crowe play his parents and director Joel Edgerton is also in the film.
Tix are available HERE for this film.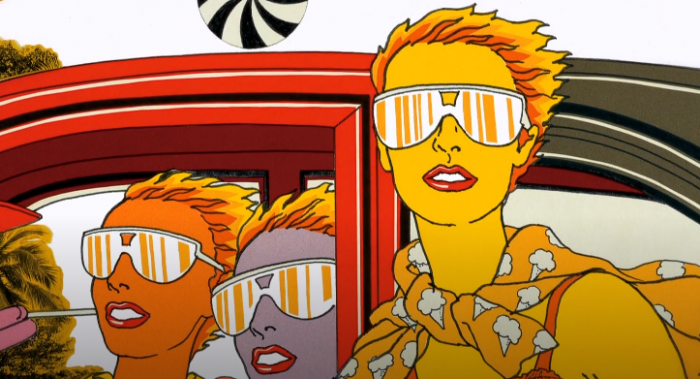 Finally, over at SIFF's Film Center on the Seattle Center campus (it's two blocks east of the Uptown Cinema on Republican, that turns into August Wilson Way once you enter Seattle Center) there's the indie documentary, ANTONIO LOPEZ 1970: SEX FASHION & DISCO about noted fashion illustrator Antonio Lopez and lusty life that ended in 1987.
Exploring the energy and intrigue of the seventies through the narratives of industry legends, Antonio Lopez 1970: Sex Fashion & Disco paints a portrait of a man whose lust for life was transcendent. As a fashion illustrator, his renderings of reality inspired a space where beauty and expression reigned supreme. Director James Crump's documentary outlines Lopez's massive influence that remains palpable decades after his passing in 1987. Shattering boundaries of sexuality, fashion, diversity, and culture across the world, Lopez represents the pinnacle of twentieth century liberation. Like stepping into a time machine, Crump's feature is a love letter to the incomparable nature of the late sixties and seventies and the man whose life's work defined it.
They even got Jessica Lange to be a talking head for this movie along with Karl Lagerfeld, Grace Jones and Jerry Hall!
If you love fashion and 70s design, here's another movie you have to see. Grab tix over here and be advised this film is running three days only: Friday the 16th through Sunday the 18th!
(Visited 1 times, 1 visits today)