Via victoryfund.org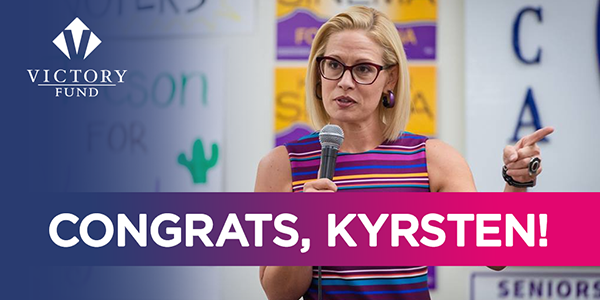 Kyrsten Sinema Makes LGBTQ History in Key U.S. Senate Race;
Becomes First Bisexual Member of the U.S. Senate
Washington, DC – U.S. Representative Kyrsten Sinema was tonight declared the winner in the U.S. Senate race in Arizona, becoming the first openly bisexual person elected to the U.S. Senate and just the second openly LGBTQ person ever elected to the body. Sinema defeated an anti-LGBTQ challenger to take the seat in an extremely close race that was one of the most watched in the nation. Sinema joins U.S. Senator Tammy Baldwin and eight other openly LGBTQ people who have won their races for U.S. Congress so far – a historic number. There are currently just seven openly LGBTQ members serving in Congress.
Victory Fund made Sinema one of its "Game Changer" candidates early on in her campaign. It held fundraisers on her behalf, directly contributed $10,000, and raised more than $97,000.
"An LGBTQ woman winning a U.S. Senate seat in a state that voted for Trump is a game-changer, both for the LGBTQ community and the Democratic party," said Mayor Annise Parker, President & CEO of LGBTQ Victory Fund. "Kyrsten's victory makes clear that an LGBTQ candidate who listens to voters and prioritizes their issues can win elected office anywhere – blue state or red state. It also signals to the Democratic party that nominating more LGBTQ candidates for high-level positions should be a strategic priority, because their openness and authenticity resonates with independent voters. Now Kyrsten joins Senator Tammy Baldwin, fresh off a huge reelection victory, in a U.S. Senate that continues to disregard White House attacks on our community and refuses to consider protections that most Americans support. By doubling our influence with two passionate and tough LGBTQ women, however, the U.S. Senate will certainly find our community more difficult to ignore."
Election Night Results: View election results for the 225 openly LGBTQ Victory Fund endorsed candidates. The latest updates can be found atvictoryfund.org/results2018.
Rainbow Wave by the Numbers: LGBTQ Victory Fund released several reports on the unprecedented Rainbow Wave of openly LGBTQ candidates who ran for office during the 2018 election cycle, including one reporting on the total number of candidates who ran, another looking at the total number of candidates by state, and one analyzing Congressional and gubernatorial nominees.
_________________
LGBTQ Victory Fund
LGBTQ Victory Fund works to change the face and voice of America's politics and achieve equality for LGBTQ Americans by increasing the number of openly LGBTQ elected officials at all levels of government.
(Visited 1 times, 1 visits today)