A Rainbow Wave of Historic Victories for LGBTQ Candidates;
154 Victory Fund Endorsed Candidates Won Races So Far
Victory Fund raised or invested more than $2 million to elect its candidates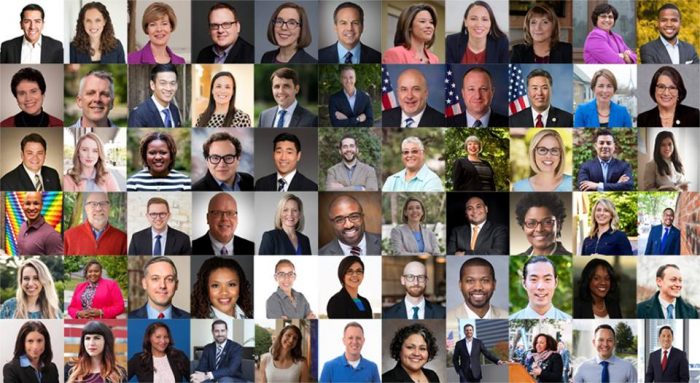 Washington, DC – While returns continue coming in, election results so far demonstrate LGBTQ political power is strengthening nationwide, with 154 Victory Fund endorsed LGBTQ candidates winning their races as of November 8th at 2pm ET – more than at any other time in its 27-year history. Sixteen races are still too close to call, including Kyrsten Sinema's U.S. Senate race in Arizona and Gina Oritz Jones' U.S. House race in Texas. Dozens of diverse LGBTQ candidates became historic firsts, transgender representation in state legislatures tripled, and an unprecedented number of LGBTQ people were elected to the U.S. House.
Victory Fund invested more than $2 million in its endorsed LGBTQ candidates this cycle. It directly contributed more than $159,000 to its candidates, raised more than $1,079,000 for their campaigns, and contributed more than $811,000 in independent expenditures. There were 225 Victory Fund endorsed candidates on the ballot on Election Day.
Below you will find:
a breakdown of victorious candidates by various demographic information;
three important takeaways and storylines for LGBTQ candidates this election cycle; and a
statement on the Rainbow Wave from Mayor Annise Parker, President & CEO of LGBTQ Victory Fund.
LGBTQ Candidates Win in Unprecedented Numbers; Most Diverse Slate in History
Below is demographic and other information on the 154 Victory Fund endorsed openly LGBTQ candidates who have won their races so far:
Gender Identity
63 women;
87 men;
2 trans women;
0 trans men;
1 gender non-conforming; and
1 intersex.
Sexual Orientation
11 bisexual;
82 gay;
50 lesbian;
4 pansexual; and
7 queer.
Race and Ethnicity
12 African American/Black/Afro-Caribbean;
1 Arab American/Middle Eastern;
8 Asian/Asian Pacific Islander;
13 Latinx/Hispanic;
5 Multiracial;
2 Native American/Alaska Native; and
113 White/Caucasian.
Position Level
2 for governor;
1 for U.S. Senate;
8 for U.S. House;
4 for statewide elected office (not including governor);
3 for mayor;
85 for state legislature;
40 for local office; and
11 for judicial positions.
Party Affiliation
153 Democrats, 0 Republicans and 1 Independent.
State Equality Levels (as defined by Movement Advancement Project)
High-Equality States: 82
Medium-Equality States: 8
Low-Equality States: 55
Negative-Equality States: 8
Unknown (Guam): 1
Unprecedented Number of Openly LGBTQ Congressional Candidates Win
Eight openly LGBTQ candidates have won their races for the U.S. House and one is still too close to call – ensuring a historic number of openly LGBTQ candidates in the U.S. Congress next year. Three of the LGBTQ candidates won seats currently held by Republicans, one won in a key swing district held by a retiring Democrat, and four were incumbents. U.S. Senator Tammy Baldwin won a resounding reelection in Wisconsin and Kyrsten Sinema's race for U.S. Senate in Arizona remains too close to call.
Read the full media release and view the winning candidates here.
LGBTQ State Legislative Candidates Make History Nationwide, Most Diverse Ever
The Rainbow Wave of openly LGBTQ candidates who won elections nationwide included an impressive number of historic firsts and groundbreaking victories at the state legislative level. Eight-five openly LGBTQ state legislative candidates won seats across 36 states, including in three states that have never elected openly LGBTQ state legislators before. Only seven states had never elected an openly LGBTQ person to their state legislature before Tuesday, but that number is now three after LGBTQ candidates won in Indiana, Kansas and Nebraska.
Read the full media release and view the some of the most historic victories here.
Transgender Representation Increases Nationwide
Just one year after America elected its first out trans state legislator Danica Roem in Virginia, voters elected two more trans state legislative candidates in New Hampshire to triple trans representation in state legislatures come January. A Colorado House of Representatives race with out trans candidate Brianna Titone remains extremely tight – Titone is up by 12 votes out of more than 47,000 as of 1pm ET on November 8. If Titone wins, America will have quadrupled the number of out trans state legislations. Nationwide, six out trans candidates were elected this cycle.
Read the full media release and view the winning candidates here.
Statement from Mayor Annise Parker, President & CEO of LGBTQ Victory Fund
"From the U.S. Congress to governors' mansions to state legislatures and city councils, we are making historic inroads and growing our political power in ways unimaginable even a few years ago," said Mayor Parker. "An unprecedented number of LGBTQ candidates ran this year, fueled by attacks on our equality from the federal government and state legislatures, but driven by a desire to better the lives of all constituents regardless of sexual orientation or gender identity. We shattered lavender ceilings, achieved historic firsts and brought more LGBTQ representation to legislative bodies across the nation, which will help push equality forward. But we needed more LGBTQ candidates not just because our community needs us, but because America needs us. These values-driven leaders are ready to fight for the issues that matter most to their constituents and they will lead with solutions, not the divisiveness that characterizes too much of our politics right now. And these victories will inspire more LGBTQ leaders to run for office in coming elections – our representation in government will continue to grow."
Election Night Results: Election results for 225 openly LGBTQ Victory Fund endorsed candidates are available at victoryfund.org/results2018.
Rainbow Wave by the Numbers: LGBTQ Victory Fund released several reports on the unprecedented Rainbow Wave of openly LGBTQ candidates who ran for office during the 2018 election cycle, including one reporting on the total number of candidates who ran, another looking at the total number of candidates by state, and one analyzing Congressional and gubernatorial nominees.
_________________
LGBTQ Victory Fund
LGBTQ Victory Fund works to change the face and voice of America's politics and achieve equality for LGBTQ Americans by increasing the number of openly LGBTQ elected officials at all levels of government.
(Visited 1 times, 1 visits today)