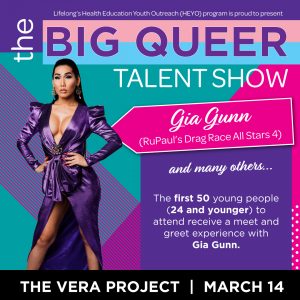 We're ALWAYS happy to promote an all ages/under 21 event for LGBTQ kids since…well, there's not enough of them. It's hard out there for the under 21 crowd to find queer events to attend since so many LGBTQ events take place in bars and night clubs.
To help change that, Lifelong's Health Education and Youth Outreach (HEYO) program has teamed up with The Vera Project, the all ages community arts center at Seattle Center for a March 14 show showcasing not only local queer talent but a big name star, too.
RuPaul's Drag Race star Gia Gunn will headline THE BIG QUEER TALENT SHOW happening this Thursday, March 14th at The Vera Project, (305 Harrison Street but since it's on the Seattle Center campus, it can be tricky to find…it's on the northwest side of Seattle Center, the side closest to the Uptown!) with lots of locals on hand as well. It's a FREE event (but you should RSVP to be on the list…go HERE!) and it's really meant to be a YOUTH event aimed at the 24 and under crowd. 
Some more info on the event and HEYO: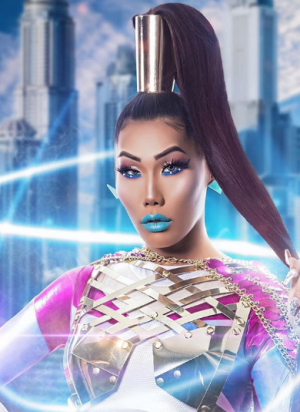 Drag Queens, Comedians, Poets—Oh My!

SEATTLE, WASHINGTON – Join Lifelong on March 14 for the Big Queer Talent Show.

With the current national attacks on transgender people's rights and safety, this year's Big Queer Talent Show will uplift and center voices within the trans community.

The all transgender and non-binary cast of performers includes "RuPaul's Drag Race" star Gia Gunn. The first 50 people (24 and younger) to arrive at the Vera Project will have the opportunity to join a meet-and-greet with Gia Gunn. Local performers Ebo Barton, Max Delsohn, and Stasia Coup (Artie Thomas) will also be featured at this all-ages event.

"Adult queer role models are so important for the LGBTQ youth. It affirms that they are lovable, important, and have bright futures ahead of them," says Alyx Steadman, Health Education Youth Outreach (HEYO) Coordinator at Lifelong.

Event information

Date: March 14

Time:  6 – 9:30pm

Location: The Vera Project

Cost: Free

More information: lifelong.org/big-queer-talent-show

The Big Queer Talent Show is produced by Lifelong's Health Education and Youth Outreach (HEYO) program. The program is built on four main principles: sexual empowerment, community building, social justice, and leadership development.

About Lifelong: Lifelong is a community health organization committed to empowering people living with or at risk of HIV and/or other chronic conditions to lead healthier lives. Lifelong has always been an organization that stands up for communities facing discrimination and marginalization.
(Visited 1 times, 1 visits today)