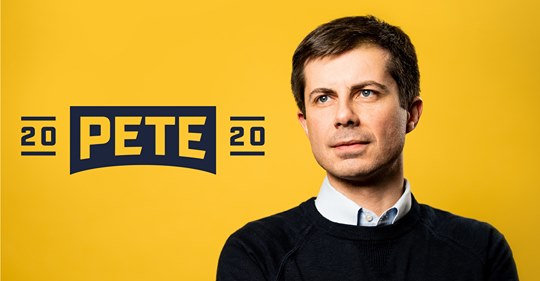 Out gay Democratic presidential candidate, Mayor Pete Buttigieg has been criticized for not having his policies announced in his surprisingly successful and much publicized run to become the Dem's nominee in the 2020 presidential election.
In all fairness, it seems rather obvious that the media attention and his rapid rise to celebrity status caught the Indiana mayor by surprise; to be honest, it seems likely he announced his plans to form an exploratory committee to consider running for president earlier this year to help sell his book, Shortest Way Home and to increase his recognition on the political scene to help him move up the political ladder. The fact he became a political superstar in a matter of a few weeks, left Mayor Pete and his practically non-existent team completely unprepared.
But, the "Pete for America" team have rectified that on Thursday, May 16th by adding a resource section to the official website that outlines Pete's plans for policies and his overall platform as a presidential candidate.
From the press release:
Today we're launching a resource page that explains Pete's positions and grounds them in his values. We hope this page will be useful as you talk to your friends and family about what's at stake this election, and why you believe in Pete's bold vision for our future. As our campaign releases further policy ideas and initiatives, this page will continue to be a resource.

Take a read and then tell us: what's the most important thing to you and your family? And how have these issues played out in your life?

This campaign is about building the kind of democracy and society that works for all of us. This time around, we know it's not just about winning an election; it's about winning an era.

Together, we can do just that.

Pete for America
There's nothing too shocking in the platform…it's broken down into three sections: "Freedom", "Security" and "Democracy" with sub sections under each that go over, in rather brief detail, his stance on everything from Health Care (he favors a rather conservative and slow approach to implementing a national health care fix with "Medicare for All Who Want It" as a pathway to Medicare for All) to Climate Change (pro-to implementing a Green New Deal) and advocating a constitutional amendment to dump the Electoral College method of electing our president.
He's still sticking to his plan to increase the size of the Supreme Court, something Franklin Delano Roosevelt tried doing 80 years, which got FDR in a lot of hot water. It's probably Pete's boldest proposal (and one very unlikely to get any traction).
And, he has a whole bullet point list of LGBTQ issues, including "Passing the Equality Act; reverse the ban on transgender military service; enforce the nondiscrimination provisions of the Affordable Care Act and key federal civil rights laws".
Check out Mayor Pete's platforms HERE.
(Visited 1 times, 1 visits today)