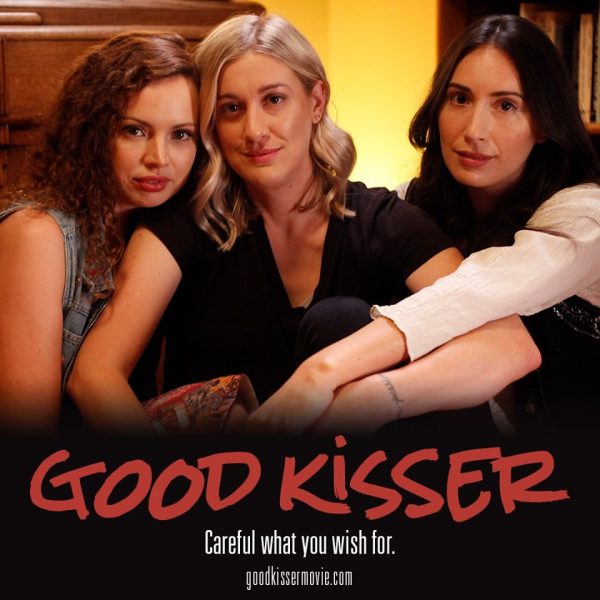 You have two chances to check out a new film made by local out filmmakers this opening weekend of the 45th Seattle International Film Festival. GOOD KISSER world premieres (tonight) Friday, May 17th at 7pm at The Uptown with an encore screening set for Saturday, May 18th at AMC Pacific Place 11 at 1:30pm.  You can grab tix HERE!
"As an independent filmmaker, having the World Premiere of GOOD KISSER at my local festival is a dream come true," said Director Wendy Jo Carlton. "Besides SIFF being known for appreciating of original voices, it also is a mainstream festival — giving GOOD KISSER a bigger spotlight and the opportunity to reach more audiences."
What's the film about?
Jenna struggles with anxiety and feels insecure in her relationship with Kate, a Seattle bartender. In an effort to keep Kate happy, Jenna agrees to a three way fling with gorgeous and enigmatic Mia. Over the course of a single night, the slow-brewing mutual seduction reveals a mix of emotional drama and intense physical attraction. As intimacies are shared and lies are revealed, Jenna has to decide what matters the most to her heart.
About the filmmakers:
Writer/director Wendy Jo Carlton's first feature, Hannah Free, starred Emmy winner Sharon Gless. Her second feature, Jamie and Jessie are Not Together, is available on Amazon Prime. Carlton's lesbian web series Easy Abby has received an incredible 50 million views. Both seasons of Easy Abby are now on Revry.tv. Good Kisser was shot in Seattle with a cast and crew that was 75% female and/or LGBTQ.
Rachel Paulson is also a producer, with Drink Responsibly, and Kleptos. She is the younger sister of actress Sarah Paulson, of "American Horror Story," and casting director Liz Paulson.
Julia Eringer is an actress and producer, known for Fox Trap, and Girls Like Magic.
Kari Alison Hodge is an actress and writer, known for I Am Joe, Piled Higher and Deeper: Still in Grad School,  and Crazy Bitches.
Courtney McCullough is a Chinese/Mexican American actress and gender-queer model from Los Angeles. She has appeared on Showtime's Shameless, the web series Weekly Meeting, and competed as a geography expert on Fox's Superhuman game show.
Carter Rodriquez is an actor, musician, and visual artist in Seattle. He appeared at Cafe Nordo, and BASH Theatre, and is a long-time Freehold Theatre collaborator (including work with the Engaged Theatre Project, which brings shows to Washington State correctional facilities).
SOCIAL MEDIA
(Visited 6 times, 1 visits today)