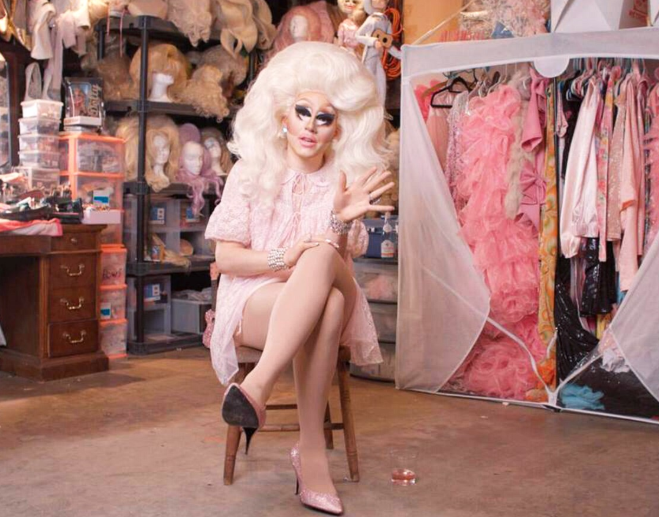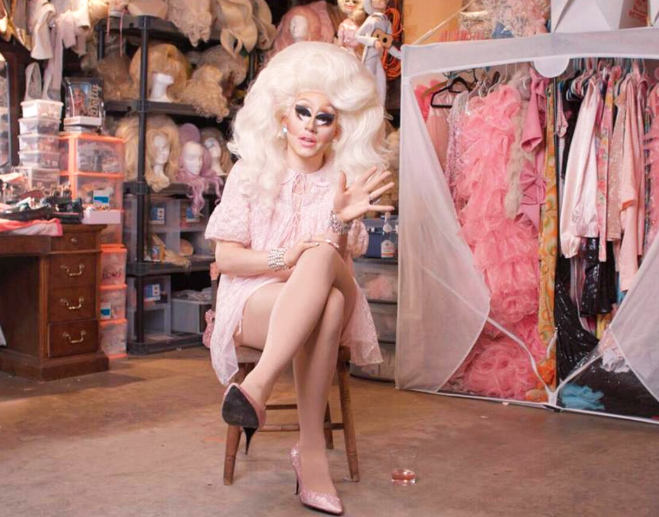 You know it's spring when you have a million film opps in Seattle…the Translations Film Festival is this weekend (May 2 – 5) and the Seattle International Film Festival just announced their line-up and opened ticket sales for their huge annual film fest which kicks off in two weeks, Thursday, May 16th with their Gala Opening of local filmmaker Lynn Shelton's latest film SWORD OF TRUST. 
After that, it's 25 days of film ending on June 9th and including hundreds of films and events…including screening 24 films/programs under the LGBTQ banner during the festival. We're still breaking them all down but among the films being screened include documentaries on fashion icons Halston and Jean-Paul Gaultier as well as the brand new doc about drag superstar Trixie Mattel.
One thing to note: it seems that SIFF has permanently 86ed the annual "GayLa" screening/party they used to do every year…it didn't happen last year and it's not back for 2019. 
Sad.
We'll have closer looks at the LGBTQ films and other films/events of interest in the weeks ahead.
Check out all the LGBTQ films HERE!
More poo on the entire festival:

The Seattle International Film Festival, the largest and most highly attended film festival in the United States, announced today the complete lineup of films, guests, and events for the 45th annual 25-day Festival that runs May 16 – June 9, 2019.

This year, SIFF will screen 410 films representing 86 countries and will include: 147 features (plus 4 secret films), 71 documentaries, 12 archival films, and 176 shorts. The lineup includes 33 World premieres (12 features, 21 shorts), 42 North American premieres (27 features, 15 shorts), and 19 US premieres (11 features, 8 shorts).

Opening night kicks off Thursday, May 16 with Sword of Trust, written and directed by local filmmaker Lynn Shelton (Outside In, Laggies) and features Marc Maron (Late Show with David Letterman, WTF with Marc Maron, GLOW), Jon Bass (Baywatch, Molly's Game), Michaela Watkins (Brigsby Bear, Enough Said), Jillian Bell (Workaholics, 22 Jump Street), and Toby Huss (King of the Hill, Halt and Catch Fire). The film made its world premiere at the 2019 SXSW Film Festival to audience acclaim and IFC Films will open the film in July. Lynn Shelton and Marc Maron are scheduled to attend.

The annual Centerpiece Gala, Late Night, stars Emma Thompson as a legendary late-night talk show host who, faced with diminishing ratings for her long-running show, is forced to hire her first female staff writer (Mindy Kaling, who also wrote the film's script). The film will screen on Saturday, June 1, at 5:30 PM, at the SIFF Cinema Egyptian.

As a part of this year's celebration of women in comedy, SIFF is delighted to celebrate the work of Regina Hall by presenting her with the Seattle International Film Festival Award for Outstanding Achievement in Cinema. In addition to the award presentation, the acclaimed actor is slated for an on-stage interview on Sunday, June 2 at 2:00 PM at SIFF Cinema Egyptian. Following Ms. Hall's tribute, she will introduce Support the Girls, Andrew Bujalski's film which won her the New York Film Critics Circle Award for Best Actress.

SIFF closes its 45th festival on Sunday, June 9 with The Farewell staring Awkwafina, the flamboyant breakout star of Crazy Rich Asians, who plays a woman traveling back home to China to assist in an elaborate ruse to keep a truth from her terminally ill grandmother. Director Lulu Wang is scheduled to attend.

"Each year more than 5,000 films come through our submissions process and uncovering emerging themes each time is a satisfying puzzle that ends up being our 25-day festival," said SIFF Artistic Director Beth Barrett. "This year we saw strong female led films, specifically in the comedy genre, and are thrilled that 46-percent of the films in SIFF have female directors, and 56 percent of our competition films are directed by women."

SIFF's film lineup is accompanied by industry forums, film development programs, the SIFF Lounge and a host of other complementary Festival activities, all found at siff.net.

The 2019 Seattle International Film Festival is presented by SIFF, the non-profit arts organization that reaches more than 350,000 annually through SIFF Cinema, SIFF Education, and the annual flagship Festival.

Festival Box Office opens May 2 online at siff.net and in person at any year round SIFF Box Office. View the full public program here: www.siff.net/festival
(Visited 1 times, 1 visits today)