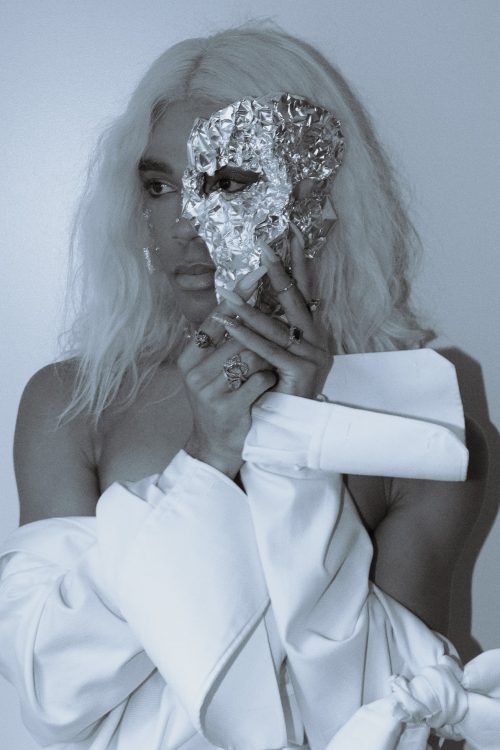 This year we welcome the wonderful creature that is Saturn Risin9 to co-headline the Mural Stage at PrideFest Seattle Center on Sunday, June 30th. They have looks honey. They have music and dancing and attitude and is going to ooze PRIDE all over that stage! As their Soundcloud bio says "I'm a bitch and I want you to know it now". Man, that is my life mantra! HA! But in all seriousness, Saturn Risin9 has been causing a commotion in the underground scene for a minute now, and we are SO PROUD to have them as a part of our line up this year! I had a chance to rap with them one on one in advance of their arrival in town. Read on for your own trip into the mind of Saturn Risin9…..
---
LAK/DC: I read that you started out dancing in the Bay area, how did you move into making music?
Satrun Risin9: I was getting gigs that were really rare for a dancer. Every time a big DJ or performer that I wanted to work with would come to San Francisco, I would open the show as a dancer or host the event. SO I'd already be selling my relationship to music when I was opening for them. I'd be really ambitious and say "Hi I'm Saturn and I wanna work with you" and instead of saying "who's this bitch?" – the real ones would be down. The first one to put music out for me tho was David Sylvester of fwb records. He was the first one to treat me like a serious music artist by giving me a deal and paying for a proper studio and working with me on promo plans. We wrote a song together called "Young Forever" and my friend Aja wanted to shoot the video. The video ended up premiering on Afropunk. The first song that I made tho was "RUIN ME" (link is still up on Soundcloud) – I wrote that with my DJ/Producer Bokteen. That song was filled with so much passion and beauty. I wrote the song as it exists now in the first take. No pen and paper. I was still a full time dancer at the time so hearing that song come out of us really inspired me to keep going.
LAK: You're based in LA now and you've toured to some pretty neat places, do you have any favorites?
SR: Korea. I love South Korea! I played an amazing party called SHADE at CAKESHOP. They flew me out and allllll expenses paid. Cuteeeeee hotel. That warmth and culture….. I always knew I would love Asia. I grew up in the Bay area…there's always been a presence of the different Asian cultures there and I always admired it. But what I didn't know was that I'd move to K-town and then be asked to do a show in South Korea the same week.
Australia will always stand out because it was the first one. My first label deal – Mollyhouse records took me out there. I loveeeeed Mexico too because I got to stay for two and a half weeks and like live there for a second. My favorite thing is finding a grocery store and get comfortable in my surroundings. I also got to work with Naafi which was at the time soo sooo sooo big for me. Another reminder that things were going in the right direction .
Can I say that I wanna be in Europe this year? I've loved Europe since the Spice Girls.
LAK/DC: You just released "Please Don't" music video. Tell me about it.
SR: "PLEASE DON'T" is a collaboration with So Drove. The song is on his latest project "Solano Canyon Original Soundtrack." He's like the Michael to my Janet cuz we're both little weirdos. The video was like my tribute to him and I style myself in his clothes. We didn't have a big narrative for the video because industry wanted to have fun and vibe to the camera which I never do. The video was directed by Shannon Tatum and edited by Rand Sevilla.
LAK/DC: Now that this has come out what creative goals do you want to pursue? Where do you see yourself in 5 years?
SR: I see myself as a big touring act with a lot of streams. I will be regarded as one of the best performers in my era, and the enlightening work I will have done will inspire a greater freedom for my generation and those past and future.
Bigger thoughts: when I announce a project I will be able to book every major festival.
I see 3 records under my belt. Working with film studios and companies for my visual projects. I see myself writing my own checks and will have learned the entire business for myself.
LAK/DC: What have been some of the more frustrating elements in your music career?
SR: Work ethic. I just cancelled a residency and project release because I didn't feel that my team was right. People come in to Saturn Rising Inc because it's exciting to them, but not because they wanna do the work. Anna Nicole Smith said it's expensive to be me and it is! It really, really is. I'm sober currently because I want to focus and to put everything in position the way that I want it be. It has been frustrating not being met with the same energy. But now I know what that energy looks like and what it doesn't….see, I didn't before. I knew what it loudly looked like but I didn't know the intricacies and nuances looked like…
I think my biggest fear going into this career was that I wasn't a hard worker growing up. I wed this promise that once I got the shot I wouldn't not lose. But I found myself being lazy out of fear of trying (too) hard. So I dealt with that. I went to confrontation therapy and now I have those tools to return back to. There were times when I felt unheard and there has been a constant struggle to be in charge. Now I just run my business how I say I want to run it.
LAK/DC: You have stated that you feel genderless and as a performer, you don't want your fans to be concerned about gender in your performance. Would you expand on that?
SR: My fans can muse on my gender however much they want. It's for them to interpret and relate to in whatever way confronts them. Britney Spears did the same for me…. I totally thought she felt the way I felt "like my life has been so overprotected"
But I don't care about my gender. I think about it as far as how others perceive it. But it's not about the binary for me. In my performance I love to combine the masc and (the) femme. I like when characters develop within the scene. In orange I say "and all that other bullshit…boy get over me" and that's to say don't get used to me. I'm going to forever evolve Ali G with my gender expression…don't put me in the system.
LAK/DC: You have a really fun and personal sense of style in my opinion. What inspires you?
SR: Oh. Shit everything inspires me, I'm probably every member of the Spice Girls. Silhouettes inspire. Big ones. Helmut Lang is inspiring me right now. Honestly tho if I see it and I like it, I put it on. There are no rules to this shit, to me. There's no rules except doing it. I'll pick up things just to be like, "oh this looks quirky or fun!" lol or it has a reference to something. I just bought a church window jacket and cut the I slide out cuz my friend Justin of Moreno painting company said so. I could pin point it for you. Maybe rights vine is Grace Jones in Boomerangs. Weird boss bitch looks.
LAK/DC: As you know, this pride season honors the 50h anniversary of the Stonewall riots. How do the event and the celebration of the anniversary resonate with you and/or your art?
SR: Stonewall is our big bang. Thank you, Ms Marsha P Johnson. She broke the fucking barrier for us. It will always be the legacy and why we are able. She is our mother. 50 years is great and I'm happy it's being acknowledged, celebrated and etched in stone. It impacted my ability to perform. She was a performer and was fighting for her right and her sister's rights to be in a space. Performers have always been activists. Art transforms the world. People really connect with and enjoy art and artists. We have to acknowledge art and its place in the world to really save the world. We need to pay attention again and listen to our queer leaders because they get it. We've always gotten it. It makes me cry at the thought of us still fighting for something so simple… and almost in vain. How much more do we have to give and how many more sisters brothers and children do we have die to get it? We really deserve the best world to live in and we have the means to do it, what are we doing. Stonewall has impacted my privilege to perform and carry the torch of the message.
LAK/DC: What message do you want to share with your Seattle audience (and beyond!) anything special for Pride?
SR: Adopt healthy mentalities to progress with. We are the freedom fighters of our generations. When trans people are free we're all free. Do your best to up lift those next to you. We have to change the world period. Fag power. Girl power. Trans power. Saturn nation.
---
Drop by Queer Youth Pride on Saturday around 6PM at Cal Anderson Park on Capitol Hill to get a little teaser of Saturn's Sunday set!
See Saturn Risin9 LIVE on the Mural Stage at PrideFest Seattle Center on Sunday, 6/30/19.  Scheduled to go on at 5pm (but please remember, schedules can and will change/vary on the actual day of show!!!) 
 https://www.facebook.com/events/386290931942076/
(Visited 10 times, 1 visits today)