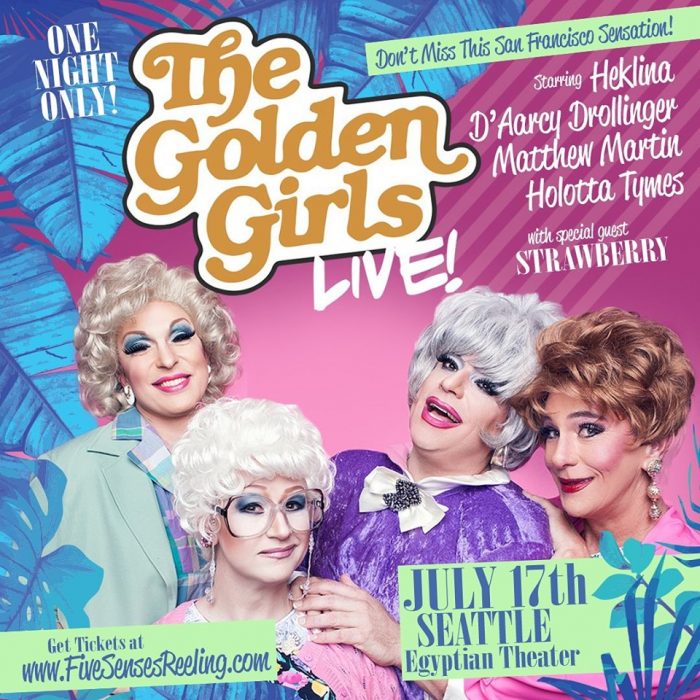 Our favorite 1980s TV show returns to Seattle with our favorite crew of San Francisco Drag Divas doing their delicious send up of the ladies we love best: Dorothy, Rose, Blanche and Sophia.
Yes, San Francisco's beloved diva HEKLINA is back in Seattle this week for TWO big shows at the Egyptian Cinema this Wednesday, July 17 and 18 performing two episodes of THE GOLDEN GIRLS LIVE in the iconic role of Dorothy Zbornak as originally played by the also divine Bea Arthur.
Joining her are her pals D'arcy Drollinger as Rose, Matthew Martin as Blanche as Holotta Tymes as Sophia. 
You can still snatch tickets here and more info down below!
The Golden Girls LIVE is back on tour and returning to Seattle!

What could be gayer than The Golden Girls television show? Four drag queens reenacting the genius comedic stylings of Bea Arthur, Rue McClanahan, Betty White and Estelle Getty… that's what.

Since 2006, San Francisco drag legends Heklina, D'Arcy Drollinger, Matthew Martin and Holotta Tymes have become a Bay Area Christmas tradition, with The Golden Girls LIVE playing to thousands of fans at the historic Victoria Theater every holiday season.

The Girls are taking the show on the road and performing some of their favorite episodes for you!For Golden Girls aficionados, the two episodes being performed this year are "Long Day's Journey Into Marinara" and "Big Daddy's Little Lady", featuring Manuel Caneri as Big Daddy.

Thank You For Being A Friend!

Doors 6pm, Show 7pm, VIP Meet & Greet After the Show

There are two shows in Seattle on 7/17!
Early Show:
https://www.facebook.com/events/2071506786236591/
Late Show:
https://www.facebook.com/events/2841608752731366/
(Visited 1 times, 1 visits today)