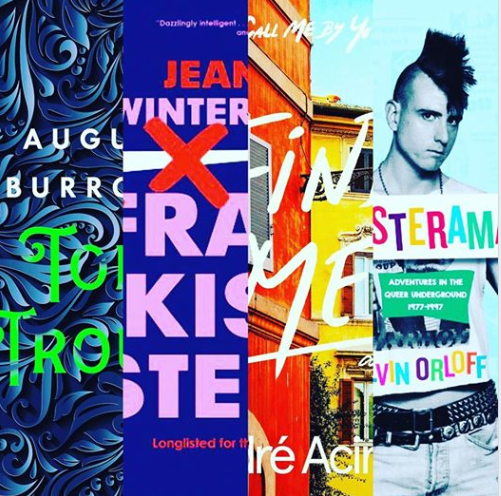 Since it's now Fall and the leaves are changing and we're starting to feel like getting cozy in the comfort of our own couches then it's also the time to start finding new books to curl up with in October.
That is, assuming you're done reading THE TESTAMENTS, Margaret Atwood's sequel to The Handmaid's Tale which came out last month. Having read it, I will say that The Testatments is not at the same level of literary art as The Handmaid's Tale, but it's still an enjoyable read for anyone who liked the first book and/or the current popular television series. Fans of the brutal Aunt Lydia character will be delighted to know that she's one of the three narrators in the new book.
But, on to October book releases and more specifically, to LGBTQ books. There's a slew of them coming out this month including the latest from beloved British writer Jeanette Winterson, FRANKISSSTEIN. From the publisher:
Lake Geneva, 1816. Nineteen-year-old Mary Shelley is inspired to write a story about a scientist who creates a new life-form. In Brexit Britain, a young transgender doctor called Ry is falling in love with Victor Stein, a celebrated professor leading the public debate around AI and carrying out some experiments of his own in a vast underground network of tunnels. Meanwhile, Ron Lord, just divorced and living with his mom again, is set to make his fortune launching a new generation of sex dolls for lonely men everywhere. Across the Atlantic, in Phoenix, Arizona, a cryogenics facility houses dozens of bodies of men and women who are medically and legally dead… but waiting to return to life.

What will happen when homo sapiens is no longer the smartest being on the planet? In fiercely intelligent prose, Jeanette Winterson shows us how much closer we are to that future than we realize. Funny and furious, bold and clear-sighted, Frankissstein is a love story about life itself.
Winterson will also be in Seattle this month to promote her new book…she'll be popping into the downtown Seattle Library to discuss the book on Wednesday October 16th. More info HERE!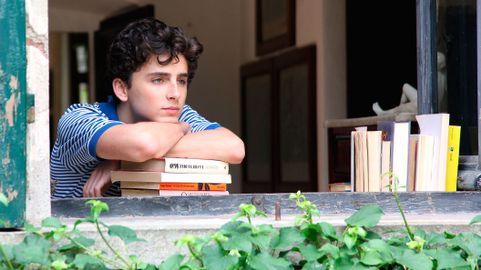 André Aciman will be making a stop in Seattle on his book tour for his eagerly awaited sequel to "Call Me By Your Name"…but it won't be until November 4th when you can see the author discuss FIND ME at the Seattle Library. The book itself is released October 29th and not surprisingly, we're going to learn more about Elio and Oliver but also Samuel, Elio's dad who also has a role to play in the new novel:
In Find Me, Aciman shows us Elio's father, Samuel, on a trip from Florence to Rome to visit Elio, who has become a gifted classical pianist. A chance encounter on the train with a beautiful young woman upends Sami's plans and changes his life forever.

Elio soon moves to Paris, where he, too, has a consequential affair, while Oliver, now a New England college professor with a family, suddenly finds himself contemplating a return trip across the Atlantic.
Now, we could argue, "Does Call Me By Your Name really need a sequel"?Because, quite frankly, we think the original book did a fine job of telling the story it set out to tell…that of a passionate first love. And, like most great first loves, it seems foolish and unlikely that we can/should revisit that love. But, maybe Mr. Aciman has kids to put through college or he would like to purchase a new vacation villa…authors have needs, too!
Via Lambda Literary, here are more LGBTQ fiction releases for October:
Fiction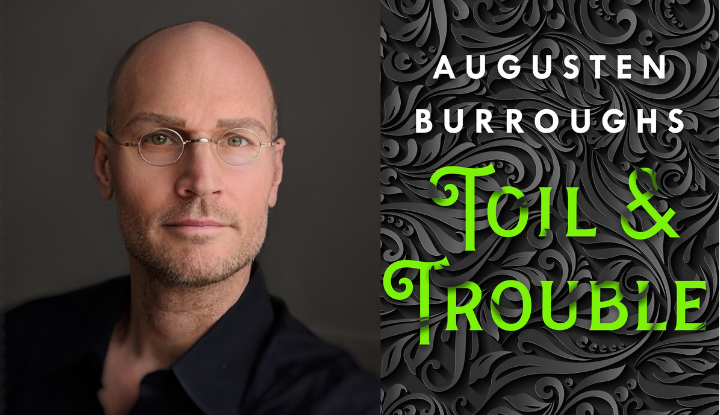 If you're looking for Non-Fiction, there's also a lot of interesting choices including two new memoirs, one from the very fanciful and prolific Augusten Burroughs…his new installment in the never ending series of books about how kooky he is, involves his claim that he's a witch and a descendant from a long line of witches.
Uh huh.
Hey, he's got a living to earn, too!
The book, TOIL & TROUBLE is out now and naturally Augusten will be flying in to Seattle (we're assuming sans scissors since flying with them in hand is also forbidden…) on October 12th for a visit to Elliott Bay Book Company:
More on T&T:
"For as long as Augusten Burroughs could remember, he knew things he shouldn't have known. He manifested things that shouldn't have come to pass. And he told exactly no one about this, save one person: his mother. His mother reassured him that it was all perfectly normal, that he was descended from a long line of witches, going back to the days of the early American colonies. And that this family tree was filled with witches. It was a bond that he and his mother shared—until the day she left him in the care of her psychiatrist to be raised in his family (but that's a whole other story). After that, Augusten was on his own. On his own to navigate the world of this tricky power; on his own to either use or misuse this gift."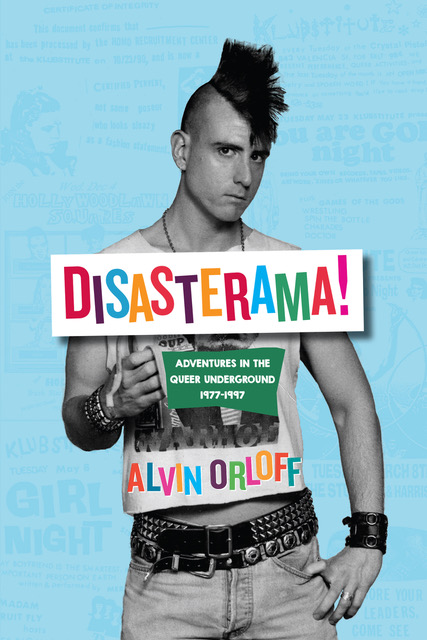 Not quite as famous as Augusten Burroughs but also equipped with a lifetime of stories, is Alvin Orloff who was at the center of San Francisco's alternative queer nightlife and theater scene in the 80s and 90s. His DISASTERAMA!: Adventures in the Queer Underground 1977-1997 is a fascinating look back at time in LGBTQ history that was always tinged with the lurking horror of the AIDS epidemic.
In the book, Orloff describes the beginnings of the Club Kid scene in 1980s San Francisco as well as his adventures into the world of sex work and goes into detail about relationships he created with a variety of people but especially Michael who ultimately became the legendary "Pop Substitute" one of the biggest party event producers in town.
The book's most moving moments describe how AIDS ravaged the community at that time but also manages to avoid becoming maudlin about it. There are joyous moments in the book as well including great recollections about a multitude of talents including Justin Vivian Bond, the legendary chanteuse and co-creator of the sublime "Kiki & Herb" cabaret act.
For any fan of San Francisco queer history and anyone who adores the current crop of San Francisco stars (Heklina, Peaches Christ) here's a fascinating look at the era that preceded them.
And, also from Lambda Literary, here are more non-fiction works coming out in October:
Nonfiction
(Visited 1 times, 1 visits today)